April 30, 2014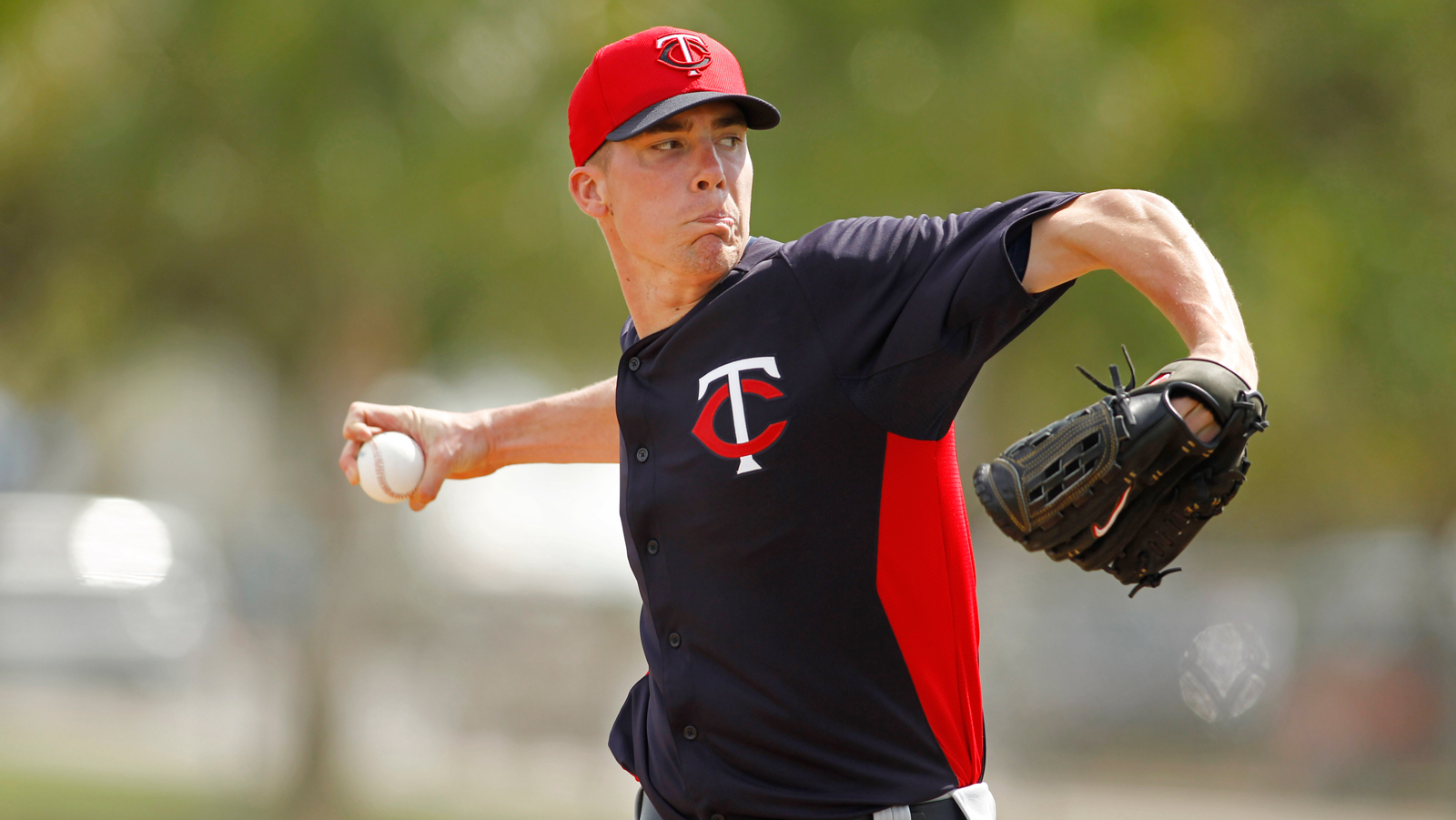 • Alex Meyer was already the Twins' top pitching prospect and one of the top dozen or so pitching prospects in all of baseball, but now there's some reason to think his upside might be capable of rising a little further. Meyer has abandoned his old changeup grip for a new grip taught to him by Triple-A teammate Deolis Guerra, who was once a top prospect acquired from the Mets in the Johan Santana trade and has always received tons of praise for his changeup.
Meyer got off to a slow start this year, but he's racked up double-digit strikeouts in back-to-back games while throwing 12.2 innings of shutout ball. He's now made 21 total starts as a member of the Twins organization, posting a 2.97 ERA with 135 strikeouts in 103 innings. His control could still use plenty of work, but Meyer is 24 years old and seemingly very close to being MLB ready, assuming the Twins are willing to dump a veteran from their rotation at some point.
• On a related note, dropping Mike Pelfrey from the rotation would be an easy call except for the fact that the Twins re-signed him to a two-year, $11 million contract four months ago. It made little sense then and looks even worse now that Pelfrey has a 7.32 ERA with nearly twice as many walks (15) as strikeouts (8) through four starts. He's now 5-15 with a 5.43 ERA in 33 total starts for the Twins, who got a long look at him in 2013 and decided they needed to see a lot more.
• They had to play short-handed without a true backup center fielder for a while after losing Alex Presley for nothing to the Astros on waivers, but the Twins essentially replaced him by claiming Sam Fuld off waivers from the A's. Presley is a better hitter than Fuld and he's also four years younger, but Fuld is a better defender even if his range has slipped a bit at age 32. Aaron Hicks should be playing just about every day, but it won't be surprising if Fuld steals some starts.
• In adding Fuld to the roster the Twins designated for assignment Darin Mastroianni, who was claimed off waivers by the Blue Jays. And then in adding Mastroianni to their roster the Blue Jays designated for assignment Kenny Wilson, who was claimed off waivers by the Twins. Oh, and here's the kicker: Back in 2012 the Twins originally acquired Mastroianni by claiming him off waivers from the Blue Jays.
Mastroianni had a solid 2012 in a part-time role, but injuries wrecked his 2013 and because he's not really an up-the-middle defender despite elite speed his weak bat makes him a marginal bench option. Wilson has an even weaker bat and in fact might be one of the worst hitters on any team's 40-man roster, but he does have 50-steal speed and is a much better center field option than Mastroianni in addition to being four years younger.
• Josmil Pinto through 40 career games: .292/.401/.533 with nine homers and 23 walks. Those are basically the same numbers he posted at Double-A and Triple-A, but with more power. It took injuries to Josh Willingham and Oswaldo Arcia for Ron Gardenhire to play Pinto regularly, but hopefully his spot in the lineup is now secure. It might be time to get very excited about what the Twins have in Pinto, whether or not he can be passable enough defensively to catch regularly.
• Twins starting pitchers have a combined 6.04 ERA, which is the worst in the league by more than a full run. They also have a combined strikeout rate of 5.1 per nine innings and no other team in baseball has averaged fewer than 6.5 strikeouts per nine innings.
• Justin Morneau hit .256/.319/.406 in 355 games from 2011-2013, so naturally now he's hitting .357/.381/.643 in 26 games for the Rockies. And so far at least it's not all Coors Field-driven.
• David Cameron of Fan Graphs wrote a very interesting analysis of how the Twins are scoring tons of runs by not swinging the bat.
• For a lot more about the Twins' no-swing approach and what they should do about the starting rotation, check out this week's "Gleeman and The Geek" episode.