July 16, 2015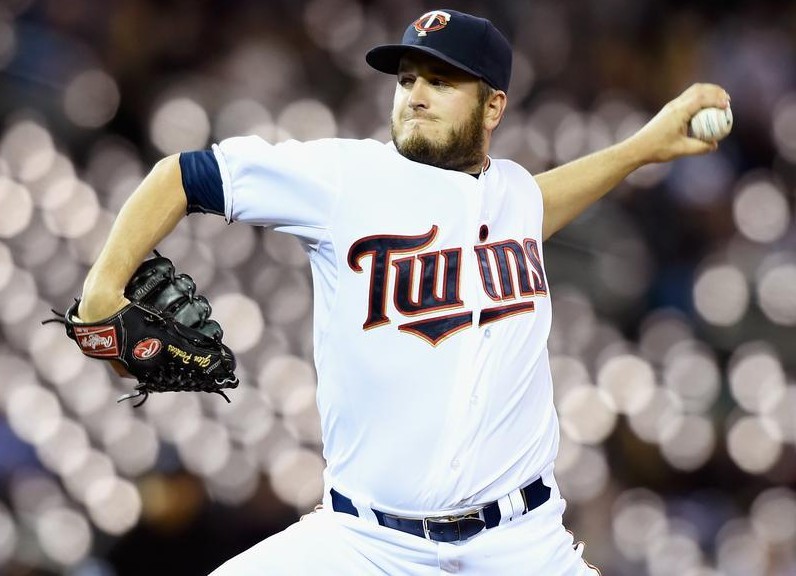 Twins pitching was abysmal from 2011-2014, ranking second-worst in ERA and worst in strikeouts among 30 teams. This year they're 15th in ERA, putting them on pace to allow 145 fewer runs per 162 games. However, they're still dead last in strikeouts and have improved to just 26th in xFIP. Vastly improved defense has played a big part, but luck has been a factor too. Before the second half gets underway here's a pitcher-by-pitcher look at the individual performances ...
• Phil Hughes: .287/.303/.495 in 486 plate appearances
Last season Phil Hughes logged a career-high 210 innings and posted the best strikeout-to-walk ratio in the history of baseball. This year the durability and excellent control remain, but Hughes' strikeout rate has plummeted and his home run rate has skyrocketed. On a per-plate appearance basis his strikeouts are down 36 percent and he's served up a league-high 22 homers in 18 starts after allowing a total of 16 homers in 32 starts last season.
Hughes' fastball velocity is down 1.5 miles per hour and hitters have teed off on it, adjusting to his strike-throwing machine approach and/or simply taking advantage of a lesser version of the pitch. Whatever the case, he's gone from No. 1 starter to innings-eating mid-rotation starter, which was the fear when the Twins reacted to Hughes' career-year by handing him a three-year, $42 million extension with two seasons remaining on his original deal.
• Kyle Gibson: .241/.305/.371 in 468 plate appearances
Nothing has really changed within Kyle Gibson's secondary numbers compared to last year, but his ERA has improved from 4.47 to 2.85 and he's avoided the blowups that plagued him every few turns in the rotation. His strikeout rate (16 percent vs. 14 percent), walk rate (8 percent in both years), and ground-ball rate (54 percent in both years) are all remarkably similar to last season and he's already given up almost as many homers (11) in 18 starts as he did (12) in 32 starts.
The big change is opponents hitting .165 with runners in scoring position compared to .277 last year, which explains avoiding big innings. At some point those numbers are going to normalize and when they do Gibson looks more like a 3.85 ERA starter than a 2.85 ERA starter, but nothing says his luck has to run out immediately and a 3.85 ERA starter is still plenty valuable. He's been the best starter on a team that handed out $170 million to three free agent starters since 2014.
• Mike Pelfrey: .293/.357/.398 in 424 plate appearances
Unhappy about being moved to the bullpen during spring training, Mike Pelfrey got his wish and remained in the rotation following Ervin Santana's suspension. He fared absurdly well early on despite no changes to his poor strikeout and walk rates, constantly getting himself into jams and then wriggling out of trouble. Eventually that caught up to Pelfrey, who finished the first half by allowing 27 runs in his final 32 innings to take his ERA from 2.28 to 4.00 in six starts.
There's been lots of talk about pitching coach Neil Allen convincing Pelfrey to rely on off-speed pitches more, but that storyline loses a little steam when you consider his 4.41 xFIP is no different than his 4.42 xFIP for the Mets from 2008-2012 and his 4.5 strikeouts per nine innings are worse than his 5.0 mark during that span. Pelfrey has taken a somewhat different approach to pitching, but the results ended up in the same mediocre place once the early good fortunate vanished.
• Trevor May: .286/.323/.428 in 364 plate appearances
Called up one week into the season to replace the injured Ricky Nolasco in the rotation, Trevor May led Twins starters in fastball velocity, strikeout rate, and xFIP. So naturally he was the starter moved to the bullpen when Santana returned from suspension. May took the demotion in stride, finishing the first half with four scoreless relief innings, but given his performance, raw stuff, and long-term upside the 25-year-old right-hander deserves to be in the rotation.
May was a mess in his first few starts as a rookie, but in his last 25 games dating back to August he's thrown 121 innings with 113 strikeouts and 27 walks. He still has plenty to work on, but May has seemingly solved his control problems in the minors without sacrificing velocity or strikeouts and only needs more patience from the Twins to establish himself as a solid mid-rotation starter three years after they acquired him from the Phillies for Ben Revere.
• Tommy Milone: .243/.304/.382 in 276 plate appearances
When the Twins acquired Tommy Milone from the A's in exchange for Sam Fuld last July he was an established mid-rotation starter with a 3.83 ERA in nearly 500 career innings. They never saw that pitcher, as Milone allowed 21 runs in 22 innings before being shut down with a benign tumor in his neck that required surgery. He came into this season with a clean bill of health and secured a spot in the rotation, but was demoted to Triple-A in late April.
Milone toyed with Triple-A hitters, going 4-0 with a 0.70 ERA and 47/3 K/BB ratio in five starts before the Twins brought him back to replace the injured Nolasco. He predictably hasn't been able to continue racking up strikeouts since returning, but Milone posted a 1.84 ERA and 33/12 K/BB ratio in 44 innings during his final seven starts. He'll come back down to earth at some point, but Milone has been out-performing his modest raw stuff for five seasons now. He's a solid pitcher.
• J.R. Graham: .265/.324/.445 in 171 plate appearances
J.R. Graham has been an ideal Rule 5 pick, showing long-term upside with a mid-90s fastball and proving useful in the short term when spotted in low-leverage situations. Sixteen pitchers have 10 or more innings for the Twins this year and Graham is the only one with an average fastball above 95 mph. Home runs have been an issue and Graham's command comes and goes, but remove one disastrous May 14 outing from his season totals and he has a 1.85 ERA in 39 innings.
• Blaine Boyer: .262/.315/.416 in 164 plate appearances
Who leads the AL in relief appearances? Blaine Boyer, obviously. He came into this season as a 33-year-old journeyman with a 4.63 career ERA and his current secondary numbers are actually worse than his career marks, including just 18 strikeouts in 39 innings. And yet Boyer has a 2.75 ERA while spending much of the season as the Twins' primary setup man, refusing to implode. It hasn't been all smoke and mirrors, but it's been a lot of smoke and mirrors.
• Ricky Nolasco: .324/.369/.441 in 149 plate appearances
For the second straight season Ricky Nolasco has been injured and ineffective. This time he made just seven starts, going on the disabled list with an elbow injury in April and an ankle injury in June. After a month of unsuccessful rehab Nolasco underwent ankle surgery that seems likely to end his season, so he'll have a 5.40 ERA in 192 innings halfway through a four-year, $49 million contract. What a disaster.
• Glen Perkins: .188/.217/.246 in 143 plate appearances
Already one of the three best closers in Twins history, Glen Perkins set a new team record by converting 28-of-28 save chances in the first half. He also had a 1.21 ERA and 36/5 K/BB ratio in 37 innings while holding opponents to a .188 batting average. Perkins has merged plus raw stuff, impeccable command, and an analytical approach to get extraordinary results in the ninth inning at a time when the rest of the bullpen has often been shaky.
• Aaron Thompson: .264/.319/.364 in 137 plate appearances
Aaron Thompson's deal with the devil lasted about six weeks, during which time the 28-year-old journeyman moved up the bullpen hierarchy to earn manager Paul Molitor's trust in a setup role. And then he turned back into a pumpkin, initially being relegated to left-handed specialist duties and then being demoted to Triple-A. Ryan O'Rourke replaced him in the bullpen, but Thompson remains on the 40-man roster and could return in a middle relief role.
• Ryan Pressly: .257/.331/.314 in 119 plate appearances
Ryan Pressly was a Rule 5 pick in 2013 and, much like Graham currently, was useful in the short term while showing some long-term upside with a mid-90s fastball. Two years later he has a 3.46 ERA in 133 total innings for the Twins, making up for poor strikeout and walk rates by allowing just eight homers in 556 plate appearances. Unfortunately now Pressly is sidelined by a strained lat muscle.
• Casey Fien: .250/.270/.429 in 116 plate appearances
After a three-season run as a quality setup man Casey Fien just hasn't been the same this year while struggling with some arm problems. He put together a couple of good stretches, but even during that success there were obvious red flags. Fien's velocity has been normal for the most part, but compared to 2012-2014 he's lost nearly half of his strikeouts and generated one-third fewer swinging strikes. That's a particularly bad combination for a fly-ball pitcher.
---
For a lot more talk about the Twins' first half, check out this week's "Gleeman and The Geek" episode featuring our MVP ballots and player-by-player breakdowns.