September 17, 2014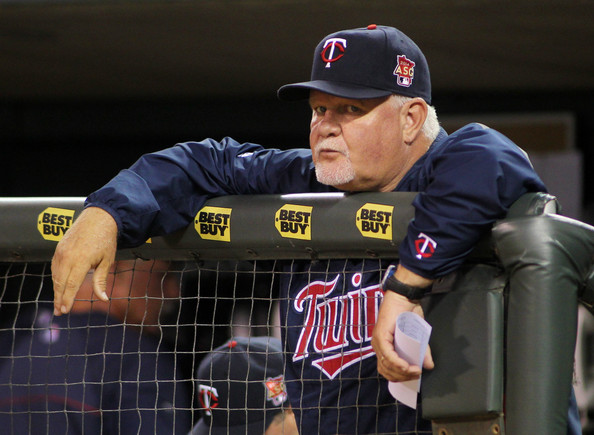 I started writing about the Twins during Ron Gardenhire's rookie season as manager, 2002, and for that entire time some fans have called for him to be fired. Such is life as an MLB manager, but now that winning division titles on a regular basis has given way to losing 95 games per season on a regular basis the fringe of Twins fandom has become the people thinking Gardenhire should be allowed to stick around rather than the people calling for Gardenhire to be fired.
I've never called for Gardenhire to be fired and I probably never will. That's just not my style and it has nothing to do with Gardenhire. However, anyone who's read this blog for any length of time surely knows that I'm not a Gardenhire fan and even during the Twins' run of success his batting orders, lack of platooning, small-ball tactics, public call-outs of young players, and various other traits never fit my personal managing ideal.
Once upon a time my criticisms of Gardenhire were met with people taking me to task for having the gall to question the manager of a consistent winning team, but now those same criticisms of Gardenhire--and surprisingly little has changed in terms of what irks me about him--are met with people taking me to task for not being harsh enough toward the manager of a consistent losing team. Such is life as a baseball blogger, I suppose.
Here's the thing, though: Gardenhire has managed the Twins to four straight 90-loss seasons and possibly four straight 95-loss seasons. Only two managers in baseball history have kept their jobs after four straight 90-loss seasons. One was Connie Mack, who did so with the Philadelphia A's from 1940-1943 and also happened to own the team. The other was Tom Kelly, who did so with the Minnesota Twins from 1997-2000 and also happened to be the manager Gardenhire replaced.
In addition to owning the team that continued to employee him as manager Mack was, at the time of his four straight 90-loss seasons, an 80-year-old five-time World Series winner and nine-time pennant winner with more than 3,000 career victories. Kelly didn't have quite that same level of job security, but it was pretty close and for fairly good reason: He managed the Twins to a pair of World Series titles before all the sustained losing started.
Gardenhire is not the owner of the team, nor does he have multiple World Series titles. In fact, during his 13 seasons as manager the Twins have never gotten to the World Series and have advanced past the first round of the playoffs just once, in his first season on the job. His career record is barely above .500 in the regular season and 6-21 in the postseason. He's managed the Twins to 90 or more wins just once since 2007.
Even his 2002-2010 run of six division titles in nine seasons came at a time when the American League Central was extremely weak and often there for the taking with only 87-92 wins despite the unbalanced schedule keeping the more powerful divisions away. You can only play the teams on your schedule and certainly the Twins took advantage of their good fortunate, but "six division titles in nine seasons" was, at the very least, propped up by mediocre competition.
In the entire history of baseball there are a grand total of two instances of a manager keeping his job after four consecutive 90-loss seasons and both cases included circumstances which clearly do not apply to Gardenhire. He doesn't own the team, he doesn't have a Hall of Fame-caliber resume, and his pre-losing run of success is not World Series titles but rather division titles against weak competition followed by historic ineptitude in the postseason. Why should he be the third?
Forget for a moment how much responsibility for four consecutive 90-loss seasons should fall on Gardenhire's shoulders versus the front office. Forget for a moment whether you think a different manager could have coaxed these awful teams to slightly less awful records. Here is the far more important question: If and when the Twins re-emerge as contenders is Gardenhire the manager you want at the helm to get the most out of that new core of young talent?
---
For a lengthy Gardenhire discussion featuring a reporter who's covered him for years, check out this week's "Gleeman and The Geek" episode with Phil Miller of the Minneapolis Star Tribune.