July 27, 2012
• I'm pretty convinced that it will rank somewhere between incredibly embarrassing and utterly humiliating, but at Paul Allen's urging and in the name of good radio "Girls Gone Gleeman" is a dating game-style show that's going to happen on KFAN live from the state fair next month. I'll pass along full details later, but in the meantime you can listen to us brainstorming on the air yesterday (mixed in with a bunch of Twins talk during an hour-long segment).
• Based on this St. Paul Pioneer Press headline for Ben Goessling's article, the Twins now have the same problem that's plagued bloggers.
• Join the club, Demi.
• Jerry Seinfeld and Larry David more or less shooting the shit for a day is basically perfect.
• Delmon Young has a gorgeous new mustache, which more than makes up for his .700 OPS.
• Zubaz, white limousines, pitching machines, and Minnesota fashion icons of the 1980s.
• I've given up trying to explain Jason Marquis since the Twins released him.
• Behold, the most Carlos Gomez thing in the history of Carlos Gomez things.
And of course the at-bat ends the only way the at-bat could possibly end.
• I give Michael Phelps credit for not being afraid to further his stoner reputation.
• Kevin Love apparently stays awake on flights to document his Olympic teammates sleeping.
• I'm thinking about trying to put $100,000 together just to hang out with Hakeem Olajuwon.
• Gordon Ramsay making $38 million per year may seem like a lot, but that breaks down to less than 50 dollars per television show.
• On a related note, as a loyal Twitter follower seeing Chelsea Peretti make a brief cameo as an unhappy diner on Hell's Kitchen cracked me up.
• Cal Ripken Jr.'s mother was abducted at gunpoint and Orioles manager Buck Showalter shared a similarly scary story about his mother.
• Warning: Don't use the bathroom around Michael Morse.
• Pirates prospect Starling Marte debuted last night and homered on the first pitch he saw.
• I like to watch Ted Berg make sandwiches.
• As a kid I often wrote stuff on my mom's old typewriter for absolutely no reason other than it seemed fun, but as an adult I'm not quite pretentious enough to install this on my laptop.
• Here's a Google Chat transcript of what happened when my mom asked me why Twitter wasn't working yesterday afternoon: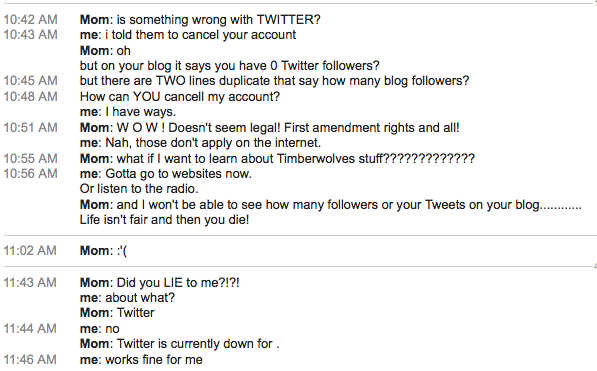 I waited another half-hour to fess up, and only because Twitter finally started working again.
• Interesting news in the online sportswriting world, as former Fanhouse founding editor and Yahoo! director of blogs Jamie Mottram has a new job with USA Today Sports Media Group.
• An original baseball blogger, Jon Weisman, celebrated 10 years of Dodger Thoughts.
• Now that Alex Rodriguez is old and injured, what are his chances of breaking Barry Bonds' all-time homer record? I'm glad you asked.
• It turns out the mask makes everyone as scary as Bane.
• Movie recommendation: The Prestige, which is the film Christopher Nolan directed in between Batman Begins and The Dark Knight. It somehow flew under my radar until now, but has a few of the usual Nolan favorites in an interesting story and is well worth a $1.99 rental on Amazon.
• Speaking of the usual Nolan favorites, this made me laugh.
• Thanks to Barnabas Piper for naming Gleeman and The Geek as one of his favorite podcasts.
• According to this completely scientific poll, AG.com is the second-best "sports blog" and I'm the ninth-best "sports talk radio personality."
• Every day hundreds of people arrive at AG.com via search engine queries and most of them are Googling stuff like "Gleeman" or "Twins blog." I'm also amused by the weird and seemingly random searches that lead people here, so here are some of my favorites from this week:
- "Chuck Knoblauch fat"
- "Dick Bremer hates Kevin Slowey"
- "B.J. Hermsen salary"
- "Rene Tosoni salary"
- "Dana Wessel hair"
- "Kate Bilo age"
- "Evan Longoria dating Kate Upton"
- "Why does Matt Capps suck so badly"
- "Is eating a pound of carrots really zero points"
- "How many children does Brett Myers have"
- "Sasha Gray blog"
- "Patrick Reusse diet"
- "Jay-Z is not left-handed"
- "Kathy Kepler ballet"
- "Is a .199 batting average good"
- "Jenna Fischer covered post-it notes"
And then there were like 500 variations of "how to lose 150 pounds."
• Finally, in honor of Paul Allen describing me to potential dating game applicants as having "a George Michael beard" this week's AG.com-approved music video is "Faith":
This week's blog content is sponsored by Ballplayer: Pelotero, a controversial new documentary about baseball prospects in the Dominican Republic starring Miguel Sano as a 16-year-old.