September 1, 2015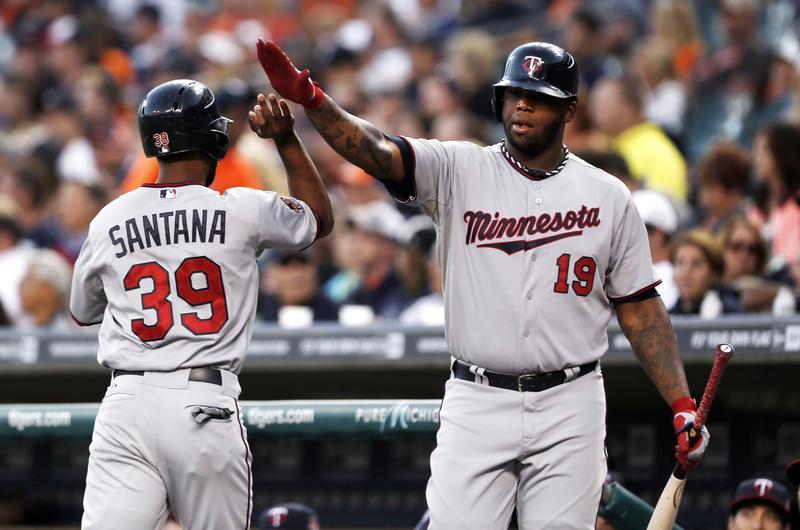 September 1 roster expansion means an assortment of new and sort-of-new players added to the Twins' roster for the final month of the season. Top pitching prospect Jose Berrios remains in the minors, where he's started 26 games and thrown 161 innings this season while the Twins compete for a Wild Card spot with a shaky rotation. It's possible Berrios and others will be added later, but for now here's a look at the first wave of September call-ups:
• Kennys Vargas, 24-year-old first baseman
Kennys Vargas was the Opening Day designated hitter on the strength of his 54-game rookie showing, but when he struggled the Twins demoted him to the minors. Twice, actually. First they dropped him to Triple-A and then to Double-A. He fared well at both levels, hitting .283/.414/.496 with 13 homers in 73 total games. That's actually better production than Vargas had at Double-A in 2014 when the Twins called him up the first time, but things have changed.
Miguel Sano is now the starting designated hitter and even if Sano shifts to third base in the future to open up the DH spot it's not clear the Twins view Vargas as the best candidate for the job. In the minors he's combined big-time power with good plate discipline, but Vargas swung at everything in the majors while compiling an ugly 111/19 K/BB ratio in 100 games. By comparison he drew 26 walks in just 38 games at Triple-A. Vargas can hit, but so can lots of DHs.
• Danny Santana, 24-year-old shortstop
Danny Santana burst onto the scene with one of the best rookie seasons in Twins history, hitting .319/.353/.472 in 101 games while being thrust into center field as a career-long shortstop. Both his mediocre minor-league track record and underlying MLB numbers suggested it was largely a fluke performance, but Santana's regression was even steeper than expected. He was a disaster offensively and defensively, and the Twins finally demoted him to the minors for good on July 31.
Santana played well at Triple-A, hitting .322/.348/.500, but a 25/7 K/BB ratio in 35 games shows that he made little progress in controlling the strike zone after posting a ghastly 66/5 K/BB ratio in 74 games for the Twins. He has the potential to be a solid player and is still just 24 years old, but right now Santana lacks the plate discipline and defensive consistency to be a productive starting shortstop in the majors.
• Michael Tonkin, 25-year-old right-hander
Michael Tonkin has spent most of the past three seasons in Rochester, consistently dominating Triple-A hitters with a 2.65 ERA and 128/25 K/BB ratio in 119 innings. During that time he's been called up by the Twins for a bunch of short stints--on several occasions 48 hours or less--and has held his own with a 4.07 ERA and 36/14 K/BB ratio in 42 innings while averaging 94 miles per hour with his fastball.
Tonkin is 25 years old with a strong minor-league track record, including three straight years of outstanding Triple-A performances. He stands 6-foot-7 and throws in the mid-90s with a sharp slider. He misses bats and throws strikes. Everything about Tonkin suggests he'd be a solid MLB reliever with late-inning upside, yet for whatever reason the Twins have refused to give him the same extended chance they've given plenty of shaky veterans during the past three seasons.
• A.J. Achter, 26-year-old right-hander
A.J. Achter made his MLB debut as a September call-up last year and spent another two weeks with the Twins last month. He has a nice-looking 2.57 ERA in parts of three seasons at Triple-A, but it comes attached to a mediocre strikeout rate, sub par control, and a fastball that tops out in the low-90s. At age 26 he lacks upside, but if given an extended opportunity Achter is capable of finding some success as a middle reliever.
• Eric Fryer, 29-year-old catcher
Eric Fryer spent six weeks as the Twins' backup catcher in July and August before they sent him back to Rochester in favor of Chris Herrmann. He returns now as a third catcher and had to be re-added to the 40-man roster to do so. Fryer has a good defensive reputation, but he's hit just .235/.316/.324 in 57 games as a big leaguer and .237/.328/.328 in 271 games at Triple-A. The bar for "decent backup catcher" is very low, but Fryer struggles to clear it.
(Players on the 40-man roster who have not received a September call-up yet: Max Kepler, Alex Meyer, Oswaldo Arcia, Josmil Pinto, Jorge Polanco, Aaron Thompson, Logan Darnell.)
---
Want a lot more about what September holds for the Twins and why they haven't called up Berrios, check out this week's "Gleeman and The Geek" episode.