August 16, 2010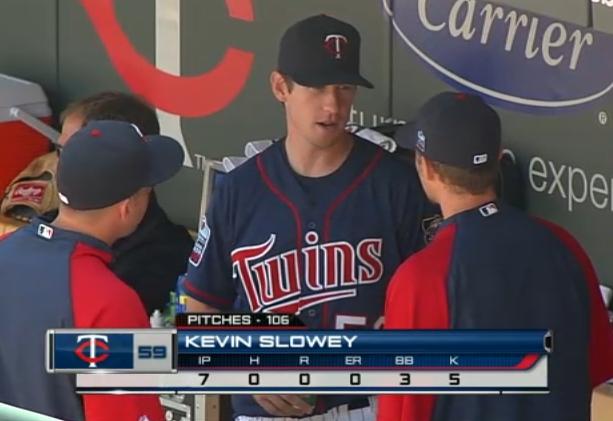 Kevin Slowey was brilliant yesterday, no-hitting the A's through seven innings, and many fans at Target Field booed when he didn't come out for the eighth inning. And then they booed far louder when Jon Rauch allowed a one-out hit on the way to giving up two runs. However, it was absolutely the right call by Ron Gardenhire. Sure, he could have left Slowey in to start the eighth, but between his pitch count and elbow issues a no-hitter just wasn't going to happen.
Slowey had his last start skipped due to elbow soreness and was slated to be on a relatively short leash yesterday. Those plans obviously changed somewhat when he failed to allow a hit through seven shutout innings, but Slowey was already at 106 pitches with six outs left to go. Under normal circumstances I'm sure the Twins would have given Slowey every opportunity to make history, but those weren't normal circumstances.
He's averaged 16.3 pitches per inning this year, including 15.1 pitches per inning yesterday, so realistically it likely would've taken at least 130 pitches to finish the no-hitter. His career-high is 114 pitches and he's thrown more than 106 pitches just seven times in 76 starts, so allowing Slowey to throw 20-30 more pitches than ever before just days after elbow soreness kept him from taking his turn in the rotation would've been something between silly and irresponsible.
And for what, exactly? No-hitters are great and I certainly don't blame anyone at Target Field for wanting to witness one in person, but there have been five (or six) no-hitters already this season and a total of 268 in baseball history. Allowing someone who missed his last start with elbow problems to go well beyond his previous career-high pitch count in an effort to get the six outs still needed to become No. 269 hardly seems worth any kind of risk.
When the best-case scenario is a 130-pitch no-hitter from a 26-year-old pitcher with a tender elbow that's a pretty underwhelming best case and with two innings remaining the odds were still against Slowey actually completing the no-hitter. Leave him in and there's a strong chance he ends up allowing a hit on, say, his 127th pitch, in which case the Twins would've gone from risking his health for a minimal reward to risking his health for zero reward.
All of which is more or less exactly how Gardenhire explained his through process afterward:
I would boo too. I mean, I was booing myself. But I also know what's right, and that's why I [pulled him]. I wanted to see a no-hitter myself, but I also know I'm responsible for this young man's arm. You just can't risk a guy's career. I'm not going to do it. Slowey is coming off an elbow injury and we're not about to even come close to risking this guy.

I'm not going to let him throw 125, 130 pitches. It's just not going to happen. If he went back out for one more inning, he'd probably be up around 115, 120, and he'd be done anyway. There was no way he was going to finish, and we're just not going to risk this young man. He's got too big of a career ahead of him.
Judging by all the hugs and handshakes he was doling out in the dugout between the seventh and eighth innings Slowey wasn't exactly crushed by the decision to pull him, although he did admit afterward: "I don't think it would be possible not to be a little bit disappointed." He also joined Gardenhire in seeing the decision as a smart one in the bigger picture:
More than anything I was encouraged. I was encouraged by the way it was presented to me, I was encouraged by the fact that Gardy and [pitching coach Rick Anderson] care a whole lot more about me as a person and as a pitcher in the long term than they do about winning one game, or having one accomplishment. I think that says a lot about them, and it says a lot about our organization.
Exactly, and I also think that reaction says a lot about Slowey.