June 15, 2012
• It turns out that Official Fantasy Girl of AG.com Mila Kunis apparently doesn't own a mirror.
• Pete Campbell has established himself as the Chuck Wepner of Mad Men.
• It got my hopes up, but "Cougars move to reclaim Midwest" was just a misleading headline.
• My weekly appearance on KFAN with Paul Allen included the usual Twins talk but was mostly about my never-ending supply of beautiful female groupies. And for anyone who listens to the appearance, know that I played this in the car while driving home from the studio (alone).
• Aubrey Huff was on the bench for Matt Cain's perfect game and then injured his knee tripping over the dugout railing in an attempt to celebrate.
• Sad news about one of the best pitchers in Twins history, as Dave Boswell passed away this week at age 67. Boswell, who debuted with the Twins as a teenager in 1964 and spent seven seasons in Minnesota, ranked 36th on my list of the best players in team history.
• Was last night's season-worst outing against the Phillies the start of Scott Diamond coming crashing back down to earth? I'm glad you asked.
• So far at least Bryce Harper looks like the best 19-year-old hitter in baseball history. He's also the leader in the clubhouse for best quote of the year: "That's a clown question, bro."
• In less than two weeks the annual Society for American Baseball Research convention will be in downtown Minneapolis at the Marriott City Center from June 27-July 1. I've attended every SABR convention since 2004 and obviously won't miss this one. Some parts of the convention require registering, but as my annual convention recaps show I go mostly to talk baseball, hang out, and drink beer. And you certainly don't need to be a SABR member for that.
• This week Tom Scharpling did his 500th episode of The Best Show On WFMU, which gets my vote for the most underrated consistently hilarious thing ever. It'll change your life.
• If you're interested in being an AG.com "sponsor of the week" click here for details.
• Minka Kelly seems nice.
• I finally convinced my brain it was safe to empty my closet of clothes I wore at 355 pounds and buy new clothes to wear at 175 pounds. I'm still trying to decide what to do with dozens of XXXL shirts, but for now this is what a fatboy's entire wardrobe looks like piled on a couch: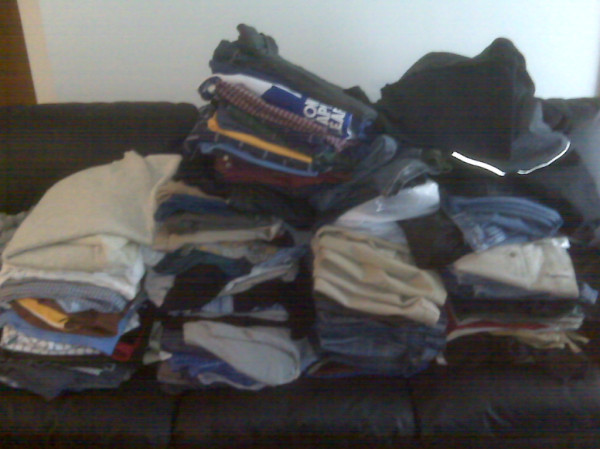 Donating to charity is a good idea, except my brain remains convinced I'll need it all again.
• People: Still the worst.
• Deadspin gave Jay Mariotti the attention he deserves.
• Stephen Strasburg made his 30th career start this week--with a 12-month break for Tommy John surgery included--and his overall numbers are pretty crazy.
• It took long enough, but Mark Wahlberg can finally make something of his life now.
• I wish I could get as excited about anything in life as my mom and aunt were to watch TNT's reboot of Dallas on Wednesday night. And apparently they weren't alone.
• Henry Hill, who was portrayed by Ray Liotta in Goodfellas and often called Howard Stern's radio show to promote public appearances while in witness protection, died of natural causes.
• Suffice it to say that mixed martial arts and Anderson Silva are a bigger deal in Brazil.
• Official Fantasy Girl of AG.com candidate Lizzy Caplan starring in a new Showtime series called Masters of Sex is probably the greatest idea in the history of television.
• In which Nick Blackburn is Jodie Foster and Kyle Kendrick is Matthew McConaughey.
• Preach, brother Patrick!
• I realize year-old movie reviews are sort of pointless, but they're also kind of my specialty here and I finally saw 21 Jump Street. It exceeded expectations more than any movie I can remember, with tons of big laughs. And not only that, on the way to the movie theater I saw a car pull over and a woman get out to puke on the sidewalk. One of the highlights of my life.
• I also saw a rare new release in Bernie, which was more weird and interesting than actually good but did feature Jack Black doing a nice job stepping way outside of his comfort zone.
• One of my favorite podcasts, You Had To Be There with Nikki Glaser and Sara Schaefer, is coming to MTV as a late-night talk show.
• Reminder: Gleeman and The Geek is live on KFAN this Sunday at 4:00, right after the Twins-Brewers game. My co-host John Bonnes is on vacation, so we'll have a couple special guests.
• Finally, this week's AG.com-approved music video is the longest song in my iTunes library, David Gray's cover version of "Say Hello Wave Goodbye" by Soft Cell:
This week's blog content is sponsored by PickPointz, where you can make predictions, pick games, and win prizes for free. Please support them for supporting AG.com.