August 23, 2011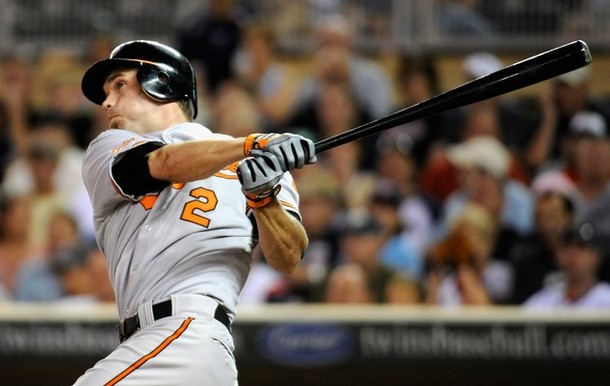 • Ken Rosenthal of FOXSports.com reports that the Twins placed Jason Kubel and Jim Thome on revocable waivers yesterday, which is no surprise and doesn't necessarily mean anything. Both impending free agents will likely be claimed, at which point the Twins can either work out a trade with the claiming team or pull them back for the rest of 2011. They won't have options or leverage, but trading Thome and to a lesser extent Kubel could still be worthwhile.
• It took the Twins about 72 hours to choose Lester Oliveros as the player to be named later in the Delmon Young trade and then less than a week to call him up, adding the 23-year-old to the bullpen while placing Nick Blackburn on the disabled list with a forearm strain. Oliveros' fastball velocity and minor-league strikeout rates make him intriguing, but his awful control is a big hurdle to get over if he's going to become a useful late-inning option.
• For the second straight season Blackburn has pitched horribly before revealing an arm injury. Last year he earned a late-July demotion to Triple-A by throwing 104 innings with a 6.66 ERA, returned a month later to pitch well down the stretch, and then had elbow surgery. This year he was very good through mid-June, posted a 7.01 ERA and .366 opponents' batting average in his next 11 starts, and exited Sunday's game with "sharp pain" in his forearm.
• Anthony Swarzak will step into the rotation for Blackburn, which is a perfect opportunity for Swarzak to convince the Twins that he's more than just a long reliever. His miniscule strikeout rate and mediocre minor-league track record suggest he's been pitching over his head and will be overmatched as a full-time starter, but Swarzak has certainly earned the chance to prove the numbers are wrong with a rubber-armed 3.12 ERA in 66 innings.
• J.J. Hardy going deep last night might have been the most inevitable homer of all time or at least the most inevitable homer since Young's first post-trade swing last week. Hardy now has 24 homers for the Orioles, which is the most by an AL East shortstop since Miguel Tejada back in 2006. Hardy has 24 homers in 383 at-bats while the Twins' entire infield, including everyone to play first base, second base, shortstop, or third base, has 37 homers in 2,328 at-bats.
• Gardenhire claimed yesterday that Hardy "was probably going to be non-tendered" by the Twins if they hadn't traded him to Baltimore, except they actually tendered Hardy a contract on December 2 and didn't trade him until December 9. Perhaps they already had the framework of a deal in place, in which case Gardenhire is telling the truth about their misguided plan to cut Hardy for nothing. Ultimately the only difference is the degree of the Twins' ineptitude.
• On other hand, Gardenhire saying that the Twins planned to non-tender Young this winter if they hadn't traded him to the Tigers is totally believable and equally justified. Much like with Hardy they got whatever modest return they could for Young rather than simply cut him loose for nothing, but the fact that they apparently viewed Hardy then and Young now in the same light is pretty discouraging from a player evaluation standpoint.
• Also discouraging was Hardy strongly hinting that the Orioles' training staff has done a much better job than the Twins' training staff, which unfortunately isn't difficult to believe given the Twins' incredible number of injuries and failures to meet recovery timetables this year.
• Old friend Pat Neshek has been designated for assignment by the Padres after throwing 25 innings with a 4.02 ERA and more walks (22) than strikeouts (20). Neshek has been hard to hit with a .216 opponents' batting average, but between the hideous strikeout-to-walk ratio and an average fastball velocity of 86.4 miles per hour he hasn't made the Twins regret letting him go for nothing during spring training.
• Jim Callis of Baseball America crunched the numbers for the past five drafts and reports that the Pirates and Nationals led all MLB teams in spending at $52 million and $51 million while the White Sox were last in spending at $18 million. During the five-year span the Twins were 25th in spending at $24 million, which is largely due to having just one top-20 pick and zero top-10 picks from 2007 to 2011.
• Speaking of the draft, after last night's loss the Twins are in line for the No. 5 pick next year. Last time they picked higher than 14th was in 2001, when they took Joe Mauer first overall.
• Jeff Sullivan of SB Nation reviewed Mauer's first career appearance in the outfield and found that playing right field seems pretty damn easy most of the time.
• Ron Gardenhire's history with umpire Hunter Wendelstedt trumped his history with Danny Valencia last night, so hopefully the manager and his third baseman at least cracked a couple beers together in the clubhouse after their dual ejections.
• Ben Revere's iffy routes, weak arm, and six errors in just 60 games in center field have been frustrating, but last night he made one of the best, most spectacular catches I've ever seen.
• John Bonnes and I are slated to record the second episode of our "Gleeman and The Geek" podcast tonight, so hopefully you'll be able to download it here or on iTunes in the morning. If you'd like to ask us questions to be answered on the show or want podcast-related updates, follow @GleemanAndGeek on Twitter.
This week's content is sponsored by PosterBurner.com, where you can turn your photographs into high-quality custom posters.