January 13, 2012
• By virtue of her contribution to Jay-Z's new song his week-old daughter Blue Ivy Carter has already experienced more success than 99 percent of musicians ever will.
• One bad thing about being George Clooney is that he has to make such difficult tradeoffs.
• Alex Rodriguez definitely has a type.
• Rob McElhenney gained 50 pounds for the latest season of It's Always Sunny in Philadelphia, so naturally now he's interested in the lives of bloggers.
• This would be like arresting me for writing about the Twins or looking at Mila Kunis pictures.
• Donovan McNabb finally found a place where his bounce passes are a positive thing.
• If anyone knows Katy Perry, tell her I'm willing to overlook this whole thing.
• Bud Selig makes $22 million per year. That's all.
• My blog-mate Craig Calcaterra had some interesting thoughts about guys like us joining the Baseball Writers Association of America.
• This week's podcast is a mailbag episode, so thanks to everyone who submitted questions.
• Last month I opined that Glen Perkins is one of the few athletes worth following on Twitter, as evidenced by this picture of him dressed up as Bear Bryant for the Alabama-LSU game: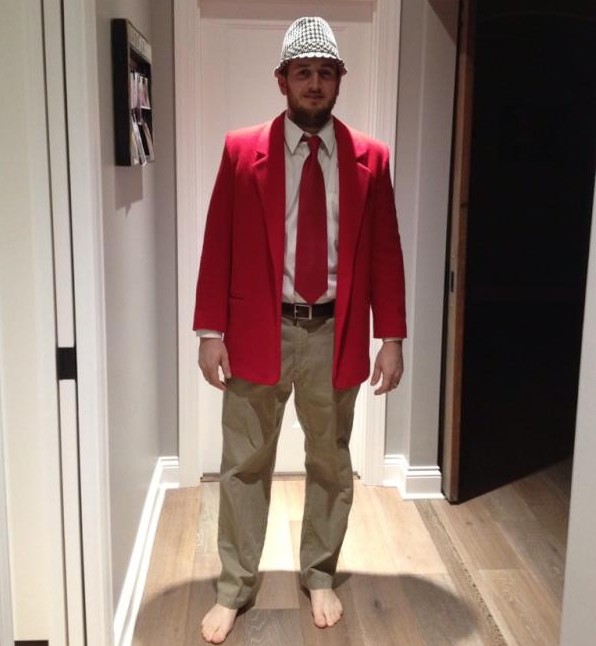 And clearly he wasn't kidding about hoping Ricky Rubio popularizes the neck beard locally.
• Apparently my diet has had a profound impact on the world.
• Good news if you like good television: Community is coming back to NBC, for a while at least.
• Russell Wilson was the Rockies' fourth-round draft pick in 2010 and played 93 games in the low minors as an infielder, but the Wisconsin quarterback told them he's sticking with football.
• I rented Blue Valentine about six months ago and then watched it again last weekend ... four times. Luckily the free Showtime preview on DirecTV came to an end, because I couldn't stop.
• I also learned that Showtime has some pretty good shows and has definitely closed the gap on HBO. And now I'm confused about why Emmy Rossum isn't a huge star.
• Seven years ago I wrote this article touting Barry Larkin for the Hall of Fame.
• Johan Santana is 16 months removed from left shoulder surgery and still not sure when he'll rejoin the Mets' rotation. He's owed $55 million for the next two seasons.
• Earlier this week the "F" key on my laptop stopped working and it's still giving me problems, but rather than getting it fixed I'm thinking about adopting this approach to writing.
• Very few one-person podcasts are any good--which is why I partnered up with John Bonnes for "Gleeman and the Geek"--but Bill Burr's solo show "Monday Morning Podcast" is hilarious.
• Two of my favorite comedians, Tom Segura and Todd Glass, will be at Acme Comedy Club on back-to-back weeks. Instead of talking someone into driving me or figuring out how not to be so clueless getting places and buying a new car I'm thinking of just moving next to the club.
• Evan Drellich of MLB.com penned a fitting tribute to Society for American Baseball Research member and all-around nice guy Greg Spira, who died last month at age 44.
• This year's SABR convention is coming to Minnesota from June 27 to July 3 and I've gotten a lot of questions from locals curious about joining, so click here for details about what it entails.
• Finally, in honor of me binging on Blue Valentine this week's AG.com-approved music video is "You and Me" by Penny and The Quarters: