August 10, 2010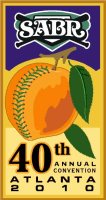 I got an aisle seat for my Wednesday afternoon flight to Atlanta for the 40th annual Society for American Baseball Research (SABR) convention and sat down to the right of an orthodox rabbi. Moments later the seat across the aisle was filled by a priest. Seriously. I waited patiently for the world's most obvious joke to come to life and deliver a punchline for "a rabbi, a priest, and a blogger/fat guy/SABR member get on an airplane," but sadly they never actually interacted.
Delta decided to play a joke of their own on all of us by leaving the plane on the sun-scorched Atlanta runway for 45 minutes, leading a flight attendant to announce: "We're gonna be here a while, so y'all might wanna slide the window shades down to stay cool." That worked about as well as my current weight-loss effort, but Baseball Think Factory regular Mike Emeigh was kind enough to wait for me and drove me to the hotel along with Joe Dimino and Greg Spira.
We headed directly to the hotel bar and met up with Steve Treder, Chris Jaffe, Mike Webber, Mike McCullough, Anthony Giacalone, Josh Heit, and Neal Traven, which was our party of 11 for dinner at Top Chef runner-up Kevin Gillespie's restaurant Woodfire Grill. It was too classy for me even without factoring in my cargo shorts, but the wine flowed, the $16 risotto and $28 pork loin were great, and we closed the place down. And then we closed down the hotel bar.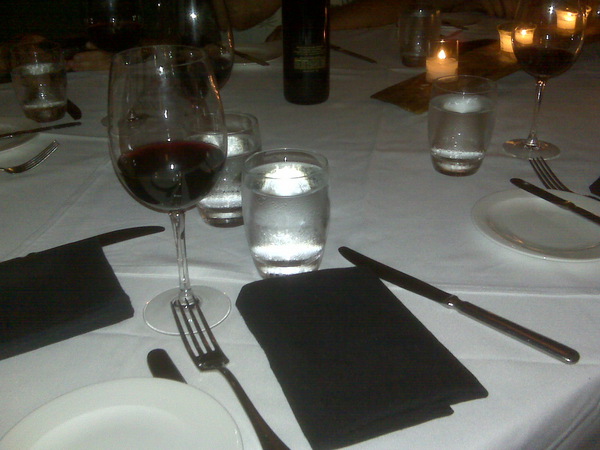 The actual convention began the next morning, and I saw presentations about Ted Lyons and the "Sunday Starter" from Jaffe and about the effect workloads and days between starts have on pitchers from J.C. Bradbury. Back in the hotel bar I found Chris Dial, who's starred in many of my past SABR recaps, and also met Cory Schwartz of MLB Advanced Media, who admitted to being a longtime reader and held no grudge over my reports about MLB.com's Twitter policy.
In fact, Schwartz invited me to that evening's Braves-Giants game along with Dial and Dimino, and then showed us how MLBAM and MLB.com roll by getting us into the swanky "755 Club" at Turner Field. We watched Jair Jurrjens out-duel Tim Lincecum while sitting outside at a table filled with pizza and buckets of beer, which has more or less ruined me forever. Everything we talked about was, as Schwartz and Dial repeatedly ribbed me about, "off the record."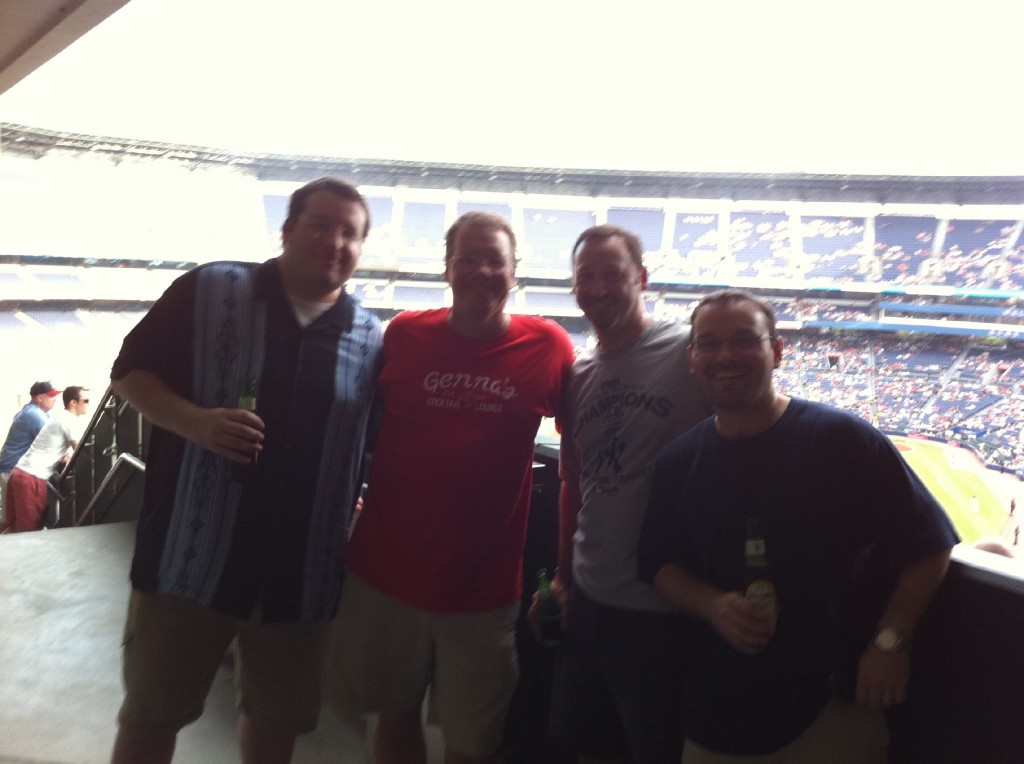 (From left to right: Gleeman, Dial, Schwartz, Dimino)
However, definitely not off the record was Schwartz's reaction when a June bug landed on my shoulder. Sensing his unease, Dial plucked it off my shirt and held it near Schwartz, who more or less freaked out. The pictures below don't even do it full justice, because they show him still seated. He later got out of his chair, stood behind Dial, and threatened bodily harm if the bug stayed near him, which is a 10 on the absurdity scale. Dial eventually ended his reign of terror.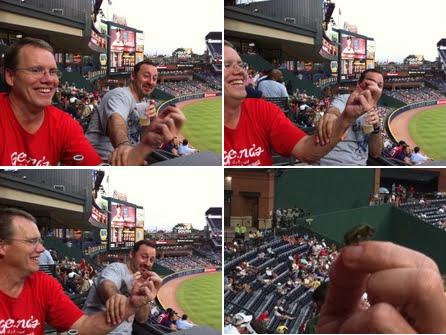 Schwartz said his friend Eddie Spaghetti of the Supersuckers was playing at a nearby bar, so after the game we took a cab to The Gravity Pub and saw him perform in front of around 50 people and 50,000 tattoos. I was once again way out of my element, but the music was very good, Mr. Spaghetti and his fans were as nice as they were ink covered, and another car full of SABR guys joined us there until the place closed after 3:00 a.m.
On the way back to the hotel we drunkenly decided it would be wise to instead get dropped off at a 24-hour diner where we combined beer and breakfast food in what's technically known as a "bad decision." Heit ordered rye toast, which admittedly seems somewhat less hilarious to me now than it did at the time, and an unnamed member of our party never made it to the breakfast food because he booted in the bathroom and stumbled back to the hotel in shame.
Our blond, 19-year-old waitress was shockingly amused by the whole thing and actually sat at the table for most of the hour-long meal, not totally unlike how Jane Goodall immersed herself in the chimpanzee world. Also, on the walk back to the hotel I'm told I recreated the scenes from "The Matrix" where Neo dodges bullets in slow motion, which I can assure you must have been funnier to watch than even Keanu Reeves' acting.
On a completely unrelated note, I woke up the next "morning" at 1:00 p.m. with a sore back and syrup on my pillow. I wobbled downstairs to the presentation room and sat a couple rows behind Red Sox assistant general manager Ben Cherington for Vince Gennaro's talk about measuring the asset value of players for midseason trades, followed by a presentation on the 1962 expansion draft during which the elderly man next to me literally fell asleep.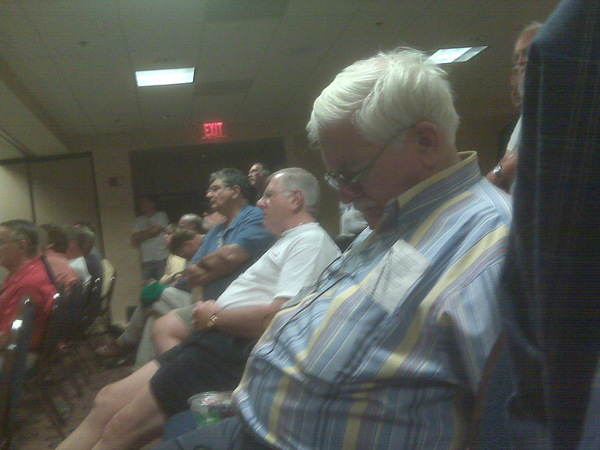 Sleeping beauty thankfully woke up for Treder's presentation on baseball (and America) in the 1960s, after which the several hundred-person SABR group went to the Braves-Giants game. I finagled a ride to the ballpark with Dimino, Baseball-Reference.com creator Sean Forman, and Neil Paine, who does great work blogging on Basketball-Reference.com. We got there just in time for a two-hour rain delay, after which the Braves hastily retired Tom Glavine's number.
We had tickets in Turner Field's all-you-can-eat section and my stated plan was to do enough damage that the Braves would have to trade Brian McCann just to cut payroll, but believe it or not my tremendous appetite was no match for the horrendous food set up like farm animals feeding, so instead I reluctantly downed some junior high cafeteria-quality offerings in the rain while chatting and complaining with Dimino, Webber, Paine, and Anthony and Chris Milazzo.
Once the rain stopped the weather was perfect and I sat with Forman, Dimino, Webber, Paine, Jaffe, and my former The Hardball Times partner Dave Studenmund. We had a great time, but naturally after the two-hour rain delay and Glavine ceremony the game went into extra innings when the Braves' defense imploded behind Billy Wagner. Forman also let me use his iPhone to watch the Twins-Indians game, which was great right until Matt LaPorta's walk-off homer.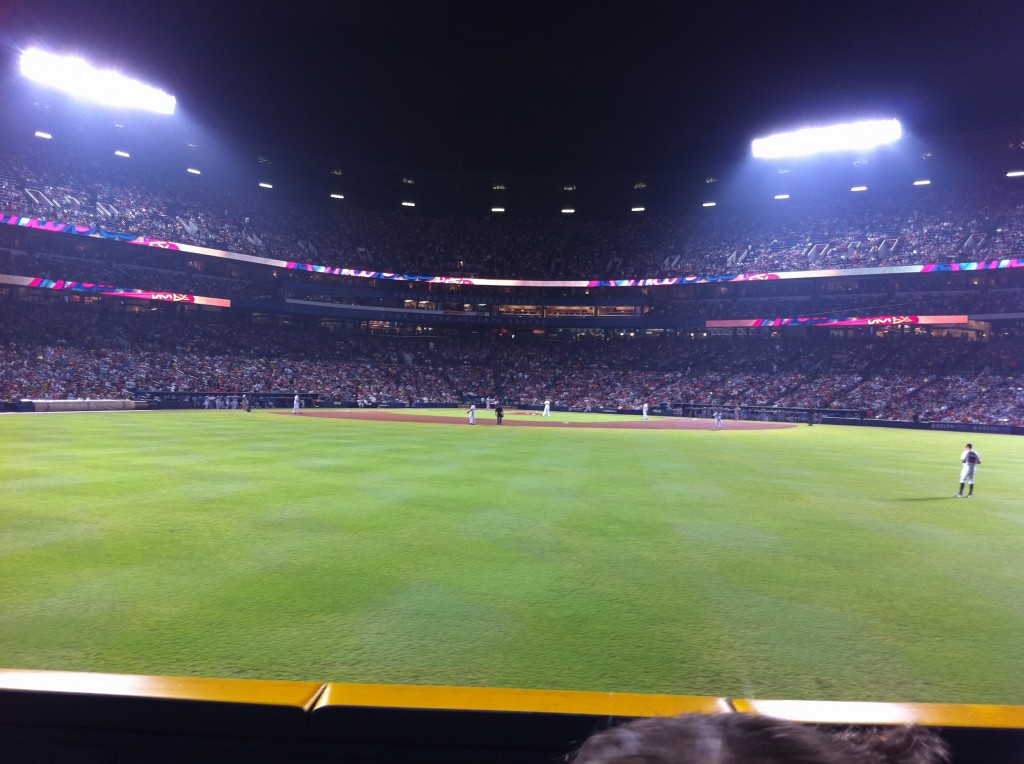 We closed the hotel bar again Friday, but I woke up Saturday just in time to catch the "New Technologies in Baseball" panel at 3:00 p.m. Physics of baseball guru Alan Nathan was joined by Fan Graphs and Baseball Analysts writer Dave Allen, former THT staffer and current Tampa Bay Rays baseball operations analyst Josh Kalk, Trackman business development director Rob Ristagno, and Sportvision video development director Rand Pendleton.
In terms of the actual convention it was the highlight for me on several different levels. Allen took the stage sporting epic mutton-chops that, as Rob Neyer pointed out, made him look like Hyde from "That 70s Show." Beyond that Kalk used props, including a baseball attached to a power drill that predictably malfunctioned and almost crippled Nathan. And last but not least, the technology shown, discussed, and hinted at was mind-boggling.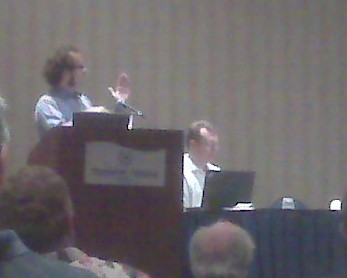 (Allen and his tremendous mutton-chops)
Over the past couple years Pitch-f/x has changed the way many people analyze the game by providing previously unavailable details about pitching that turn "velocity" and "location" into a science. Field-f/x is now in the works, with the stated goal being to "create a digital record of all events" happening on each major-league field at all times. In other words, track everything. In truth a lot of the details went way over my head, but my mind was sufficiently blown.
Right now for each pitch thrown Pitch-f/x shows speed, location, release point, and movement. Field-f/x would take that and apply it to everything else, from batters and fielders to umpires and runners. What was the speed and trajectory of a fly ball? How was an outfielder's jump on the fly ball? How precise was his route? How fast did he get there? What type of jump did the runner get? How quick he did move? Was an umpire in proper position to make a tough call?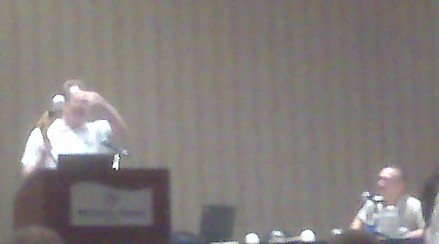 (Kalk and his baseball power drill, before the malfunction)
And that vastly understates the potential impact because I don't know or understand enough about the technology involved to do it justice and visual aids really made everything come to life, but I really think we're on the verge of a huge shift in baseball analysis and the discussion panel has me very excited to see what's next. If you think the depth of data available on sites like MLB.com and Fan Graphs right now are amazing, just wait until next season.
After having my mind blown by upcoming technology I rehydrated in the hotel bar and Hooters, and then went with a group of 15 to a Brazilian steakhouse called Fire of Brazil. As you can imagine we did some serious damage, and at the end the waiter took it upon himself to snatch away my plate despite my stop/go card being flipped to green. I consider it a victory over the restaurant, running my career record against buffet-style eateries to 154-0 with 97 knockouts.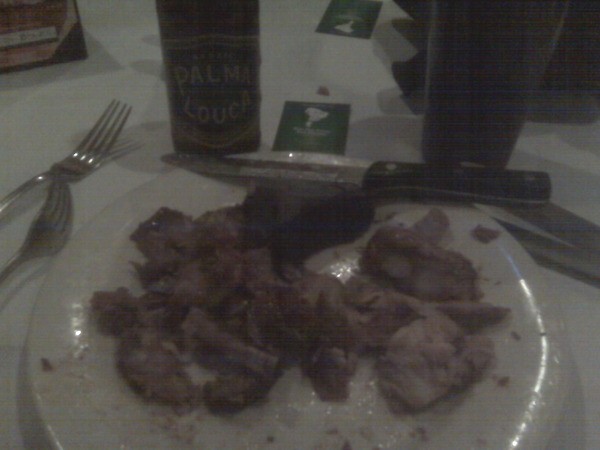 After that we retreated back to the hotel bar and around midnight Dial noted the collection of Baseball Think Factory regulars, semi-regulars, and (back when it was called Baseball Primer) former regulars huddled together in a beer-littered corner and decided it would be the perfect opportunity to hold our first official chapter meeting. And those who remember my recap of last year's SABR convention in Washington, D.C. know just how fitting that was.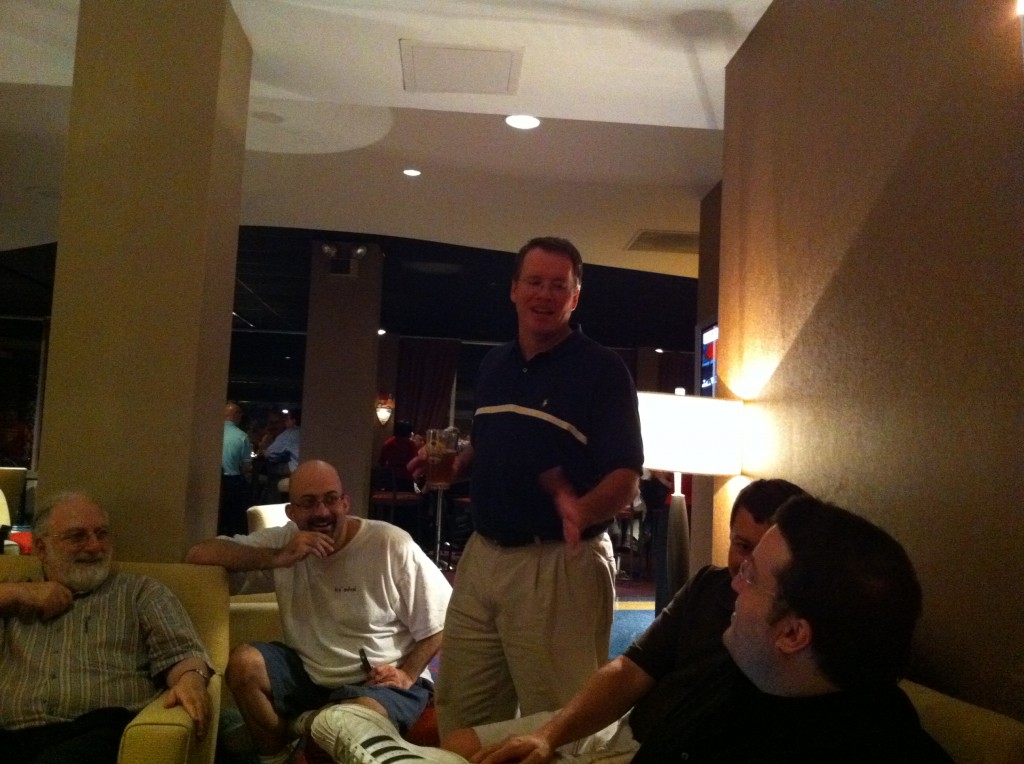 (From left to right: Traven, Spira, Dial, Webber, Gleeman)
Paul Brewer first mentioned the idea of a BTF and/or internet-based SABR chapter over dinner and a bottle of wine, and that notion was further hashed out by a couple dozen degenerates jammed into my hotel room and drinking from a makeshift bar built around the bathroom sink. We stayed true to those roots a year later and as we brainstormed ways to expand the group even further for future years Dial mentioned the role my annual convention recap could play.
That made me nervous because while SABR and the SABR convention are many things to many people--history and research, presentations and discussions, passion for baseball--to me it's always been about getting together with my friends each year to shoot the shit, go to a game, and break bread in a new city. My recaps of beer drinking and shit shooting are a glimpse into just one of the many great aspects of SABR, but I do hope it somehow helps spread the word.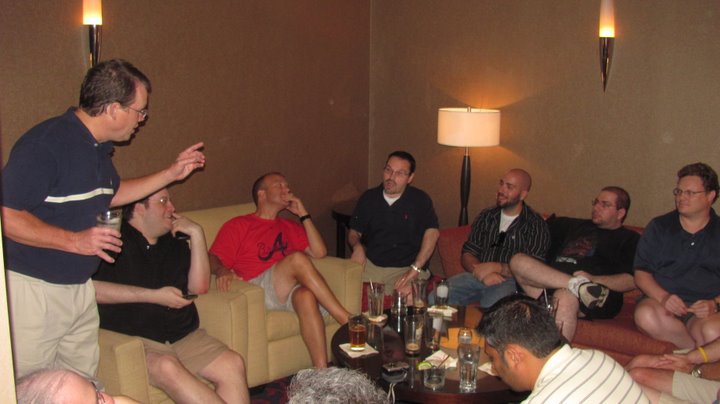 (From left to right: Dial, Gleeman, Giacalone, Dimino, Milazzo, Milazzo, McCullough)
I had no idea what to expect when I went to Cincinnati for my first SABR convention in 2004, but I haven't missed a convention since and can't imagine ever not going. I'll be in Los Angeles next year and the SABR convention is coming to Minnesota in 2012, so I'm counting on a whole bunch of AG.com readers and Twins bloggers joining the fun by then. If you like baseball you'll enjoy it and if you like hanging out with other people who like baseball you'll love it. I do.