November 26, 2014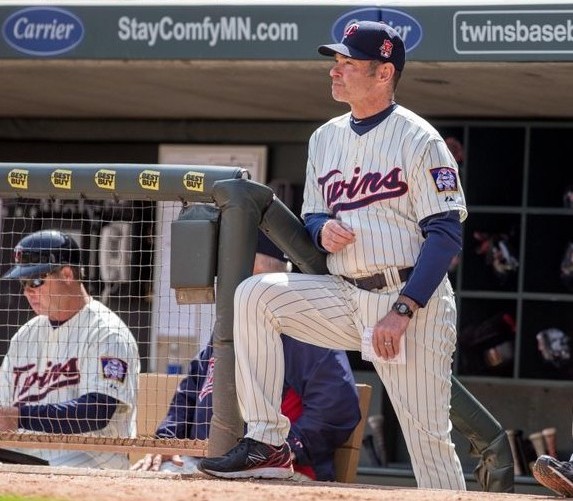 When the Twins fired Ron Gardenhire after 13 seasons as manager the idea of blowing up the coaching staff and rebuilding everything from scratch with outside hires sounded appealing given the organization's struggles, but choosing Paul Molitor over Torey Lovullo as the new manager squashed that notion. Molitor is the epitome of an in-house hire and in filling out his coaching staff the Twins have continued to lean heavily on current and former members of the organization.
Bench coach seemed to be a very important hire considering Molitor's complete lack of managing experience and the overall lack of big-league experience throughout his staff. Instead of stepping outside of the organization for a veteran with previous managing experience the job went to Joe Vavra, a longtime member of Gardenhire's staff who was reassigned from hitting coach to third base coach two years ago and has no professional managing experience above Single-A.
Tom Brunansky, who was on Gardenhire's staff with Molitor and Vavra, stays on as hitting coach after the Twins ranked fifth among AL teams in scoring. Brunansky replaced Vavra as hitting coach in 2013 after working his way up through the minors amid praise for his coaching of Double-A and Triple-A hitters. If any member of the coaching staff deserved to stay it was Brunansky, whose presence was one of the few major coaching changes made under Gardenhire in the first place.
Brunansky's assistant hitting coach is Rudy Hernandez, who was promoted from rookie-league manager after 14 years in the organization. Hernandez is the first assistant hitting coach in Twins history, as teams began adding the position a few years ago. He's coached many players on the current roster as well as many prospects soon to arrive in Minnesota and the 46-year-old's ability to speak Spanish is a welcomed addition that had been severely lacking with Twins coaches.
Gene Glynn joins the staff as third base coach after spending the past three seasons managing the team's Triple-A affiliate in Rochester. He interviewed to replace Gardenhire, but unlike fellow interviewee Doug Mientkiewicz the Twins felt the Minnesota native was worth adding to the staff after passing on him as manager. At age 58 he's definitely paid his dues, managing, coaching, and scouting in the minors and majors for numerous organizations.
Eddie Guardado, who has zero coaching experience since retiring in 2009, takes over as bullpen coach. He's certainly familiar with the Twins' bullpen, spending a dozen seasons there, including back-to-back 40-save seasons as the team's closer in 2002 and 2003. As a player Guardado was boisterous, jovial, quotable, and well-liked, which is probably a decent recipe for success in a role that generally doesn't receive much attention.
With first base coach the lone vacant position, Neil Allen is the only true outside hire, beating out former Twins reliever Carl Willis for the pitching coach job after filling the same role at Triple-A in the Rays organization from 2007-2014. Former pitching coach Rick Anderson was Gardenhire's right-hand man for the entirety of his 13-year tenure and became the target of heavy criticism when the pitching staff ranked 29th, 29th, 28th, and 29th in runs allowed from 2011-2014.
Allen preaches many of the same things Anderson did, chief among them limiting walks, but unlike Anderson he has a long history of helping to develop successful young pitchers that have been the lifeblood of the Rays' low-payroll success. He pitched 11 seasons in the majors as a reliever--and actually had poor control himself, walking 3.8 batters per nine innings--and at age 56 he's been praised for the same open-mindedness, intelligence, and innovation the Rays were built on.
In hiring Molitor the Twins made it clear that they don't view lack of experience as a negative and in filling out his coaching staff they made it equally clear that they continue to view staying in-house and promoting from within as positives despite four straight 90-loss seasons. I have no major issues with any of the individual hires, but I feel silly for believing they might actually go outside of the organization to find a new manager and new coaches. Should have known better.
---
This week's blog content is sponsored by Uber, which is offering a free ride to first-time users who sign up with the promo code "UberGleeman."