December 13, 2010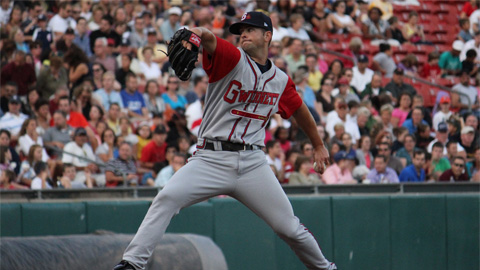 Overshadowed by the Twins trading J.J. Hardy to the Orioles last Thursday is that they also made a pick in the Rule 5 draft, taking 24-year-old left-hander Scott Diamond from the Braves. Undrafted out of a Canadian high school, Diamond signed with the Braves in 2007 for $50,000, which is the same price the Twins paid to select him. Despite being undrafted Diamond moved pretty quickly through Atlanta's system, reaching Triple-A in his third year as a pro.
He's had success at every level, posting ERAs of 3.08 at low Single-A, 2.79 at high Single-A, 3.51 at Double-A, and 3.36 at Triple-A. This year he made 17 starts at Double-A and 10 starts at Triple-A, posting a combined 3.46 ERA and 123-to-54 strikeout-to-walk ratio in 159 innings. Diamond's strikeout and walk rates have been mediocre, with 7.3 strikeouts and 3.0 walks per nine innings, but he's done a tremendous job inducing ground balls and limiting homers.
Diamond has served up a total of 19 homers in 442 career innings, including just 11 long balls in 290 innings between Double-A and Triple-A. Not surprisingly he's also had a ground-ball rate above 50 percent at every level, suggesting he may be able to find success in the big leagues without missing a ton of bats. In order for the Twins to keep Diamond he must remain on the 25-man roster (or disabled list) for the entire 2011 season or he'll be offered back to Atlanta.
There are plenty of notable Rule 5 picks, including some guy named Johan Santana, but most of the time the players selected don't stick all year and are offered back to their original team. Diamond has a chance to stick, in part because he projects as a potentially useful pitcher and in part because the Twins have plenty of spots to settle in the bullpen. He could begin 2011 in a long relief role and perhaps get a chance to be a situational left-hander if things go well.
No players were plucked from the Twins in the big-league phase of the Rule 5 draft, which is good news since they left Kyle Waldrop unprotected despite back-to-back strong years after a move to the bullpen. Struggling down the stretch at Triple-A and getting knocked around in the Arizona Fall League may have scared teams off Waldrop, but the Twins' willingness to lose him and his lack of a 40-man roster spot could equal an uphill battle for a call-up in 2011.
In the Rule 5 draft's minor-league phase the Twins did lose three pitchers: Michael Allen, Jean Mijares, and Eliecer Cardenas. Very few players picked in the minors portion have gone on to have any sort of MLB career, with Brian Buscher actually ranking among the biggest success stories. Allen, Mijares, and Cardenas don't figure to be any different, as none ever cracked my annual list of the Twins' top 40 prospects and weren't in consideration for the 2011 version.