December 18, 2013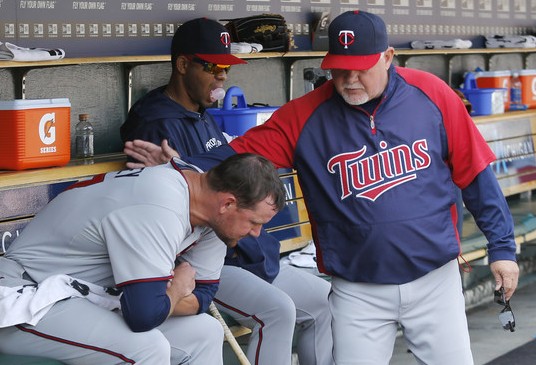 • My assumption was that the Twins wouldn't want anything to do with Mike Pelfrey again after he posted a 5.19 ERA in 29 starts, but both Ron Gardenhire and Terry Ryan repeatedly made it clear that they wanted to re-sign him even with Ricky Nolasco and Phil Hughes already added to the rotation. Bringing back Pelfrey at all is odd enough, but bringing back Pelfrey on a two-year contract worth $11 million plus incentives is something I'm really struggling to comprehend.
In addition to the bloated 5.19 ERA and .300 opponents' batting average he managed just 6.0 strikeouts per nine innings to rank 81st out of 91 pitchers with at least 150 innings as starters. His walk rate of 3.1 per nine innings ranked 70th out of 91 and for all the talk about Pelfrey's ability to induce ground balls his actual ground-ball rate of 43 percent ranked 55th. He was a fly-ball pitcher with bad control and very few missed bats and he ranked next-to-last among all starters in xFIP.
Pelfrey was also in his first season back from Tommy John surgery and odds are he'll be stronger in 2014, but the problem is that he was never particularly good before the elbow injury. He was a durable innings-eater for the Mets, but in terms of actually preventing runs Pelfrey had a 4.38 ERA from 2009-2012 despite calling the National League and a pitcher-friendly ballpark home. Here's how his pre-surgery numbers from 2009-2012 compare to his post-surgery numbers in 2013:
              SO/9     BB/9      GB%     xFIP      MPH
2013           6.0      3.1     43.2     4.54     92.3
2009-2012      5.1      3.0     48.3     4.40     92.3
There were certainly some changes within Pelfrey's post-surgery performance, but for the most part he remained the same pitcher relying very heavily on the same fastball thrown at the same speed and his overall results were nearly identical. Which is to say: Not good. Also of note is that Pelfrey has always worked slow, but his pace was excruciatingly lethargic this year. His average of 24.9 seconds between pitches was the ninth-slowest in baseball. He was brutal to watch too.
Clearly the Twins, like their fans, were sick of watching inexperienced starters get their brains beat in, because re-signing Pelfrey and signing Nolasco and Hughes to go with holdover Kevin Correia leaves just one spot in the rotation to be fought for by a group that includes Samuel Deduno, Kyle Gibson, Scott Diamond, Vance Worley, Kris Johnson, and Andrew Albers. And soon they'll hopefully need to make room for stud prospect Alex Meyer's arrival.
Gibson and Meyer are the only starters in that group around whom long-term plans should be made and the Twins had plenty of money to spend, so shoving aside various back-of-the-rotation options isn't a big deal. But why Pelfrey? And why lock yourself into a two-year commitment to a mediocre-at-best pitcher coming off a season in which he was one of the very worst starters in all of baseball?
• Jason Kubel left the Twins as a free agent following the 2011 season to sign a two-year, $15 million deal with the Diamondbacks and now, after one good year and one bad year, he returns to Minnesota on a minor-league deal. This year he struggled with injuries and hit just .216/.293/.317 with a 92/29 K/BB ratio in 97 games, so it's possible that he's simply done at age 32, but Kubel was an above-average hitter in each of the previous six seasons and smacked 30 homers in 2012.
He's never been able to hit left-handers and has no business playing defense at this point, but if used correctly in a part-time role Kubel could be a nice addition. And the price is certainly right. Of course, Gardenhire has yet to consistently platoon anyone in a dozen years and there was already a logjam at designated hitter and the outfield corners with Josh Willingham, Oswaldo Arcia, Ryan Doumit, Chris Parmelee, Chris Colabello, and possibly Josmil Pinto in the mix.
Doumit possibly no longer being an option at catcher means finding a taker for him and his $3.5 million salary would lessen the logjam considerably, but he was almost as bad as Kubel offensively and is every bit as bad defensively in the outfield. Mike Berardino of the St. Paul Pioneer Press reports that Kubel will get $2 million in upfront money if he makes the Opening Day roster and could earn another $1 million in potential incentives. Right now I'd bet on him making the team.
UPDATE: Apparently the Twins agreed. Jeff Passan of Yahoo! Sports reports that they're trading Doumit to the Braves for Sean Gilmartin, a soft-tossing lefty who was a first-round pick in 2011.
• Designated for assignment last week to make room on the 40-man roster for the Nolasco and Hughes signings, Liam Hendriks was claimed off waivers by the Cubs. I've already said my piece on the Hendriks decision, but the short version is that despite never being a particularly promising prospect he's still young enough to be useful and the Twins had a handful of better choices to cut loose. There's a decent chance he'll find himself on waivers again before Opening Day, though.
• Fan Graphs published the annual ZiPS projections for the Twins and ... it ain't pretty.
• Thanks to everyone who bought tickets to the event I'm co-hosting with Twins Daily next month during TwinsFest. We sold out all 125 tickets in three hours, so we're trying to find a way to add some more spots. Stay tuned for more details.
• For a lot more discussion about Pelfrey, Kubel, and Hendriks check out this week's "Gleeman and The Geek" episode.
---
This week's blog content is sponsored by 6300 Steakhouse at the Embassy Suites, an American steakhouse with a Cajun flair that features hand-cut steaks, seafood, sandwiches, burgers, and homemade Jambalaya. Please support them for supporting AG.com.