October 5, 2012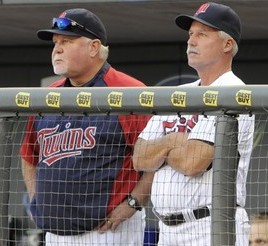 66-96.
Last year 99 losses and the AL's worst record motivated the Twins to fire general manager Bill Smith a month after the season ended. This year 96 losses and the AL's worst record led to immediate and sweeping changes to the coaching staff, as the Twins announced yesterday that everyone on Ron Gardenhire's staff except for pitching coach Rick Anderson has been let go or reassigned to a lesser role within the organization.
During the first 11 seasons with Gardenhire as manager the Twins fired a grand total of one coach, Al Newman. Yesterday alone they fired first base coach Jerry White, third base coach Steve Liddle, and bullpen coach Rick Stelmaszek while reassigning hitting coach Joe Vavra and bench coach Scott Ullger to roles described as infield and outfield instructors. Head trainer Rick McWane was also let go.
I'd love to offer some meaningful analysis, but beyond stating the obvious about the need for change after 195 losses in two years it's difficult to say if specific firings were justified or what the shakeup's impact will be. Good or bad, evaluating coaches is a lot of guesswork. What's easier to see is that with a new coaching staff and Gardenhire's contract up after 2013 the writing is seemingly on the wall for what another 90 losses would lead to this time next year.
---
Being a Twins fan hasn't been much fun lately, so now more than ever I want to thank you for stopping by AG.com this season. My hope is that you'll stick around all offseason, because I'll be analyzing moves, breaking down potential free agent targets, parsing trade rumors, rolling out my annual ranking of Twins prospects, and writing every bit as often as during the season. And of course we'll continue to have new "Gleeman and The Geek" episodes every week.
Thank you for reading this blog, thank you for listening to my podcast and radio appearances, thank you for following me on Twitter, thank you for supporting my work at NBCSports.com and MinnPost, and thank you for all the kind words and even the not-so-kind ones. If you'll keep reading and listening I'll keep writing and talking, and maybe this time next year we'll be looking over playoff matchups. And if not, at least baseball will still be baseball.
Interested in sponsoring a week of AG.com during the offseason? Click here for details.