December 6, 2012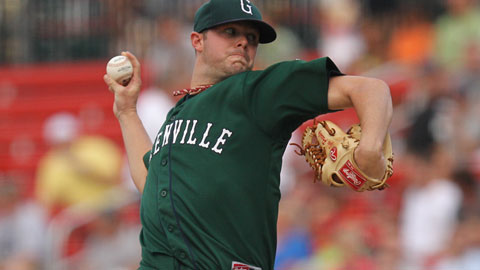 Picking fourth in the annual Rule 5 draft the Twins selected Double-A reliever Ryan Pressly from the Red Sox and lost none of their own players to other teams. Last year the Twins picked second in the Rule 5 draft and took Double-A starter Terry Doyle from the White Sox, only to drop him early in spring training, so the odds are certainly stacked against Pressly cracking the Opening Day roster.
Rule 5 picks must stick in the majors all season or be offered back to their original team for half of the $50,000 selection fee, although teams can work out a side deal to get around that like the Twins and Braves did with Scott Diamond in 2011. Boston took Pressly in the 11th round of the 2008 draft out of a Texas high school and he mostly struggled as a starter before shifting to the bullpen following a promotion to Double-A in the second half of this year.
Pressly's numbers as a starter aren't pretty, but he threw 28 innings as a reliever at Double-A with a 2.93 ERA and 21-to-10 strikeout-to-walk ratio and then pitched well in the Arizona Fall League with an 18-to-1 strikeout-to-walk ratio in 14 innings. It's worth noting that in drafting Doyle last year the Twins talked up his Arizona Fall League performance too, but Doyle was a 26-year-old control pitcher whereas Pressly is a 23-year-old with much better raw stuff.
Prior to the Rule 5 draft Jonathan Mayo of MLB.com highlighted Pressly as one of 20 players who might get selected, writing that he "has a big arm that can fire fastballs in the mid-90s and he has an outstanding power curve to go with it." At this point Pressly's resume includes 400 innings of mediocre pitching as a starter and 40 innings of good pitching as a reliever, but the Rule 5 draft is about trying to make something out of nothing and he's intriguing at least.