September 13, 2013
• After six months on the radio with KFAN this week's "Gleeman and The Geek" episode returned to our podcast-only, beer-drinking roots at Summit Brewing's annual "Backyard Bash" event. We explained the switch, discussed Joe Mauer's health status and future, and marveled over Byron Buxton. And as one commenter put it: "Aaron got overly salty at the end there."
• After recording the podcast and nearly sweating to death Saturday at the beer fest I headed to Target Field at the Twins' invitation for their "Social Media Deckstravaganza" event, where a few dozen of the internet's finest nerds got together to watch a game, drink some beer, and stare at their phones. Twins team photographer Brace Hemmelgarn snapped this long-distance shot of our group in left field from his perch by the dugout:

Ugly shirt? Check. Making a weird face? Check. Staring at your phone? Check. Good work, Aaron.
It was like 95 degrees outside that night, so some of us retreated to the air conditioning: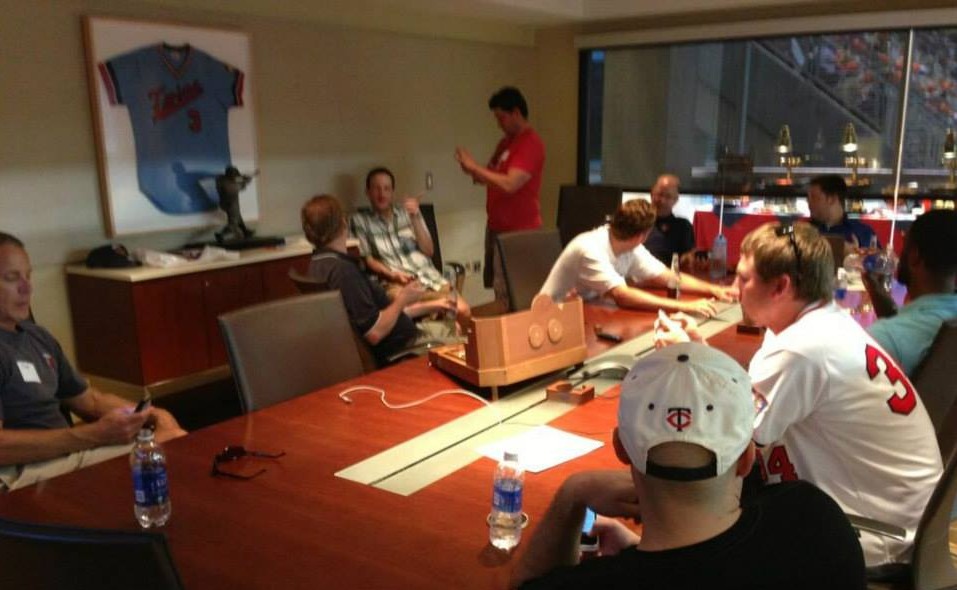 There are at least four Twins employees and three Twins Daily writers in that picture, along with me. Here's what I saw earlier when I arrived about 15 minutes before the first pitch: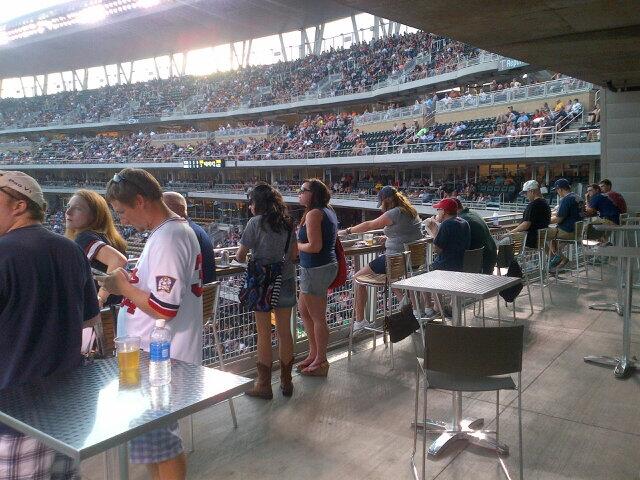 And here are the last dozen or so people who stuck around after the final pitch, phone-staring: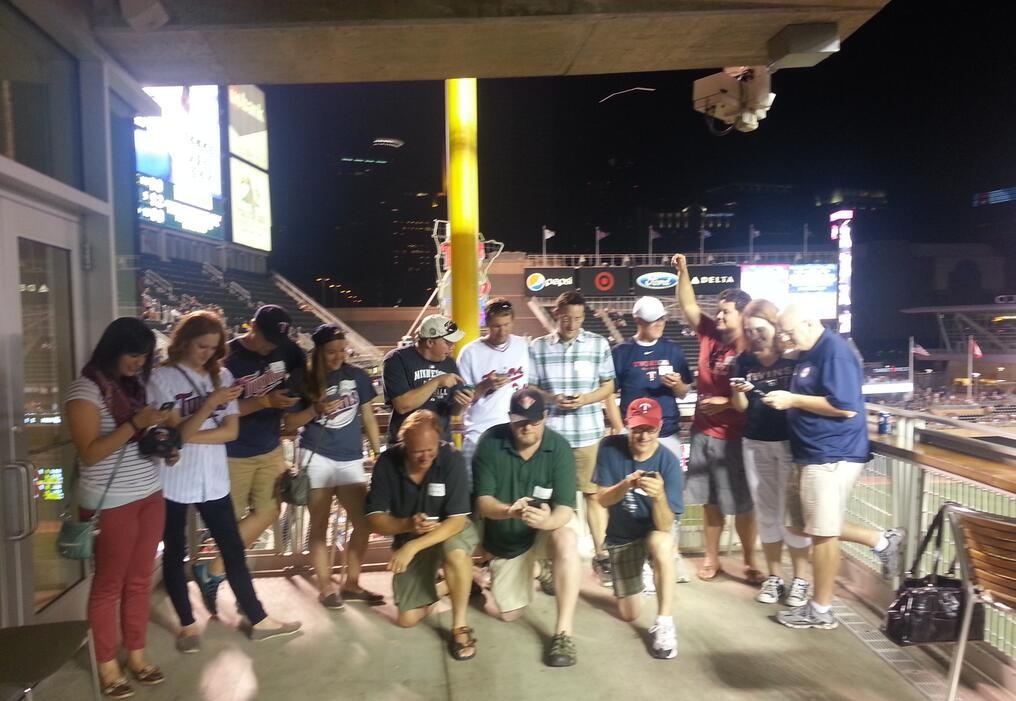 There are a lot more pictures in existence, but you probably get the idea. Thanks to the Twins (and specifically Keith Beise and Chris Iles) for the invite. Good times, despite Kevin Correia.
• My long, hard journey to the Deckstravaganza was documented poetically by Axel Kohagen.
• My podcast co-host John Bonnes is speaking at the Minnesota Blogger Conference next month.
• As someone who's shared way too much of his life online for years I was fascinated by the idea platonic friends Jessica Walsh and Timothy Goodman had to date each other every day for 40 days, keep separate journals documenting the experience, and post it all for the world to see. It was part art project and part social experiment, and when combined with a well-done website featuring lots of quirky visual extras "40 Days Of Dating" is incredibly interesting.
• This season Buxton did things very few prospects have done and he did it at multiple levels.
• Some interesting local radio news, as 105.1-FM has switched to a sports talk format and added a bunch of well-known names like Tom Barnard, Don Shelby, Bob Sansevere, and Mike Morris to its lineup. Along with 100.3-KFAN and 1500-ESPN there are now three local stations devoted to full-time sports and 96.3-KTWN also has all the Twins games.
• Speaking of which, Adam Platt of Twins Cities Business took an in-depth look at the growing sports radio market in Minnesota and whether it's sustainable. It's a really good read, including a breakdown of each station involved and lots of interesting quotes from all sides.
• If you gave me a good bottle of Scotch and two hours I could grow a better mustache than the embarrassment Justin Bieber has on his upper lip.
• Braves teammates Dan Uggla and Gerald Laird had an ab contest via Twitter and as a Team Hirsute member I feel compelled to stick up for Laird. Freddie Freeman's photo bomb is the best part of the whole thing, although it might take a second to spot it.
• I'll be among 100 people embarking on Saturday's all-day "Grand Drunk Railroad" event, which involves taking the light rail from St. Paul to Target Field for the Twins-Rays game and stopping at a half-dozen bars along the way. Technically all the spots were already booked in advance, but if you'd like to crash the party at one of the bar stops or the game here's our planned schedule.
• Congrats to friend of AG.com Michael Rand on his promotion to Minneapolis Star Tribune digital sports editor. Great news for Minnesotans who consume their sports content online.
• Congrats to Dana Wessel of 96.3-KTWN for being friends with Rand and for buying a nice table.
Correction: Wessel did not, in fact, buy the table in question. Heather Balgaard is the real hero.
• Dodgers third baseman Juan Uribe hit three homers in one game and then had a pot hat in his locker afterward.
• On a related note, here's a picture from 1996 of 13-year-old me posing with Stephon Marbury while wearing a hat with a blunt in a banana peel on it: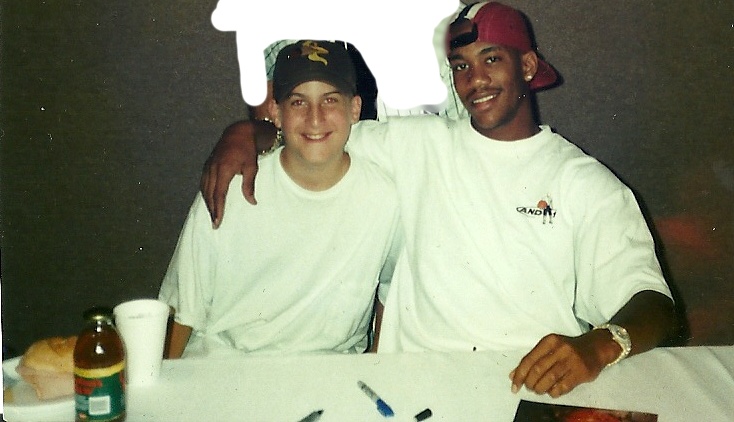 Not pictured: Marbury made me take off my Jason Kidd jersey before the photo was taken.
• "Storage Wars: Dikembe Mutombo Edition" is a show I'd watch.
• One of my favorite sports memories is being in the student section when Bobby Jackson came back to Williams Arena and got a standing ovation, so this news is pretty cool. As a mediocre JCC league point guard I wore my socks high because of him.
• Even cancer knows not to mess with Robin Quivers.
• Monday was my all-time favorite musician Otis Redding's birthday. He died in 1967 at age 26 and would have been 72 years old now. I get sad thinking about how many songs we missed out on, but he managed to get a whole bunch of great ones in. Some of my favorites:
- "I've Got Dreams to Remember"
- "That's How Strong My Love Is"
- "You Left The Water Running"
- "Sittin' On The Dock Of The Bay"
- "Hard To Handle"
- "Try A Little Tenderness"
- "Your One And Only Man"
- "My Girl"
- "Shake"
And once you're done listening to those, you're encouraged to shake it like a bowl of soup.
• I'd never heard Dan Savage before and was only vaguely aware of his popularity, but I really enjoyed his appearance on Marc Maron's show.
• It took one podcast appearance for Jenny Slate to move near the top of best guest rankings.
• I've owned the same pair of glasses since college and they broke this week, making me realize just how horrible life is when you can't see beyond five feet. If any doctors out there want to trade Lasik surgery for some blog and podcast mentions, let me know. I'm serious (and cheap).
• Some of this week's weird and random search engine queries that brought people here:
- "Jon Taffer hair transplant"
- "Dick Bremer net worth"
- "Corey Koskie net worth"
- "One beer or chicken wings worst for diet"
- "How to reduce weight in old men bloggers"
- "Sauce money 400 pounds"
- "Men-O-Rama"
- "Are the suites at Target Field air conditioned?"
- "Aaron Gleeman dead"
• Finally, this week's AG.com-approved music video is "You Don't Miss Your Water" by the birthday boy Otis Redding, which accurately portrays how I feel about the Twins right now:
---
Interested in sponsoring a week of AG.com and advertising your product, service, local business, or website directly to thousands of readers each day? Click here for details.