February 6, 2012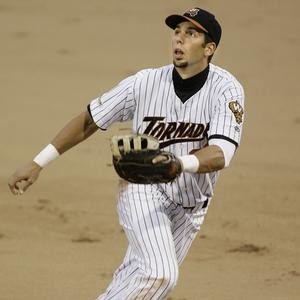 • Rhett Bollinger of MLB.com has the details of Joel Zumaya's one-year deal with the Twins. He's guaranteed $400,000 even if they cut him during spring training and that would turn into $850,000 if Zumaya is on the Opening Day roster, with another $900,000 in potential bonuses based on appearances. If he were to stay healthy and effective for the entire season Zumaya could earn a total of $1.75 million.
Of course, Zumaya hasn't stayed healthy and effective since he was a 21-year-old rookie in 2006, so when he signed my assumption was that the Twins would still look to add another veteran right-hander for the bullpen. At this point, however, that looks increasingly unlikely, as capable relievers continue to sign elsewhere for modest one-year contracts and minor-league deals with no indication that the Twins will snatch one up.
I wrote about the bullpen last week, noting that the Twins' impatience led to overpaying Matt Capps in an obvious buyer's market and is extra frustrating when combined with the apparent unwillingness to spend even $1 million more to address a clear weakness. Since then Todd Coffey signed with the Dodgers for $1.3 million and Chad Qualls signed with the Phillies for $1.15 million. They had plenty of chances to cheaply add a decent setup man and refused.
• Terry Ryan said that he views the rotation as a strength, which might be true relative to the rest of the team but certainly isn't true relative to the rest of baseball. Last year Twins starters combined for MLB's fifth-worst ERA and while they might be healthier this time around the front four of Carl Pavano, Scott Baker, Francisco Liriano, and Nick Blackburn made 104 starts in 2011. Jason Marquis replacing Brian Duensing is the only real change and he had a 4.43 ERA.
Clearly the rotation is capable of being better and healthier, but when Pavano is your Opening Day starter and both Blackburn and Marquis are taking the mound every fifth day it's tough to see the group as anything but below average even if you're optimistic about Baker staying healthy and Liriano being way closer to the 2010 version than the 2011 version. My blog-mate Matthew Pouliot projected numbers for all 30 rotations and has the Twins in the bottom five.
• Ryan and Ron Gardenhire have both made it very clear that the starting outfield will be Ben Revere in left field, Denard Span in center field, and Josh Willingham in right field. Assuming that Span is healthy after missing much of last year following a concussion, obviously. Trevor Plouffe is no longer viewed as an infield option and platooning his right-handed bat with the left-handed Revere in left field would make sense, but as usual with Gardenhire that's unlikely.
• With the No. 2 overall pick in June's draft and seven of the first 100 picks the Twins will have MLB's highest signing bonus allotment at around $12 million, according to Jim Callis of Baseball America. February speculation is mostly silly, but Baseball America's early ranking has Stanford pitcher Mark Appel first, followed by high school pitcher Lucas Giolito, high school outfielder Byron Buxton, Arizona State shortstop Devin Marrero, and Florida catcher Mike Zunino.
• Camilo Pascual will be this year's inductee into the Twins' team Hall of Fame, which should please Patrick Reusse and the other local media members who've stumped for him in recent years. Pascual, who pitched in Minnesota from 1961-1966, ranked 20th on my list of the best players in Twins history.
• Tom Kelly will also have his numbered retired by the Twins, which rendered the normally stoic former manager speechless during the Diamond Awards banquet last week. "Tom Kelly Day" at Target Field is scheduled for September 8, when he'll join Harmon Killebrew, Kirby Puckett, Rod Carew, Tony Oliva, Kent Hrbek, and Bert Blyleven as retired numbers.
• Chris Colabello is one of the more intriguing minor-league signings in an offseason filled with them, as the 28-year-old first baseman joins the Twins after winning MVP of the independent Canadian-American Association. Colabello has hit .317/.390/.541 in seven years in the CAMA, including .348/.410/.600 with 20 homers in 92 games last year. Not only was he MVP of the CAMA, he was Baseball America's choice as player of the year in all independent leagues.
• Luke Hughes injured his shoulder while playing back home in the Australian Baseball League and the Twins have pulled him from the Perth Heat's roster for the championship series.
• Justin Morneau denied Nick Nelson's report that his wrist surgery stemmed from an injury that occurred during a clubhouse incident.
• Old friend Pat Neshek, who split last year between the majors and Triple-A for the Padres, signed a minor-league deal with the Orioles.
• Because the Twins are seemingly done adding players this offseason, it's worth noting that their current roster doesn't fare very well based on early projections.
• Finally, just a heads up: My annual series ranking and profiling the Twins' top 40 prospects will begin either later this week or early next week. I'm putting the finishing touches on it now.