October 8, 2010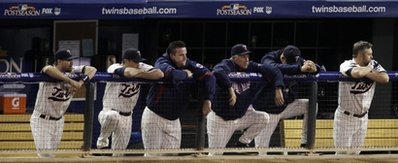 At this point writing about postseason losses to the Yankees has me feeling like Bill Murray's character in Groundhog Day, except there's no Andie MacDowell to hit on while going through the same frustrating story over and over again. I'm not sure what's left to say, really, but here are some notes from Game 2 of the ALDS ...
• For all the media-fueled talk of Francisco Liriano being untrustworthy in big games and Carl Pavano being less likely to implode they basically turned in identical performances versus New York. Liriano struck out seven and allowed four runs on nine baserunners in 5.2 innings, while Pavano struck out three and allowed four runs on 11 baserunners in six innings. Unfortunately neither performance was particularly good.
• Of course, Pavano's line (and the game in general) would've looked much different had home plate umpire Hunter Wendelstedt called what appeared to be a pretty obvious strike three on Lance Berkman in the seventh inning. Instead he called it a ball and Berkman connected on a go-ahead (and ultimately game-winning) double on the next pitch. Berkman later came around to score, putting the Yankees up 4-2.
Via replays and various pitch location charts the call was perhaps somewhat less obvious than it initially appeared, but Pavano's pitch was pretty clearly a strike and even more clearly was a pitch that's almost always called a strike. However, it was also far from the only questionable ball/strike call Wendelstedt made all night and in fact his strike zone was wildly inconsistent for both sides and ... well, let's say "unique." Plus, in Game 1 a bad call went the Twins' way.
• From the moment Ron Gardenhire left the dugout there was absolutely zero that doubt he'd end up getting tossed from the game. Typically pitching coach Rick Anderson makes all trips to the mound that don't involve a pitching change and Gardenhire has a long history of incidents with Wendelstedt, so clearly he headed out there with the intention of venting his frustration with the umpire and perhaps even with the goal of getting tossed.
• Jon Rauch deserves some praise for wriggling out of the bases-loaded, one-out jam against Alex Rodriguez and Robinson Cano in the seventh inning, just as he probably deserved more praise than he received during the regular season for converting 21-of-25 save opportunities before the closer role was yanked away and for his 3.12 ERA and 41-to-16 strikeout-to-walk ratio in 57.2 innings overall.
• Lost in the talk of pitching matchups and rotation orders is that the Twins' lineup has been inept during the 2-11 playoff stretch against New York, scoring 3, 1, 1, 1, 2, 6, 4, 5, 2, 3, 1, 4, and 2 runs. That works out to 2.8 runs per game, which won't equal many wins regardless of the pitching. To put that in some context, the average AL team scored 4.5 runs per game this year. Against the Yankees the Twins have more than four runs twice in 13 playoff games.
• Coming into the series I felt that two factors being somewhat overlooked were the strength of the Yankees' bullpen even beyond Mariano Rivera and how facing four left-handed starters in five games put the Twins at a big disadvantage because they relied so much on left-handed bats Joe Mauer, Jim Thome, and Jason Kubel. Both factors have sadly played out pretty much as expected in the first two games. They face a right-handed starter Saturday in Phil Hughes.
• I'll be co-hosting "Twins Wrap" on 1500-ESPN following (hopefully) both games in New York, talking with Darren Wolfson and taking phone calls starting about an hour after the final out. Win or lose the shows will likely last for at least an hour and maybe two hours, so I'd definitely love to hear from some AG.com readers, if only for the sake of my sanity.