April 28, 2010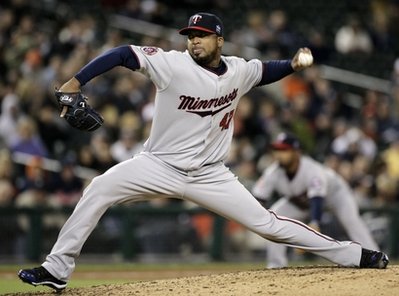 I've often suggested that the Francisco Liriano who was the best, most overpowering pitcher in all of baseball as a rookie in 2006 was lost for good when he underwent Tommy John elbow surgery. I still believe that to be true, but a) the version we've seen so far this year is pretty damn close, and b) if there wasn't an extraordinarily dominant 2006 version to compare him to the reaction to what Liriano is doing right now would be, more or less, "holy shit."
What made Liriano so incredibly special in 2006 is that he both led the league in strikeout rate and ranked fifth in ground-ball percentage, which is essentially the perfect combination. After returning from surgery in 2008/2009 he lost about one-fifth of his strikeouts, saw his fastball and slider velocity decline 3-4 miles per hour, and actually turned into a fly-ball pitcher, with his ground-ball rate going from 55 percent to 40 percent.
In other words, not only did his raw stuff and on-field results change for the worse with a drop in velocity and 5.12 post-surgery ERA, he was actually a different type of pitcher. Thankfully, it looks like he's back to missing bats and killing worms. After a mediocre season debut Liriano has won three straight starts and thrown 23 consecutive scoreless innings while allowing just 14 hits and five walks, racking up 24 strikeouts and 32 ground-ball outs in those 23 frames.
DATE     OPP      IP     R     H     SO     BB     GB     PIT
4/15     BOS     7.0     0     4      8      2     10      96
4/21     CLE     8.0     0     6      6      2     13     102
4/26     DET     8.0     0     4     10      1      9     112
Now, even 24 strikeouts and 32 ground-ball outs in 23 innings can't compare to what he did in 2006 and Liriano's velocity also isn't quite back to his pre-surgery levels, but that just shows how insanely great he was back then. For the past three starts he's averaged 93-94 miles per hour on his fastball with a strikeout per inning and nearly twice as many grounders as fly balls, which is absolutely, without question the recipe for top-of-the-rotation dominance.
Time will obviously tell if he can keep it up, but right now the Twins have a 26-year-old ace.