June 25, 2010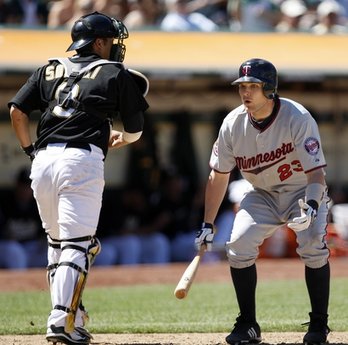 This winter the Twins signed Brendan Harris to a head-scratcher of a two-year contract, oddly committing $3.2 million and multiple seasons to a thoroughly replaceable 29-year-old bench player with a substandard glove and .267/.324/.396 career hitting line. Yesterday they passed Harris through waivers unclaimed, removed him from the 40-man roster, and demoted him to Triple-A, calling up outfielder Jason Repko from Rochester to replace him.
Repko is the same age as Harris and is no great shakes himself, hitting just .226/.297/.371 in 478 trips to the plate spread over various stints with the Dodgers. However, most of that poor production came when he was a 24-year-old rookie in 2005 and Repko has hit .289/.357/.461 in 382 games at Triple-A. He's a decent enough right-handed bat to warrant some playing time over Jason Kubel against lefties and rates as a good defensive center fielder.
Harris has always been a tweener, because his glove isn't strong enough to be a viable option at shortstop or second base and his bat isn't good enough to be an asset at a less demanding position. And that was true before he hit .157 in 120 plate appearances this season. Normally the Twins would've simply cut him loose, but because they're paying him $1.45 million this year and still owe him another $1.75 million for next year Harris will remain in the organization.
Between the Harris move and another ugly start by Nick Blackburn, yesterday wasn't a great day for handing out unnecessary multi-year contracts to players who were under team control anyway. I'm curious to see if Ron Gardenhire is willing to actually use Repko versus lefties or to at least give Denard Span days off, but either way a legit fourth outfielder was needed more than ever now that Michael Cuddyer is apparently MLB's worst-fielding third baseman.