June 30, 2010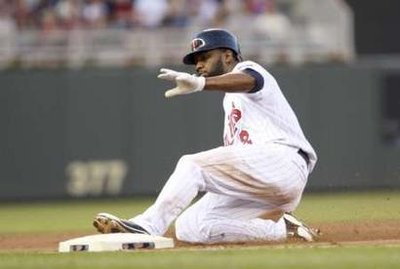 Thanks to a strange bounce off the side of the out-of-town scoreboard in right-center field Jim Thome tripled Monday for the first time since 2004. Thome went 73 months between triples, during which time he played in 770 games, logged 3,050 plate appearances, hit 179 homers, drove in 508 runs, and notched a total of 643 hits. There were 13 no-hitters between triples for Thome, whose last three-bagger came when Joe Mauer was a rookie and I was in college.
No doubt motivated by watching Thome leg out what must be one of the most leisurely triples of all time, Denard Span amazingly hit three triples in the first five innings last night. He had a chance to set the post-1900 record with a fourth triple, but walked instead to settle for tying Ken Landreaux for the Twins' single-game record, becoming the first player with three triples in a game since Rafael Furcal in 2002, and leading the AL with seven triples on the season.
Better yet, despite a terrible April and several prolonged slumps this year Span is now batting .284/.356/.394, which is within range of his .305/.390/.422 career line coming into the season. Ichiro Suzuki and Elvis Andrus are the only AL hitters with a higher on-base percentage from the leadoff spot this season and since his debut in 2008 the only outfielders with a higher OBP than Span are Manny Ramirez, Shin-Soo Choo, Matt Holliday, J.D. Drew, and Adam Dunn.