July 5, 2010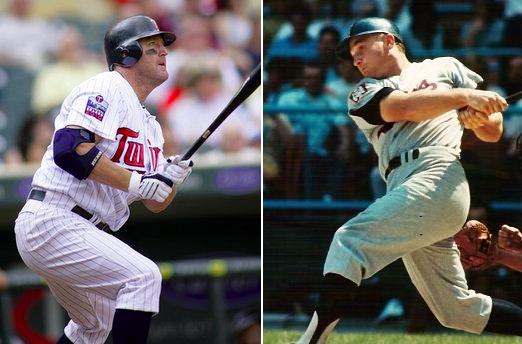 Jim Thome went deep twice Saturday to tie and then pass Harmon Killebrew for 10th place on the all-time home run list with 574 and as he got back into the dugout following the second blast the Twins played a pre-taped congratulatory video message from Killebrew on the Target Field jumbotron. It was a very nice touch and clearly meant a lot to Thome, who spent the next couple minutes bear-hugging anyone he could find in the dugout.
Thome surpassing Killebrew while wearing a Twins uniform was fitting, although technically the last 14 homers of Killebrew's career came for the Royals (and the first 84 homers of his career came for the Senators). Not only are Thome and Killebrew two of the elite power-and-patience sluggers in baseball history, their career numbers are remarkably similar despite playing in two very different eras and offensive environments:
                  G      PA     AVG     OBP     SLG    OPS+    HR     RBI      BB
Killebrew      2435    9831    .256    .376    .509    143    573    1584    1559
Thome          2340    9619    .277    .404    .557    146    574    1592    1646

Thome edges Killebrew by 21 points in batting average, 28 points in on-base percentage, and 46 points in slugging percentage, but his leads are largely due to playing at a time when runs are far more plentiful. As a whole the league has a .272 batting average and .772 OPS during Thome's career, compared to a .259 batting average and .724 OPS during Killebrew's career. That's a 48-point difference in league OPS and the actual gap between their OPS is 77 points.
All of which is why Thome holds just a slight edge (146 to 143) in adjusted OPS+, which takes eras and ballparks into account. And the rest of the raw numbers are amazingly close. Games: 2,435 to 2,340. Plate appearances: 9,831 to 9,619. Homers: 574 to 573. RBIs: 1,592 to 1,584. Walks: 1,646 to 1,559. Along with Mickey Mantle, Mike Schmidt, and Barry Bonds they are two of just five players ever with 500 homers, 1,500 RBIs, 1,500 walks, and 1,500 strikeouts.
One area where Thome has an edge is that he's having a fantastic season at age 39, whereas Killebrew had his last good season at age 36 and retired after hitting .199 as a 39-year-old for the Royals in 1975. When the Twins signed Thome and talked about him mostly as a bench bat my hope was that Ron Gardenhire would quickly realize he was still far too dangerous against right-handed pitching to not start regularly.
Thome started 18 of the first 31 games before Delmon Young's emergence cut into his playing time, which combined with interleague matchups in NL parks led to just nine starts in the next 44 games. However, since finishing up the interleague portion of the schedule Gardenhire has cleared room in the lineup for both Thome and Young in six of seven games by shifting Michael Cuddyer from right field to third base, where he hadn't played since 2005.
Cuddyer has predictably been pretty brutal there defensively and is hardly hitting well enough to make up for it at the plate, but Gardenhire deserves credit for not simply making Thome an incredibly overqualified pinch-hitter. Thome has hit .266/.391/.594 with 10 homers, 10 doubles, one improbable triple, and 27 walks in 156 plate appearances to rank second on the Twins in OPS behind only Justin Morneau (and 165 points ahead of anyone else).
Not only has Thome been an excellent pickup for the Twins, at just $1.5 million in guaranteed cash plus some incentives he's been one of the very best free agent signings in all of baseball. I loved the signing at the time, I'm pleased that Gardenhire has played Thome more than the initial talk of his role indicated, and after watching him destroy Minnesota pitching for a couple decades it's been an awful lot of fun to see the future Hall of Famer mash for the Twins.