July 15, 2010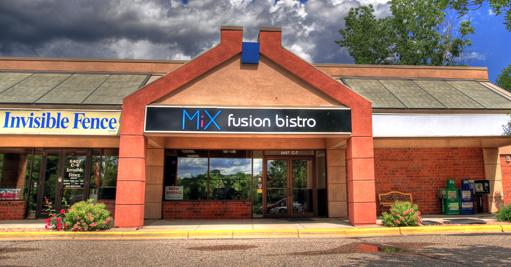 (Mix Fusion Bistro at 6407 City West Parkway in Eden Prairie)
There's a great Seinfeld episode where Jerry Seinfeld takes an interest in the struggling new restaurant that opened up across the street from his apartment, eventually suggesting to the owner that he change The Dream Cafe from all-American food and decor to cuisine and culture from his native Pakistan. The advice is well-intentioned but ultimately ineffective, and naturally hilarity ensues. You can watch some of the highlights here and here.
I bring that up because recently I had an experience that reminded me of the episode. A new "French-Asian fusion" restaurant called Mix Fusion Bistro opened up in my neighborhood and I went with a group of eight people at seven o'clock on a Saturday night. We called ahead and made a reservation, but it turned out the place was completely empty when we arrived and no other customers came in during the hour or so we were there.
Afterward we talked about what a shame it was, because the food was great, the staff was friendly, and the decor was nice. In fact, all eight people liked what they ordered and several loved their dish. I got the dijon herb-crusted pork prime rib and it was great. As a unique new restaurant with good food Mix Fusion Bistro should have plenty of customers, but as Ramsay's Kitchen Nightmares has taught me sometimes quality isn't enough to get people in the door.
I fear they're facing long odds serving French-Asian fusion in suburban Minnesota, particularly since the restaurant seems far too upscale and classy to be next to an electric fence store in the middle of a strip mall. Still, once upon a time I was convinced no one would ever read this blog and thanks largely to word of mouth people eventually found the place, so I'm hoping this quasi-review convinces a few of you to give Mix Fusion Bistro a try. They deserve a chance.