August 18, 2010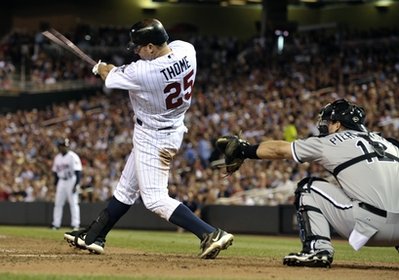 • This offseason the White Sox chose not to re-sign Jim Thome in large part because manager Ozzie Guillen urged general manager Ken Williams to let him go, saying he preferred to cycle various players through the designated hitter slot and make the lineup less homer dependent. Thome signed a one-year, $1.5 million contract with the Twins and has batted .273/.391/.593 in 253 plate appearances, including last night's dramatic walk-off homer in the 10th inning.
Meanwhile, the White Sox have gotten a combined .235/.305/.399 line from the DH spot, with Mark Kotsay drawing the most starts at the position. There is still a ton of baseball left to be played and even with the Twins now up four games on the White Sox in the division you can realistically point to any number of players on either team as the "difference" in the standings, but it sure is easy to focus on Thome simply switching sides. He's been amazing.
• Justin Morneau revealed Friday and then repeated yesterday that he's yet to get through a single day symptom-free since suffering a concussion from a knee to the helmet while breaking up a double play on July 7. He's finally been able to take batting practice this week, but the Twins officially abandoned any timetable for his return. Here's how he described the situation to Phil Mackey of 1500ESPN.com:
At first it was wake up in the morning, feel good for about 10 minutes, and then the rest of the day not feel great. It's gone to wake up in the morning, get here, feel good, we start doing stuff, feel good, then get home and symptoms come back. Obviously you can't start pushing it too hard.

It has to be slow progression like we've done and hopefully that day's coming soon. I'm optimistic, just with how it's gone each day from where we started. Obviously it's taken longer than I thought or than I'd like, but I think they've handled it well and they want to make sure I'm ready to go when it's time to go back out there.
Morneau also talked about the frustratingly unpredictable nature of concussions:
When it happened, I thought two days after I'd be feeling all right. The thing about it, it's unpredictable. Coming in tomorrow, everything could be feeling good, could make it through the whole day. It could be next week, it could be two weeks, you never know. It's unpredictable. That's the part that's most frustrating.

You know, you hurt your knee, your MCL, it's 4-6 weeks. OK, you do a certain type of rehab, if everything goes good you can make it back in four weeks, and you kind of have that timetable. With this, it's different with every single person that goes through it.
Morneau has no doubt talked to his friend, fellow Canadian, and former Twins third baseman Corey Koskie, whose career was wrecked by a concussion at age 33. Koskie was playing for the Brewers in 2006 and hitting .261/.343/.490 through 76 games for one of his best seasons when he suffered a concussion while chasing after a foul ball on July 5. He never played again, finally retiring after going through several years of false starts and setbacks and frustration.
Obviously there's no reason to assume Morneau will mirror Koskie's sad tale, but there's a real possibility that he won't play again this year and legitimate reason to worry about his future. Combined with his missing the end of last season due to back surgery I'm starting to sense a certain segment of the fan base becoming frustrated by another long absence, but this is not an injury that Morneau can simply will himself to come back from. This is beyond toughness.
• Jose Mijares being out for a month following knee surgery is a tough break because he had a 2.16 ERA and 21-to-6 strikeout-to-walk ratio in 25 innings since a bad first outing on April 5, but his role has been so limited that the impact could be fairly minimal. Factoring in his Triple-A stint, Mijares was on the Twins' roster for 90 games and logged 25.2 innings. Not only is that just 46 innings prorated to a full season, he faced an average of 2.8 batters per appearance.
Mijares had basically been pigeonholed into a left-handed specialist role despite holding right-handed hitters to a .256/.316/.400 line for his career. Losing him for a month and possibly the rest of the season is tough in the sense that he's one of the Twins' best relievers, but he was being severely underutilized anyway and the bullpen might be better off if Ron Gardenhire got back to his old style where lefty/righty matchups weren't driving so many decisions.
• Ron Mahay tends to be the first name fans bring up when pondering relievers to potentially bump from the bullpen, but he's quietly been very solid in a low-leverage role this season and has a 3.14 ERA with a 33-to-11 strikeout-to-walk ratio in 43 innings since joining the Twins last August. I'm not convinced that the Twins really benefit much from having a strict left-handed specialist, but Mahay is certainly capable of filling that limited role for six weeks.
On the other hand, keeping Glen Perkins around primarily to have a second left-hander in the bullpen makes little sense. He got a big out last night versus Kotsay, who's 0-for-22 off lefties this year, but Perkins is ill-suited for a role that matches him up mostly with lefty bats. For his career Perkins has allowed lefties to hit .327 with an .857 OPS and righties to hit .283 with a .786 OPS. And as Nick Nelson pointed out, it's been the same story in the minors.
• It doesn't mean anything for the big-league team this season, but the Twins promoting 2009 first-round pick Kyle Gibson to Triple-A last week puts him in line to possibly claim a spot in the rotation next spring. After signing for $1.8 million, Gibson made his pro debut at high Single-A with a 1.87 ERA and 40-to-12 strikeout-to-walk ratio in 43.1 innings. That got him a promotion to Double-A, where he had a 3.68 ERA and 77-to-22 strikeout-to-walk ratio in 93 innings.
Gibson moved up to his third level of the season Friday and tossed 5.1 innings of one-run ball in his Rochester debut, giving him a 3.04 ERA, .245 opponents' batting average, and 118-to-36 strikeout-to-walk ratio in 142 innings overall. Not bad for a 22-year-old in his first pro season, and Gibson has somewhat offset his pedestrian strikeout numbers with a strong ground-ball rate of 56 percent. He may not have No. 1 starter upside, but could be an MLB-ready No. 2.
• Gibson's new Triple-A rotation-mate Nick Blackburn has a 1.10 ERA in three starts since last month's demotion to Rochester, but an 8-to-5 strikeout-to-walk ratio in 16.1 innings isn't quite as encouraging. Blackburn has been very tough to hit with a .186 opponents' batting average and he's allowed zero homers while inducing 72 percent ground balls, but ultimately if he can't find a way to miss more bats or re-establish his pinpoint control it's tough to be very optimistic.
Plus, with Brian Duensing thriving as his rotation replacement there's little room for Blackburn as anything other than a long reliever unless Kevin Slowey's elbow issues reoccur. Duensing was brilliant Saturday, hurling a complete-game shutout of the A's, and is now 3-0 with a 2.43 ERA in five starts this year and 8-1 with a 2.62 ERA in 14 career starts. I'm still skeptical about his ability to be more than a fourth starter long term, but clearly he's not going anywhere.
• Ben Revere was hit near the right eye with a pitch on August 3 and is expected to miss the rest of the season with an orbital fracture, but Joe Christensen of the Minneapolis Star Tribune reports that he could be cleared to play in the Arizona Fall League. Prior to the injury Revere's stock dropped for the second straight year as his once-lofty batting average predictably came back to earth against more experienced competition and exposed his lack of secondary skills.
Everyone looks great when they're hitting .379 like Revere did at low Single-A in 2008, but he batted .311/.372/.369 at high Single-A last year and .297/.365/.349 at Double-A this season. He managed just three homers, 32 total extra-base hits, and 70 walks in 207 games and 886 plate appearances during that time, which is why I suggested coming into the season that his upside is basically Juan Pierre. Right now he looks like a poor man's Pierre, which isn't good.
• Lost in the MLB-wide flurry of draft pick signings before the midnight deadline Monday is that the Twins signed their first rounder, Alex Wimmers, for the slot-recommended $1.3 million last week. Wimmers is unlikely to move through the system as quickly as Gibson, but he'll start out at high Single-A Fort Myers and has a chance to be in the Twins' plans as soon as 2012. In all the Twins signed each of their top 10 picks from what was a pretty standard "Twins draft."