December 10, 2010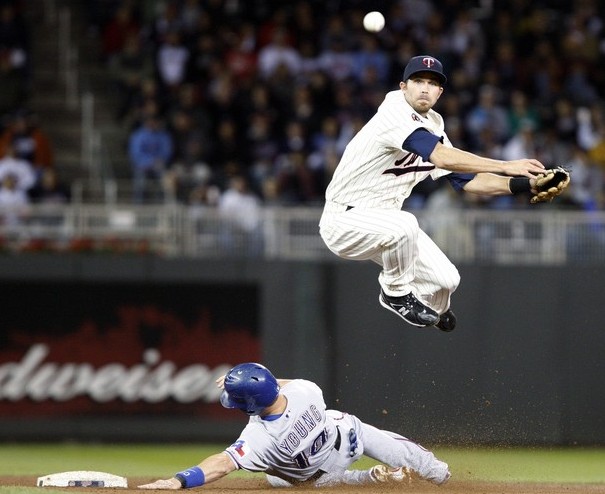 Speculation about trading J.J. Hardy steadily increased after the Twins placed the high bid for exclusive negotiating rights to Japanese infielder Tsuyoshi Nishioka last month and yesterday they pulled the trigger, sending Hardy, Brendan Harris, and $500,000 to the Orioles for minor-league relievers James Hoey and Brett Jacobson. Nishioka and the Twins are negotiating, but moving Hardy shows they're very confident in signing him before the December 26 deadline.
However, even with Nishioka expected to sign shortly the decision to part with Hardy is a very questionable one for several reasons. First and foremost is that Hardy is simply a good player at a key position and tends to be underrated by those who don't recognize the full value of his defense, don't appreciate the lack of offensive production generally found in shortstops across baseball, or focus solely on the time he missed with a wrist injury.
Hardy is certainly not without flaws and some of them are prominent, but a deeper look at his performance clearly shows an above-average shortstop the Twins could have retained without having to make a multi-year commitment. He hit .268/.320/.394, which may not look like much but is actually better than the MLB average for shortstops of .262/.319/.371. And after coming back from the wrist injury Hardy hit .302/.356/.436 in 64 games.
Among the 28 shortstops to play at least 100 games this season Hardy ranked 11th in batting average, 13th in on-base percentage, 10th in slugging percentage, and 11th in OPS, making him above average for the position offensively no matter how you slice it. Toss in outstanding defense that Ultimate Zone Rating pegged as MLB's best at 12.8 runs above average per 150 games and Hardy was one of the top 12 shortstops in baseball even while missing 60 games.
Beyond underrating Hardy relative to other shortstops the trade also shows a level of faith in both Nishioka and Alexi Casilla that makes me nervous. Investing about $15 million for three years of Nishioka is a sound move, but like previous Japanese imports he's a question mark at the plate and is also coming off a career-year above his track record. And while he won a Gold Glove at shortstop in Japan, opinions are mixed at best on if he can thrive there in the majors.
Casilla is also an option at shortstop after faring well there in limited action subbing for Hardy, but he hasn't played the position regularly since 2007 at Triple-A and has never even graded out strongly at second base. He's also far from reliable offensively, or at least far from reliably good offensively. Casilla has hit well at times, but owns a career line of .249/.306/.327 in 1,073 plate appearances. To put that in some context, Nick Punto is a career .247/.321/.322 hitter.
Turning over the middle infield to Nishioka and Casilla has the potential for disaster, especially given that the primary backup options at this moment are Matt Tolbert and Trevor Plouffe. It doesn't shock me that the Twins have undervalued Hardy, but unless there's another move up their sleeve it does surprise me that they're so willing to go into 2011 with a pair of question marks atop the depth chart and a pair of replacement-level players as fallback options.
In speaking about the trade yesterday general manager Bill Smith made it very clear that the move was made largely because Ron Gardenhire wants to add more speed to the lineup and Hardy, despite his excellent range defensively, is one of the slowest shortstops in baseball. In a vacuum adding more speed is obviously a good thing, but in this case adding the speed may come with getting worse on both sides of the ball and being faster isn't that vital to winning.
Of course, the deal wasn't just about dumping Hardy and in fact the Twins chose to tender him an arbitration offer last week specifically because they felt confident about getting something in return for him via trade. Smith admitted to discussing Hardy with at least six teams and the decision to settle on the Orioles' offer of Hoey and Jacobson makes the Twins' targets in those talks crystal clear. They wanted bullpen help for 2011 and beyond in the form of power arms.
For the most part the Twins' longstanding, organization-wide focus on drafting and developing pitchers with better control and command than raw stuff has served them well, but at times it has also left them short on the flame-throwing relievers many other teams prefer to rely on in late-inning roles. Neither pitcher acquired from Baltimore fits the Twins' typical mold, as Hoey and Jacobson are both big guys with power fastballs and shaky command.
Jacobson was the Tigers' fourth-round pick in 2008 and was traded to the Orioles for Aubrey Huff in mid-2009. He spent this season repeating high Single-A at age 23, making his 2.79 ERA and 67-to-24 strikeout-to-walk ratio in 71 innings less impressive than it looks. His first crack at high Single-A included a 4.13 ERA and 55/26 K/BB ratio in 65 innings, so while being 6-foot-6 with mid-90s velocity gives Jacobson some upside his performance so far hasn't been special.
I'll need to study up on Jacobson before determining a ranking, but if he cracks my annual list of the Twins' top 40 prospects it'll likely be just barely. Hoey has fewer than 50 career innings in the majors and has spent the past two seasons exclusively in the minors, so technically he meets my qualification for "prospect" status too, but he also turns 28 years old in a few weeks and made his big-league debut way back in 2006. He's more of a project than a prospect.
Hoey was selected by the Orioles in the 13th round of the 2003 draft and emerged as a top relief prospect after putting up some incredible minor-league numbers in 2006 and 2007, but then blew out his shoulder and missed all of 2008 following surgery. He initially struggled so much after coming back in 2009 that the Orioles dropped Hoey from the 40-man roster and he passed through waivers unclaimed.
He remained in the Orioles' organization at Double-A and put together a decent 2009 despite struggling to throw strikes, but was left off the 40-man roster last offseason and wasn't picked in the Rule 5 draft. Hoey began this year back at Double-A, but earned a midseason promotion to Triple-A and combined for a 3.25 ERA, .196 opponents' batting average, and 70 strikeouts in 53 innings between the two levels.
His control was awful with 34 walks in 53 innings and the great numbers aren't much different than what Anthony Slama has done in the high minors, but Hoey's velocity has bounced back enough post-surgery that his raw stuff is superior to Slama's. As a 28-year-old "prospect" with a surgically repaired arm he's by definition a long shot, but Hoey's numbers this year show the potential for dominance and unlike Slama he has the mid-90s heat and power slider to match.
Hardy and Nishioka starting with Casilla as a backup would've been the best chance to win in 2011. Instead they focused on Hardy's flaws, trading an above-average shortstop under team control at a palatable one-year price and turning to two question marks in the name of getting faster. It makes them worse in the short term, perhaps by a lot, and the haul from Baltimore isn't impressive, but clearing Harris' salary off the books is nice and at least Hoey is intriguing.