March 28, 2011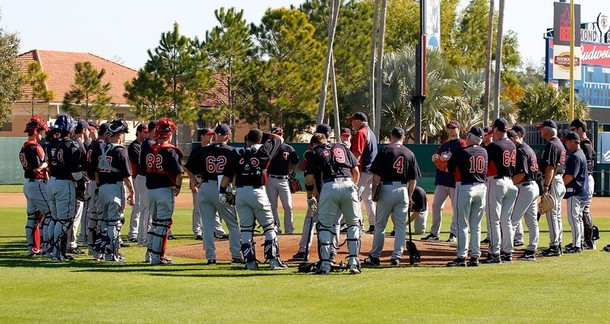 Things could change before April 1, but yesterday the Twins set the 25-man roster by sending Luke Hughes and Jim Hoey to Triple-A. That means Matt Tolbert beat Hughes for the utility man job and Jeff Manship beat Hoey for the final bullpen spot, with Rule 5 pick Scott Diamond still in roster limbo. Rule 5 picks must be offered back to their original teams if not kept in the majors all year, but the Twins are trying to avoid that by working out a trade with the Braves.
In the meantime, here's what the Opening Day roster looks like barring a last-minute change:
LINEUP:                            ROTATION:
C  Joe Mauer                       SP Carl Pavano
1B Justin Morneau                  SP Francisco Liriano
2B Tsuyoshi Nishioka               SP Nick Blackburn
SS Alexi Casilla                   SP Scott Baker
3B Danny Valencia                  SP Brian Duensing
LF Delmon Young
CF Denard Span                     BULLPEN:
RF Michael Cuddyer                 CL Joe Nathan
DH Jason Kubel                     SU Matt Capps
                                   SU Jose Mijares
BENCH:                             RH Kevin Slowey
C  Drew Butera                     RH Jeff Manship
IF Matt Tolbert                    LH Glen Perkins
OF Jason Repko                     LH Dusty Hughes
DH Jim Thome
Hughes homered six times and slugged .569 in 65 at-bats this spring, but he also hit .246 with a .265 on-base percentage and 17-to-2 strikeout-to-walk ratio. And despite Ron Gardenhire saying last week that the ability to play shortstop would not be the deciding factor in the utility man competition, general manager Bill Smith cited Tolbert's ability to play shortstop as one of the reasons he got the job over Hughes, saying: "We need a shortstop."
With a 12-man pitching staff Tolbert or Hughes was the only decision to make on the position player side once Trevor Plouffe played his way out of the mix, but multiple bullpen spots were up for grabs. In theory at least. Joe Nathan, Matt Capps, Jose Mijares, and the sixth starter (Kevin Slowey) were always locks, and very early on it seemed pretty clear that Glen Perkins and Dusty Hughes would make the team as the second and third left-handers.
That essentially left a single middle relief opening for a right-hander, with Manship, Hoey, Kyle Waldrop, and Carlos Gutierrez in the mix. However, neither Waldrop nor Gutierrez are on the 40-man roster and the coaching staff's familiarity with Manship gave him the upper hand over Hoey. There was certainly competition going on, but aside from carrying Hughes as a third lefty and dumping Pat Neshek this is the 25-man roster I'd have predicted entering spring training.
Nathan reclamining his old closer role was equally predictable as long as he avoided any major setbacks returning from Tommy John elbow surgery and sure enough Gardenhire made that all but official yesterday during an interview on 1500-ESPN, saying:
I would imagine we'll start out probably something like that. We like what he's doing. I think the big thing is to see how he does early in the season and go from there. We're going to use them both right away. I just don't think Nathan is ready to go three-four days in a row.
At no point did Nathan report any physical problems and he allowed zero runs in six of eight appearances, but an ugly outing last week caused him to end the spring with a bloated 11.05 ERA overall and his velocity is still lagging behind where it was pre-surgery. Ultimately though, unless the Twins were going to start Nathan off in a low-leverage role or on the disabled list there isn't a huge difference between pitching the eighth inning and pitching the ninth inning.
In most tight games the closer and primary setup man are both going to make an appearance anyway and both roles almost always involve starting an inning fresh and being asked to get three outs, so if the Twins believe Nathan is ready for a late-inning role they might as well just give him ninth-inning duties. Whether he's actually ready for a late-inning role is up for debate, of course, and plenty of people who watched him in Fort Myers were skeptical.
I'm curious to see how Dusty Hughes fares after the Twins used a 40-man roster spot to claim him off waivers in January and quickly made it pretty obvious that he'd crack the Opening Day bullpen. His being let go by the Royals doesn't necessarily mean anything, since they've made plenty of awful decisions with the major-league roster recently, but there's really nothing in his multi-year track record to suggest Hughes is much more than a replacement-level reliever.
Beyond that, Hughes doesn't even seem particularly well-suited for the left-handed specialist role that he'll likely fill as long as Mijares is the main southpaw setup man. Through his first 70 career innings Hughes has a poor 20-to-13 strikeout-to-walk ratio versus lefties and they've hit .261 off him, albeit with minimal power. Perkins is an even worse fit for the lefty specialist role, as he's actually been better against righties (.801 OPS) than against lefties (.840 OPS).
Assuming that he can rediscover something resembling his old effectiveness a healthy Nathan combined with Capps from the right side and Mijares from the left side is potentially a strong late-inning trio and I'm relatively optimistic about Slowey as a bullpen asset, but Hughes and Perkins trying to shut down big left-handed bats in the middle innings scares me and so far at least Manship looks more like the next Brian Bass than the next Matt Guerrier.
Nathan's setback-free spring training and Slowey's switch have me slightly less worried about the bullpen now than six weeks ago, but Nathan remains a big question mark and there could be enough middle relief ugliness to cause some early changes. Hoey, Waldrop, Gutierrez, Alex Burnett, and Anthony Slama give the Twins plenty of right-handed reinforcements at Triple-A and lefty Chuck James could emerge as an interesting alternative to Perkins or Hughes.