June 22, 2011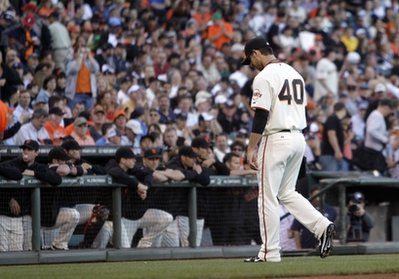 • San Francisco's starter last night, Madison Bumgarner, came into the game with a 3.03 ERA in 205 career innings, including a 3.21 ERA this year. He allowed eight runs on nine hits before getting yanked with just one out in the first inning. And then the Twins were held scoreless for 4.2 innings by Guillermo Mota, a 37-year-old reliever who'd never thrown that many innings in 13 seasons in the majors. Funny game, that baseball (but we knew that already).
• Not to be overlooked in last night's insanity: Alexi Casilla has now homered in back-to-back games after homering once in his previous 221 games.
• Buster Olney of ESPN.com reports that the Phillies "made inquiries" about Michael Cuddyer. Presumably given the way he's hitting and the way the Twins are playing they were rebuffed. In the span of two weeks Cuddyer has gone from .260/.321/.370 to .281/.345/.454, raising his OPS by 109 points in 16 games. And the Twins have cut their deficit in the AL Central from 16.5 games to 6.5 games by going 15-3 in June, including eight straight wins, all after a 17-36 start.
• Joe Nathan has thrown two scoreless innings while rehabbing at Triple-A and could be back in the Twins' bullpen as soon as this weekend.
• Joe Mauer and Bill Smith addressed the media before his return to the lineup last week and what struck me is how much different the perception of his injury would've been had everyone involved simply called it complications from offseason knee surgery. Instead the Twins called it bilateral leg weakness, which raised eyebrows and never seemed to sit right with Mauer, and the odd diagnosis being shrouded in mystery magnified the criticism ten-fold.
• Alex Wimmers was removed from the Fort Myers rotation after his season debut when the 2010 first-round pick walked all six hitters he faced and LaVelle E. Neal of the Minneapolis Star Tribune reports that two months in extended spring training hasn't solved his control issues. Wimmers has visited a psychotherapist and Neal writes that "the Twins are baffled" by how he went from starring at Ohio State with excellent control to following Shooter Hunt's footsteps.
Hunt was one of the top college arms in the 2008 draft coming out of Tulane and had a strong pro debut after the Twins picked him 31st overall, but in three seasons since then he's walked 181 batters in 129 innings and now looks unlikely to get past Single-A. Hunt went from being one of the highest upside pitchers in the system to a bust overnight and Wimmers is in danger of the same fate just a year after being touted as one of the draft's most polished pitchers.
• Speaking of Neal, he dipped his toe in the sabermetric pool yesterday. What a nerd.
• This year's first-round pick, Levi Michael, isn't able to sign because he's still playing for North Carolina in the College World Series, but he was dropped from second to seventh in the lineup because of a recent slump that dragged his once-lofty batting average below .300. I've been watching most of North Carolina's games to get a look at Michael, but he's struggled so much that forming an opinion on his skill set is tough. His defense has looked decent at shortstop.
• Just in case you thought the media taking pot shots at Kevin Slowey stopped when he was placed on the disabled list and banished to extended spring training, Minneapolis Star Tribune columnist Jim Souhan wrote this on Twitter during last night's game:
My imagination or did Twins turn it around after Slowey's plane landed in Fort Myers?
It's his imagination. In the days following Slowey being put on the DL the Twins went 1-6. And if you're going to attach their recent success to specific roster moves, the current 15-2 stretch started the same day they placed Jason Kubel and Jim Thome on the DL. That storyline isn't quite as convenient, though.
• Dusty Hughes was removed from the 40-man roster and outrighted to Triple-A after clearing waivers. When the Twins claimed Hughes off waivers from the Royals in January they talked up his 3.83 ERA and how left-handed hitters like Mauer, Justin Morneau, and Denard Span gave glowing scouting reports after facing him. Hughes' track record suggested otherwise and sure enough he allowed 14 runs in 13 innings while opponents hit .365/.452/.673 off him.
• Brian Dinkelman was also removed from the 40-man roster and sent back to Triple-A, which is no surprise given that his call-up early this month came out of nowhere. Dinkelman has been in the organization since 2006 and there wasn't much harm in giving him a cup of coffee in the majors when injuries left the Twins with few other options, but realistically he's a marginal role player at best and at age 27 seems unlikely to make it back to the big leagues.
• Chuck James kept his spot on the 40-man roster, but the Twins optioned him back to the minors to make room for Glen Perkins' return from the disabled list. While not surprising, the decision to demote James rather than fellow left-hander Phil Dumatrait is unfortunate. Before shoulder surgery James was a solid young mid-rotation starter for the Braves and he deserves more of an opportunity after dominating as a reliever at Triple-A.
I'm sure the Twins based their decision on Dumatrait's sparkling ERA between Rochester and Minnesota, but his success has involved all of 25 innings and comes with more walks (17) than strikeouts (14). Dumatrait's track record includes a 6.67 ERA in 119 innings as a major leaguer and a 6.13 ERA with more walks (55) than strikeouts (46) in 104 innings at Triple-A last year. He's a bad pitcher having a fluky run, whereas James has the potential to actually be useful.
• Pat Neshek returned to Minnesota as a member of the Padres over the weekend, throwing a scoreless inning Friday, and also shared some interesting thoughts about his departure with Phil Mackey of 1500-ESPN:
The best word is probably bittersweet I'd say. For that week before [I was waived], I knew everybody passed me up there. I didn't know why. I mean, I got the opportunity, but I didn't feel like anybody was really taking me serious. ... It was sad leaving behind the fan base, all the stuff I worked towards, all the stuff I did in my community, for my hometown. I was sad, but I knew it had to happen.

There comes a time when you're not getting that opportunity. Minnesota, that's my ideal place. I never would have left. I mean, I wish I would have stayed healthy, never had that Tommy John and stuff like that. My family's all decked out in Twins stuff. I don't know what to do with that stuff anymore. What do you do? My car's got a Twins emblem. I didn't expect it to happen. I thought as long as I pitched well I'd stay, but that's how the game works.
I'm very glad to see Neshek having success in San Diego with a 3.60 ERA and .222 opponents' batting average in 20 innings, although it comes with a horrendous 18-to-16 strikeout-to-walk ratio. He struggled to bounce back from elbow surgery and then upset the Twins by speaking publicly about the medical staff, but instead of just stashing him at Triple-A they cut him loose for nothing in a spring training move that didn't make much sense to me then or now.
• Rochester's search for players to fill out a roster plucked over by the Twins led them to sign right-hander Thomas Diamond, who was the No. 10 pick in the 2004 draft and twice cracked Baseball America's top 100 prospects while with the Rangers. Tommy John surgery derailed his career before Diamond bounced back enough to get a call-up to the Cubs last year, but they released the 28-year-old last week after he posted an 8.66 ERA in 45 innings at Triple-A.
• I'm giving serious thought to purchasing Toby Gardenhire's game-used Triple-A jersey in the name of both charity and irony.
This week's content is sponsored by the Minnesota salsa company Curt's Salsa, which I've enjoyed on several occasions and personally recommend.