May 23, 2011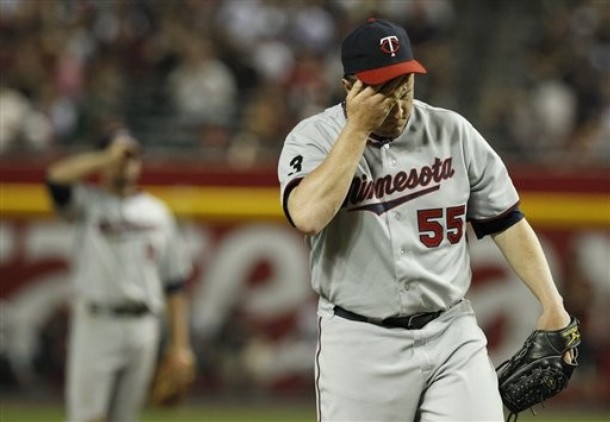 • Glen Perkins emerged as one of the few bright spots for the Twins in this miserable season, escaping the doghouse with a 1.59 ERA and 22 strikeouts in 23 innings, so naturally he injured his oblique muscle Saturday night and is expected to miss at least three weeks. Normally that would give Jose Mijares an opportunity to step forward and prove himself in a higher leverage role, except he's already on the disabled list with an elbow injury.
You'd think that losing their two main left-handed relievers would motivate the Twins to call up Chuck James, a former Braves top prospect signed as a minor-league free agent after injuries derailed his career. James has thrived in the Triple-A bullpen with a 1.75 ERA, .177 opponents' batting average, and 35-to-9 strikeout-to-walk ratio in 26 innings, but because he's not on the 40-man roster the Twins opted instead to bring back Dusty Hughes.
Hughes was demoted to Triple-A just two weeks ago after allowing 12 runs in 11 innings as opponents hit .356/.434/.622 off him and didn't even fare particularly well in five appearances at Rochester. From a roster management perspective turning to Hughes again is much easier than giving James a shot, but from a trying to actually win some games perspective it looks like the Twins are content to just shuffle through the same replacement-level players.
Ron Gardenhire's left-handed relief options are now Hughes, who never deserved an Opening Day job to begin with and pitched his way to Triple-A just 15 days ago, and Phil Dumatrait, a 29-year-old journeyman owning a 6.95 ERA in 113 innings. And three of his five right-handed options are Alex Burnett and Anthony Swarzak, who shouldn't be trusted in anything close to an important spot, and Kevin Slowey, a career-long starter struggling to adjust to relief work.
At this point the seven-man bullpen consists of one mediocre closer, one formerly great closer coming back from elbow surgery, one mid-rotation starter not well suited for relieving, and four guys who should be at Triple-A. There's no "risk" to losing replacement-level arms like Hughes, Dumatrait, and Eric Hacker on waivers, but the Twins predictably avoid 40-man changes and no one in Rochester's bullpen besides James is pitching well enough to really force the issue.
Heading into the season the Twins' two biggest non-injury question marks were the bullpen and middle infield, as guys like me wondered all offseason why they did so little to address the lack of depth in both areas. Injuries have magnified that lack of depth while also wrecking the Twins in other areas, but through 45 games they rank dead last among AL teams in bullpen ERA and middle infield OPS. Sometimes big question marks turn into big problems.
• As expected, after yesterday's game the Twins activated Jim Thome and Jason Repko from the disabled list and sent Luke Hughes and Ben Revere back to Triple-A. Matt Tolbert sticks around instead of Hughes for the same reason he beat out Hughes for an Opening Day roster spot, which is his ability to play shortstop. Hughes struggled in his first extended taste of the majors, hitting .211/.253/.296 with a 17-to-4 strikeout-to-walk ratio in 75 plate appearances.
Revere was on the roster for 17 games, but started just six times and made his lone start in center field yesterday afternoon, misplaying a double into a triple ahead of what proved to be the game-winning run for Arizona. Revere also hauled in a fantastic over-the-shoulder catch in the same inning and made several impressive grabs while playing left field, but his lack of arm strength and limited offensive potential were both on full display.
Gardenhire hinted that he may have pushed the front office to keep Revere instead of bringing back Repko, saying he "really enjoyed Ben" and "told Billy [Smith] ... Rep hasn't swung the bat great down there." Repko "hasn't swung the bat great" anywhere, really, and the fact that he's a right-handed hitter backing up the left-handed-hitting Denard Span and Jason Kubel is rendered nearly meaningless by Gardenhire's refusal to platoon anyone.
Because he rarely starts, even versus lefties, Repko's main duties are coming in as a defensive replacement and pinch-running, both of which Revere could handle. Of course, it doesn't make much sense to keep Revere in the majors as a bench player and with Thome returning to the lineup the outfield playing time will be even harder to come by. Repko is very expendable, but Revere will benefit more from starting at Triple-A than sitting on the Twins' bench.
• I've written plenty about how closing is a role rather than a skill and about how closers are made rather than born. Matt Capps showing that the "proven closer" label is silly while Wilson Ramos thrives with the Nationals has brought the topic to the forefront, but posting the Rick Aguilera installment of my ongoing "Top 40 Minnesota Twins" series caused me to think about the issue in terms of Twins history.
Prior to becoming the Twins' all-time leader in saves Aguilera wasn't a closer. In fact, he didn't even want to be a reliever. Yet the Twins thought he had the raw stuff for the job and gave him a role he'd never filled before rather than give up assets to acquire an experienced closer. Nathan joins Aguilera as the only pitchers with more than 150 saves in a Minnesota uniform, yet when the Twins acquired him from the Giants he was a 29-year-old with one career save.
Eddie Guardado has the third-most saves in Twins history, but he was given the job almost by default in mid-2001 and at the time had a grand total of 18 career saves in eight seasons. Not every successful Twins closer lacked prior experience, as Ron Perranoski and Jeff Reardon racked up saves elsewhere before arriving in Minnesota. And not every good reliever pans out at closer, as Guardado only got his chance to close after LaTroy Hawkins flopped in the role.
Players can sink or swim at closer just like every other role, but logic, history, and specifically Twins history all show that paying a premium for experience accumulating saves is misguided. Judging from the bullpen's current state the Twins may have to go outside the organization for their next closer, but my hope is that they learn a lesson from Ramos-for-Capps and focus on ability instead of previous save totals. Aim for the next Aguilera or Nathan, not the next Capps.
• During his weekly radio show on 1500-ESPN yesterday Gardenhire explained that the plan is for Joe Mauer's first game action since April 12 to come today or tomorrow at extended spring training. That doesn't necessarily mean Mauer is close to returning from the DL, as he'll likely start out as a designated hitter and work his way back into playing shape, but at least there's a light at the end of the tunnel. Tsuyoshi Nishioka may also get into a game there this week.
• Justin Morneau revealed that he got cortisone injections for neck and shoulder pain on May 12. Obviously after missing nine months with a concussion Morneau had enough on his plate without new health problems, but those injuries perhaps help explain his early struggles and altered hitting mechanics. His season totals are still ugly, but since getting the shots Morneau is 12-for-40 (.300) with one homer and three doubles.
• Each season when the Twins travel to National League ballparks for interleague games Dick Bremer asks Bert Blyleven about his career batting average and the FSN announcing crew jokes about his hitting. Blyleven hit more or less like most pitchers do, batting .131 with a .290 OPS in 514 career plate appearances. So far this year Drew Butera is hitting .110 with a .288 OPS in 85 plate appearances. Not quite as funny without the Hall of Fame pitching attached.
• I've seen some confusion about whether Michael Cuddyer has the ability to veto trades as a 10-and-5 player. That requires 10 full seasons of MLB service time, including five seasons with the same team. Cuddyer has the latter and this is his 11th year in the majors, but they aren't full seasons. He got merely a September call-up in 2001 and spent much of 2002 and 2003 in the minors, totaling just 76 games with the Twins in those two seasons. He can be traded.
• Perkins' injury left the Twins in a bind Saturday and put Capps into a two-inning save chance that he blew before recording two outs, but Edward Thoma of the Mankato Free Press explains why Gardenhire not making a double-switch while playing under NL rules cost the Twins twice.
• Tom Brunansky's son, Terry Ryan's son, Mickey Hatcher's nephew, and Tyler Robertson's brother are among the 2011 draft prospects with relatives in baseball.
• Between the injuries and bullpen shuffling the Twins have already used 36 different players through 45 games. In the previous five seasons they used 42, 42, 40, 42, and 39 players, and that includes September call-ups.
• Since winning two of three games from the first-place Indians in mid-April the Twins are 6-18, with a pair of three-game winning streaks surrounded by losing streaks of nine, six, and now three games. Overall they're 15-30, which is the worst record in baseball and puts the Twins on pace to go 54-108 for the worst record in team history. Their current winning percentage is .333 and the only sub-.400 seasons so far (1981, 1982, 1995, 1999) were all above .370.