May 19, 2011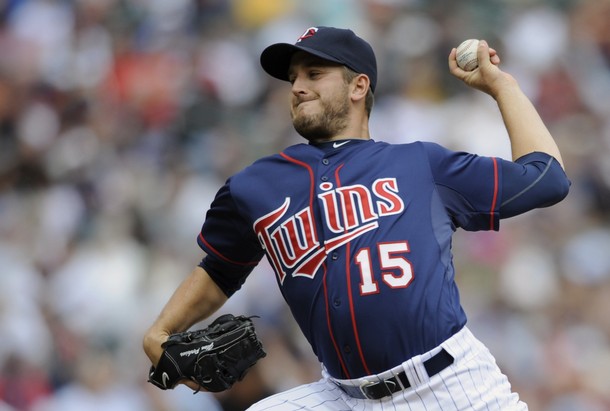 • When the Twins let half of last season's bullpen leave via free agency and chose to replace them with in-house options the hope was that several young relievers would step up to claim long-term roles. That not happening has played a big part in the team's overall struggles, but the Twins have had one reliever step up in Glen Perkins. He fell out of favor due to injuries and poor work as a starter, spending last year at Triple-A, but now looks like a new man.
Getting healthy and moving to the bullpen full time has allowed Perkins to add velocity, with his average fastball clocking in at 92.7 miles per hour compared to 90.6 mph prior to this year, and the results are similarly encouraging. After impressively getting four key outs against the A's in last night's 4-3 win Perkins now has a 0.82 ERA and 22-to-8 strikeout-to-walk ratio in 22 innings, holding opponents to a .230 average and zero homers. He's been a rare bright spot.
• There's still no timetable for Joe Mauer's return, but he took a significant step in his recovery by heading to extended spring training to rehab alongside Tsuyoshi Nishioka. Jim Souhan of the Minneapolis Star Tribune interviewed Mauer recently for a column and speculates that what has "kept him from providing more clarity" about his ongoing health status "is that he doesn't want to blame anyone else for his lack of progress." Here's a little more from Souhan:
My guess is that he feels he didn't receive proper guidance or advice at some point during his surgery/rehab process, but he's too polite to call anyone out. That would explain why he took an extra visit to the Mayo Clinic to get checked out even after the Twins gave him medical clearance to play.

What I took away from my talks with Mauer is that he hates being portrayed as a slacker, and is desperate to get back on the field, but fears that if he rushes the process he'll be lost for the season or do himself permanent harm.
All of which seems to fit with Mauer and team trainer Rick McWane both admitting that he was not physically ready to begin the season on the active roster following knee surgery.
• They'll still be nowhere near full strength, but the Twins will get a little healthier Monday with Jim Thome and Jason Repko expected to return from the disabled list. Both players will need to avoid setbacks while playing minor-league rehab games until then, as Repko has been out since May 2 with a strained right quadriceps and Thome has been hampered by a strained left oblique since April 24.
• Repko's return will push Ben Revere back to Triple-A, while Thome's return forces the Twins to trim the pitching staff from 12 to 11 or demote Luke Hughes, Alexi Casilla, or Matt Tolbert from the infield mix. Casilla is out of minor-league options and appears to have secured the second base job with four straight starts there. Hughes has more starts than Tolbert recently, but just like in spring training Tolbert's ability to play shortstop likely gives him the edge.
• Delmon Young missed back-to-back starts to "clear his head" after coming off the DL with 10 strikeouts in 16 at-bats and pathetic effort defensively, which allowed Revere to show off his range last night with a sprinting catch in Oakland's expansive foul territory on a fly ball that would've landed 10 feet from Young. Revere's arm is awful and his upside is limited offensively, but using him in left field next season would completely change the Twins' outfield defense.
• Jose Mijares heading to the disabled list with a strained elbow might explain his 11 walks in 12 innings after issuing a total of 32 walks in his first 105 innings. In addition to placing Mijares on the shelf the Twins also optioned Jim Hoey back to Triple-A after a month-long bullpen stint in which his mid-90s fastball and poor control were both as advertised and opponents batted .375/.432/.725 off him in 10 games. Oddly, six of his 10 outings came in high-leverage spots.
• To replace Mijares and Hoey on the roster and in the bullpen the Twins brought up Anthony Swarzak and Phil Dumatrait from Triple-A. This is Swarzak's second stint with the Twins this year and he's been on the 40-man roster since 2009, but Dumatrait's call-up required clearing a spot first and they did so by designating Steve Holm for assignment. As a replacement-level catcher Holm will likely pass through waivers unclaimed and the Twins soured on him anyway.
• At first glace Dumatrait might look like an intriguing call-up based on his 1.15 ERA at Triple-A, but don't be fooled. His shiny ERA is the result of just 16 innings and came along with an awful 12-to-11 strikeout-to-walk ratio. He had a 6.13 ERA with more walks (55) than strikeouts (46) in 104 innings as a starter at Triple-A last year and has a 7.06 ERA with almost as many walks (65) as strikeouts (68) in 110 innings in the majors. Oh, and he's 29 years old.
• Swarzak once ranked among the Twins' top pitching prospects, but got knocked around in 12 starts as a 23-year-old rookie in 2009 and then went 5-12 with a 6.21 ERA in 22 starts back at Triple-A last year. He's been much better at Rochester this year with a 3.90 ERA and 25/7 K/BB ratio in 32 innings, but as a 25-year-old with a 4.32 ERA and 165/80 K/BB ratio in 269 innings spread over parts of four seasons at Triple-A he projects as a marginal big leaguer.
• There hasn't been any talk of Justin Morneau's post-concussion symptoms returning, but Sid Hartman of the Minneapolis Star Tribune writes: "I believe [Morneau] is playing daily despite being more injured than some of the Twins players on the disabled list." Whether or not that's accurate, Morneau has yet to get on track offensively and Parker Hageman at Over The Baggy broke down his swing mechanics to find that they've changed for the worse.
• Sadly the Twins' injuries aren't limited to the big-league roster. Oswaldo Arcia, who ranked 12th on my list of the Twins' top prospects coming into the year and was off to a tremendous start at low Single-A, is expected to miss two months following elbow surgery.
• Alex Wimmers isn't hurt, but what ails him may be even worse. He had a disastrous season debut at high Single-A, walking all six batters he faced and uncorking several wild pitches, at which point the Twins removed Wimmers from Fort Myers' rotation and sent him to extended spring training. Seth Stohs reports that Wimmers walked five batters over three innings in his first start there, so the 2010 first-round pick is going down the Rick Ankiel/Steve Blass path.
• Carl Pavano turned in a solid start against the A's last night, allowing just one earned run in seven innings, but once again struggled to miss bats and has now managed to strike out just three of the last 105 batters he's faced. Not a very encouraging sign for a 35-year-old pitcher under contract for $8.5 million next season.
• Darren Rovell of CNBC notes that Francisco Liriano's no-hitter earned him at least $22,000 thanks to an autograph-signing deal. Meanwhile, his nine-strikeout, one-walk outing Tuesday night against the Mariners was more impressive than the two-strikeout, six-walk no-hitter.
• Ultimately the Twins will probably be far enough out of contention come July to actively shop as many as a dozen veteran players, but even if they avoid going into full-scale seller mode for the first time in a decade I'm now convinced Kevin Slowey will be traded.
• Friend of AG.com and baseball historian Chris Jaffe wrote a pair of worthwhile articles about Harmon Killebrew at The Hardball Times, recapping his Hall of Famer career in an interesting way and then examining his game-by-game highlights.