June 7, 2011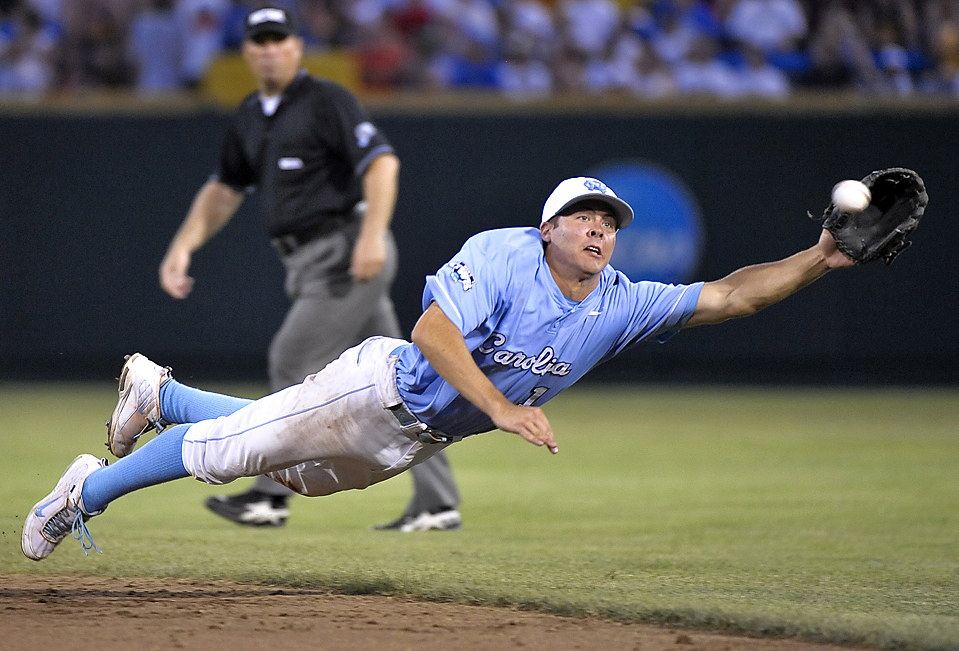 Hoping the Twins take a college middle infielder while expecting them to pick toolsy high school outfielders and strike-throwing college pitchers has become a pre-draft tradition in this space, so imagine my shock last night when they selected North Carolina shortstop Levi Michael with the 30th overall pick and then went further against the grain in the supplemental round with high school slugger Travis Harrison at No. 50 and high school pitcher Hudson Boyd at No. 55.
Not only is Michael the first college middle infielder selected by the Twins in the first round or supplemental first round since LSU second baseman Todd Walker way back in 1994, they last used a first-round pick on a college hitter of any position for Clemson catcher Matthew LeCroy in 1997. Michael alone represents a radical shift in draft strategy for the Twins and Boyd is also the first high school pitcher they've taken in the first round since Kyle Waldrop in 2004.
As a three-year college starter who figures to move through the system quickly Michael fills an obvious need for the Twins, as they've long struggled to develop middle infielders and are very short on MLB-ready help up the middle right now. Drafting for need is normally a mistake, but in this case he's also considered a clear first-round talent who many mock drafts had coming off the board in the 20-25 range. ESPN pegged him as "the top college shortstop in the class."
Baseball America ranked Michael as the 22nd-best player in the draft, noting that "he's been a reliable defender at all three [infield] spots and scouts are warming up to the idea that he could stay at shortstop at the pro level." He's had a disappointing junior year at the plate after a monster sophomore campaign, but that was partly due to an ankle injury and Michael still hit .297 with a .444 on-base percentage and more walks (47) than strikeouts (41) in 60 games.
Overall in three years as a full-time player at North Carolina the switch-hitting Michael batted .310/.440/.520 with 27 homers, 81 total extra-base hits, and a 123-to-117 strikeout-to-walk ratio in 191 games, stealing 40 bases in 47 attempts and adding to his on-base percentage by leaning into 45 pitches. Kevin Goldstein of Baseball Prospectus and ESPN noted that Michael has "solid tools across the board" with "great instincts and no real weaknesses in his game."
There are some questions about his power potential and range, but the Twins did very well to address an obvious area of short- and long-term need with a consensus first-round talent who should move quickly. As a switch-hitting college middle infielder with a strong track record and standout plate discipline Michael is exactly the type of player I've been hoping the Twins would target seemingly every June for the past decade. On paper at least, it's an ideal pick.
Harrison and Boyd are much different picks than Michael, as they're both years from potentially entering the Twins' plans and represent bigger risks along with sizable upsides. Harrison isn't quite as against type for the Twins as Michael or Boyd, but he's the first high school position player they've taken in the first round for his bat more than his tools since Chris Parmelee in 2006. According to Baseball America he "easily rates as the best high school bat" in California.
He's already 6-foot-2 and 215 pounds at 18, so while Harrison played third base in high school he may end up shifting across the diamond or to left field. Jonathan Mayo of MLB.com reported during the draft coverage on MLB Network that Harrison has impressive power potential, but there are questions about his approach at the plate. Baseball America's take is similar, noting his "above-average power potential" but also his difficulty "adjusting to breaking balls."
For an organization largely devoid of power-hitting prospects after years of focusing on speed and athleticism in the draft a right-handed-hitting corner infielder with plenty of pop in his bat is certainly a welcome addition and while 50th overall is slightly higher than most projections Harrison is generally ranked as a top-100 player. Twins scouting director Deron Johnson called Harrison "the best bat left on the board" and they'll have to sign him away from USC.
Michael addresses the lack of middle infield depth, Harrison brings some much-needed power, and Boyd is the latest move in the Twins' ongoing effort to add high-velocity arms to a system largely populated by finesse guys. Baseball America compared him to Jonathan Broxton and Bartolo Colon for mid-90s heat as much as a 6-foot-3, 235-pound frame and Jason Churchill of ESPN says Boyd may wind up as a late-inning reliever if his off-speed stuff doesn't develop.
This week's content is sponsored by the Minnesota law firm Snyder Gislason Frasier LLC, so please help support AG.com by considering them for your legal needs.