June 16, 2011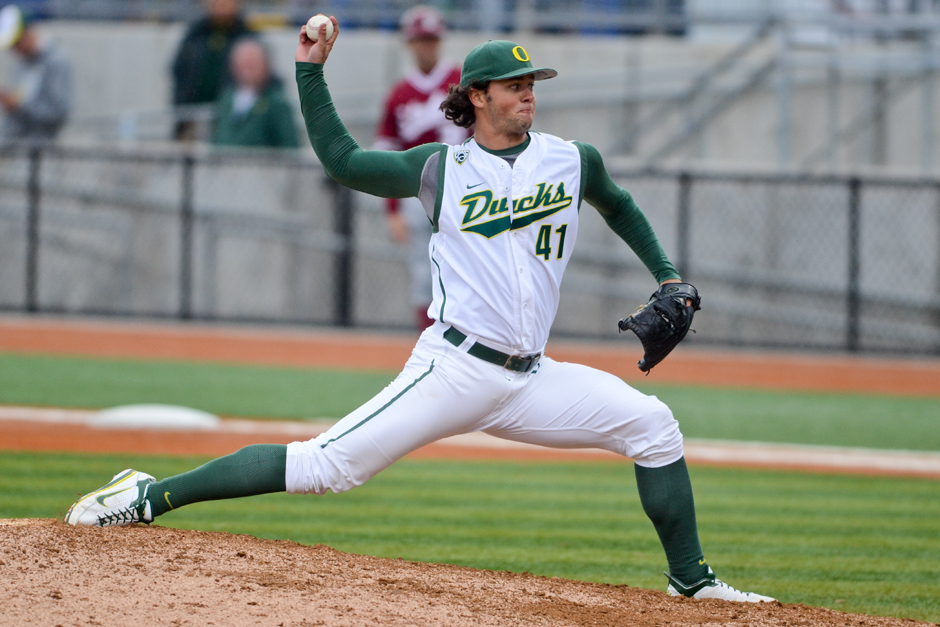 Last week I wrote about the Twins' trio of first-round draft picks, noting that they abandoned their usual focus on toolsy high school outfielders and strike-throwing college starters to use first rounders on a college position player (Levi Michael) for the first time since 1997, a high school pitcher (Hudson Boyd) for the first time since 2004, and a bat-first high school position player (Travis Harrison) for the first time since 2006.
Those three picks were very intriguing within the context of the Twins' usual draft strategy and obviously first rounders (and supplemental first rounders) are the selections everyone focuses on, but they also made 49 other picks on Day 2 and Day 3 of the draft. They resumed focusing on college pitchers, taking Oregon righty Madison Boer in the second round, Vanderbilt lefty Corey Williams in the third round, and UC-Irvine righty Matt Summers in the fourth round.
In all 22 of their final 49 picks were used on college pitchers, including University of Minnesota right-hander Trevor Oakes in the 41st round. However, the Twins did continue to stray from their usual strategy by loading up on college shortstops even after grabbing Michael with the 30th overall pick. They took Tyler Grimes from Wichita State in the fifth round, Adam Bryant from Troy in the ninth round, and Gophers shortstop A.J. Pettersen in the 25th round.
Whether or not any of those four college shortstops will provide help for the Twins in the near future remains to be seen, but using their first pick and three of their first 11 picks on college middle infielders is a pretty clear sign that the organization made it a priority to address the lack of MLB-ready depth at shortstop and second base. I'm not sure what took them so long to adopt that approach, but I'm glad to see them finally do so.
Grimes made a ton of errors this season, but according to Baseball America he "has better tools than most college shortstops" and "has a strong arm and can make nifty plays." Offensively he hit .300 with modest power, but like Michael showed excellent plate discipline by drawing 57 walks in 65 games for a .467 on-base percentage. He also struck out 61 times, however, and Baseball America notes that he "plays out of control at times."
Bryant wasn't a walk machine like Michael and Grimes, but hit .337 and slugged .570 with more walks (26) than strikeouts (25) in 62 games. It sounds like he may have to move to second base, with Baseball America calling Bryant's arm strength "fringe-average." In addition to those college shortstops the Twins also drafted one high school shortstop, Brian Anderson, using a 20th-round pick on "the best prep position player in Oklahoma" according to Baseball America.
While loading up on college shortstops and pitchers the Twins did take one toolsy high school outfielder, sixth-round pick Ivan Rodriguez, who goes by Dereck Rodriguez and is the son of future Hall of Fame catcher Ivan Rodriguez. As you might expect arm strength is Rodriguez's best skill and some teams reportedly liked him as a pitcher. Not only is his dad still playing at age 39, he's backing up former Twins prospect Wilson Ramos in Washington.
During the previous 11 drafts the Twins used a first rounder on a college pitcher 10 times and took at least one college pitcher within the first 75 picks every year but 2001, 2006, and 2007. This year Boer was the first college pitcher at No. 87 after the 6-foot-4 righty from Eden Prairie had a 2.27 ERA, .234 opponents' batting average, and 74-to-35 strikeout-to-walk ratio in 99 innings as a junior at Oregon.
Boer works in the low-90s as a starter, but spent time in the bullpen, where Baseball America says his fastball has been clocked as high as 96 miles per hour and touts his splitter. Williams was the next college arm at No. 117, but Baseball America reports that the Vanderbilt lefty is "thought to be a tough sign as a redshirt sophomore." He throws hard, but had a team-high 5.23 ERA in 33 innings as a reliever this season while coming back from this ugly knee injury:
If you're too squeamish to actually watch the video or look at the X-ray a line drive back up the middle broke Williams' knee cap and he somehow still managed to pick up the ball and flip it to first base for the out while writhing in pain on the mound. Summers has no such YouTube-able moments, but the fourth-round pick successfully made the transition from outfielder to pitcher at UC-Irvine with a 2.02 ERA and 99-to-32 strikeout-to-walk ratio in 116 innings.
This week's content is sponsored by the Minnesota computer repair shop TCPC Services, so please help support AG.com by considering them for your computer problems.