July 4, 2011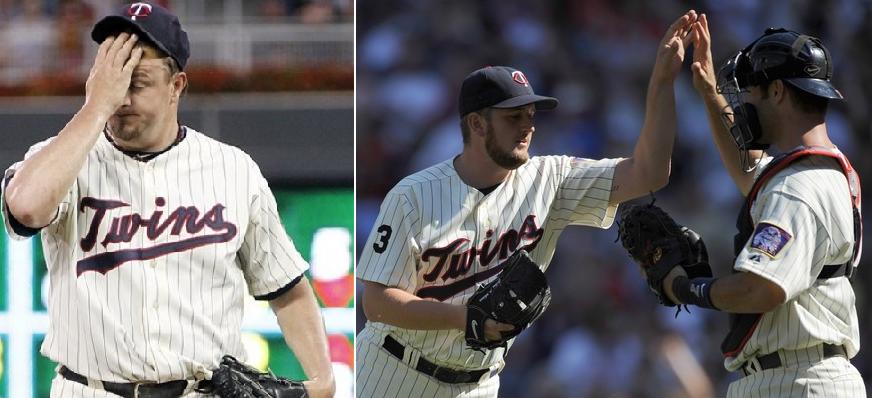 • Ron Gardenhire stuck with Matt Capps as the closer following Saturday's implosion, but then pulled him with two runners on base and one out yesterday rather than let the right-hander blow back-to-back saves. Glen Perkins wriggled out of Capps' mess for his first career save, leading to postgame speculation that there could be a permanent change in the ninth inning, but Gardenhire downplayed that talk by saying Capps "is still our closer."
With a 4.63 ERA and league-leading six blown saves in 19 chances Capps has certainly pitched poorly enough to warrant a demotion and Perkins has been the Twins' best reliever all year, so giving him an opportunity in the bullpen's top role makes sense. However, removing Capps from the ninth inning would likely just mean giving him chances to blow leads in earlier innings and installing Perkins as closer would put him in a far more rigid, potentially less impactful role.
Perkins has been so valuable in large part because Gardenhire has been willing to use him in basically any situation. He's worked every inning from the fifth to the tenth, seeing significant action in the sixth, seventh, and eighth innings. He's come into games to protect small leads, but also to keep things close with small deficits or keep things tied with the score knotted. And he's been used a ton, appearing in 31 of 59 games while on the active roster.
As a closer that would all change because Perkins would mostly be limited to pitching the ninth inning with a lead of 1-3 runs. No more putting out fires in the seventh frame, no more pitching the eighth inning down a run, and no more working every other day. Decreasing his workload some may not be a bad thing, but moving Perkins into a role with far more rigid usage won't help matters much overall and would likely just mean Capps sliding into a prominent setup gig.
• In terms of Capps-related mistakes trading Wilson Ramos to get him last season and paying $7.15 million to keep him this season were both worse than sticking with him as closer, where he's perfectly capable of converting saves 80 percent of the time just like every other halfway decent reliever. Perhaps demoting Capps would improve things in the ninth inning, but in order to do that the Twins would have to weaken things in the seventh and eighth innings.
And beyond the immediate on-field domino effect, putting Perkins in a role where he can rack up saves will make him significantly more expensive in future seasons even if his actual value stays the same or even decreases. No one has been harder on Capps and the Twins' decision to acquire Capps than me, but any change that simply involves him in a different high-leverage inning isn't as big as the misguided focus on the save statistic would have you believe.
If the Twins feel they have to remove Capps from the ninth inning it makes more sense to give Joe Nathan another crack at closing and see if his impressive outings since returning from the disabled list are a genuine sign of his old stuff gradually coming back. Nathan's future price tag isn't a factor, his current role doesn't involve a heavy workload anyway, and stringing together some solid outings over the next few weeks might resuscitate his trade value.
Capps isn't as terrible as the six blown saves would suggest, but he's also not a good closer. Never has been, never will be. He's basically Jon Rauch, minus eight inches and a bunch of ink, and plus a beer belly. I've hammered that point home before, so I won't get back into it, but I will say that only two active pitchers with 100 saves have fewer than 7.0 strikeouts per nine innings. One is Danys Baez, who has a 5.03 ERA since 41 saves in 2005. The other is Capps.
• Michael Cuddyer was chosen for the All-Star team yesterday, following in the grand tradition of previous Twins representatives like Ron Coomer, Tim Laudner, Dave Engle, Leo Cardenas, Gary Ward, Joe Mays, Doug Corbett, and Cristian Guzman. Assuming that Scott Baker isn't a last-minute pitching replacement this will be the Twins' first year with just one All-Star since 2004. In the six seasons since then the Twins averaged 2.67 representatives per year.
• Incidentally, through exactly half of the season here are the Twins' leaders and trailers in the Baseball-Reference.com-calculated Wins Above Replacement (WAR):
LEADERS              WAR          TRAILERS             WAR
Denard Span          3.5          Tsuyoshi Nishioka   -1.5
Scott Baker          2.8          Justin Morneau      -1.0
Michael Cuddyer      1.5          Jim Hoey            -0.8
Glen Perkins         1.1          Matt Tolbert        -0.7
Jason Kubel          0.9          Joe Nathan          -0.7
I have no problem with Cuddyer getting the nod. He's not a great player and isn't even having a great season--ranking 23rd in OPS and 47th in WAR among AL hitters--but the one-player-per-team rule forces the Twins to send someone and Denard Span is hurt, plus the pitching staff is tougher to crack than the bench. Mostly, though, I couldn't care less about the All-Star game and always have a hard time getting worked up about the picks one way or another.
• Like every other Twins injury this year Jason Kubel's sprained left foot has kept him out for significantly longer than the team's initial return timetable. First he hoped to miss just a couple days, then he aimed to avoid the disabled list, then he was optimistic about returning after the minimum 15 days on the shelf, and now he's already missed 35 days and counting following a setback while rehabbing in Fort Myers. "Day-to-day" equals "one month" in Twins speak.
• Rick Knapp, who was the Twins' minor-league pitching coordinator for a dozen years before leaving the organization in 2008 to become the Tigers' major-league pitching coach, was fired yesterday after 2.5 seasons on the job. Knapp was often credited with being a key part of the Twins' organization-wide focus on throwing strikes, but under his watch Detroit ranked 12th, 7th, and 12th in walks and 5th, 11th, and 12th in ERA among AL teams.
• David Dorsey of the Fort Myers News Press did a feature on Aaron Hicks, who turned things around following a slow start and is now batting .280/.392/.424 with 26 extra-base hits, 46 walks, and 11 steals in 66 games at high Single-A. His power has been slow to develop, but Hicks' plate disciplines continues to stand out for a 21-year-old, his switch-hitting has become more balanced, and his defense in center field consistently draws positive reviews.
• Saturday marked the start of the international signing period and the Twins' highest-profile pickup is Miguel Gonzalez, a 16-year-old right-hander from the Dominican Republic who signed for $650,000. Ben Badler of Baseball America reports that the 5-foot-11, 185-pound Gonzalez "draws attention for his ability to pound the strike zone with a fastball that reaches the low 90s" and "has feel for pitching beyond his years." He even predicted the Twins would sign him.
• For all his ups and downs this year Alexi Casilla is hitting .244/.312/.346 through 74 games. His combined line during the previous three seasons: .256/.316/.344. Same old, same old.
• Kris Humphries sat through a two-hour rain delay before throwing out the ceremonial first pitch Friday, was mostly booed by the Target Field crowd, fired low to Rene Rivera, and then went back into a suite to sit with fiancee Kim Kardashian, who was the much bigger attraction among Twins players and media members: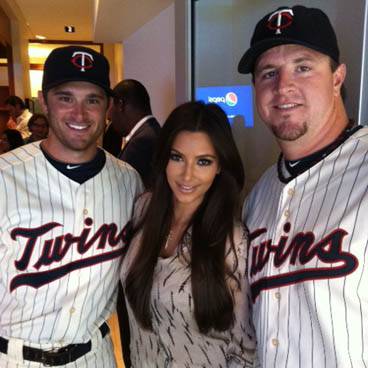 On a related note, when things go wrong at least Capps isn't as scary as the guy he replaced: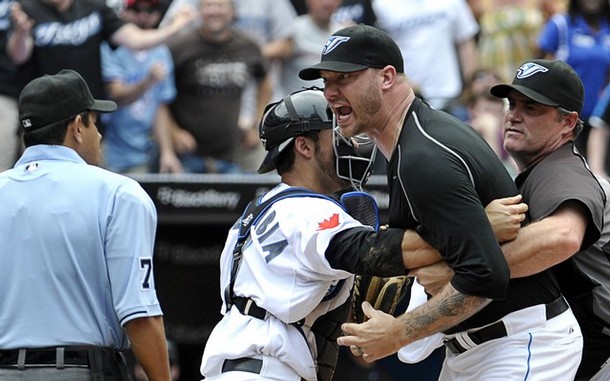 And that angle doesn't even display the neck tattoos.
This week's content is sponsored by the Minnesota law firm Snyder Gislason Frasier LLC, so please help support AG.com by considering them for your legal needs.