October 3, 2011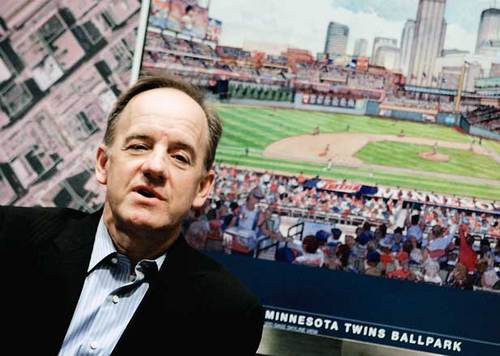 • During a lengthy interview with LaVelle E. Neal III of the Minneapolis Star Tribune owner Jim Pohlad predictably confirmed that manager Ron Gardenhire and general manager Bill Smith will be back in 2012, saying: "We're not a knee-jerk organization." When asked about holding people accountable following one of the worst years in Twins history, Pohlad cited "the perfect storm of injuries and players not performing":
We need to address how can we keep the players healthy. We need to address how can we encourage the players during the offseason to get to a point where they're going to play up to their capabilities. I'm not saying that the medical staff or the training staff has done anything wrong. I'm just saying let's look at the injuries and see how they can be prevented in the future.
Pohlad told Neal that the Twins "are very pleased with the job [Gardenhire] has done" under "very difficult conditions." He stopped short of praising Smith, saying instead that "he also has had a very tough situation" and then citing his 15 years in the organization. Neal brought up Smith saying he's more administrator than talent evaluator and asked if he's "the right man to turn things around." Pohlad initially replied with "what's Billy's title?" and then said:
General manager, so he's in charge of managing the baseball operation. I mean those are his words, like you said. I don't remember reading that, but if those are his words that's really his job, to manage the baseball department. We don't look to Billy solely--I don't know if any organization does, maybe they do at some place--we don't look solely at him as the premier judge of talent. He has a whole bunch of people that he gets input from on the judgment of talent.
Not exactly a ringing endorsement of Smith, but Pohlad is absolutely right that the Twins' front office decision-making involves a lot more voices than just the general manager. When asked how much money Smith and the front office will have available this offseason, Pohlad indicated that the payroll "is going to come down naturally because it exceeded where we wanted it" for this season "but it's not going to be slashed." Hmm. Check out the full interview for more.
• Ben Revere, Justin Morneau, and Nick Blackburn each underwent surgeries within days of the final game. Revere's surgery was considered a minor knee "cleanup," as Neal reports that he was "seen with ice on his left knee after games" down the stretch. For a guy whose entire game is built on speed knee problems at age 23 are worrisome, but Revere never missed time and hit .368 with seven steals in his final 15 games.
Morneau underwent surgery to stabilize a tendon in the back of his left wrist, which is actually the injury that initially forced him to the disabled list in mid-June before neck surgery and more concussion issues followed. Morneau also recently had knee and foot surgeries, which means he'll be rehabbing four different operations this offseason along with trying to recover from the concussion that occurred 16 months ago. At age 30 he's clearly at a career crossroads.
Blackburn, who had elbow surgery last fall, underwent an operation to remove pressure from an entrapped nerve in his forearm as part of a radial tunnel syndrome diagnosis. He'll be in a splint for six weeks and can't throw for two months, which makes the timing curious. Blackburn hasn't pitched since August 21 and was shut down on September 4, yet waited until Friday to have the surgery. He's under contract for $4.75 million in 2012 and $5.5 million in 2013.
• Denard Span appears to have avoided a major setback in his concussion recovery despite a scary looking collision with the center field wall in Game 161. Span came back too early from his concussion initially, looking lost for nine games and heading back to the disabled list with more symptoms, but he finished the season with some reason for optimism by going 5-for-18 (.278) with four extra-base hits in five games after returning on September 21.
That may not seem like much, but before stringing together those hits late Span went through a brutal 2-for-42 (.048) stretch following the concussion. Span was hitting .300/.367/.392 in 55 games before colliding with Royals catcher Brayan Pena on June 3, yet finished the year with a .264/.328/.359 mark in 70 total games. Hopefully a full winter of rest is better for Span than it was for Morneau, because there's not much the Twins can do besides wait.
Even if the Twins wanted to revisit their July trade talks with the Nationals for Span it's hard to imagine Washington general manager Mike Rizzo being comfortable enough with his status to pull the trigger. If he gets over the concussion symptoms the Twins shouldn't be willing to deal Span for a reliever--even a very good, young one like Drew Storen--and if he doesn't get over the concussion symptoms no team is going to give them anything worthwhile for him anyway.
• Dating back to the end of last year the Twins have talked about adding more "power arms" to the organization rather than continuing to stock the minors and majors with low-90s control artists. Generally speaking that's an excellent idea, but so far that plan has mostly just led to acquiring hard-throwing middle relievers with massive control problems, like getting Jim Hoey from the Orioles for J.J. Hardy and Lester Oliveros from the Tigers for Delmon Young.
Esmerling Vasquez is the latest pickup to fit that mold, as the Twins claimed the 27-year-old right-hander off waivers after he was designated for assignment by Arizona. Vasquez throws hard, averaging 93.7 miles per hour with his fastball, but has managed just 120 strikeouts in 137 innings to go along with 80 walks. And those numbers are actually great compared to his time at Triple-A, where Vasquez had more walks (97) than strikeouts (93) in 121 innings.
Vasquez has been reasonably tough to hit whenever he throws the ball over the plate and his changeup has been much more effective than his mid-90s fastball, so there's some semblance of upside to be unlocked. However, if the Twins are serious about changing the organizational approach to acquiring and developing pitchers they'll need to dig a lot deeper than plucking a few hard-throwing middle relievers with awful walk rates from other teams.
• Even with his strong finish Revere posted a .309 slugging percentage and .619 OPS in 117 games, which are both the lowest marks in Twins history from an outfielder with at least 450 plate appearances. He managed zero homers and just 14 extra-base hits in 481 trips to the plate, and two of those extra-base hits were actually outs as Revere unsuccessfully (but very excitingly) tried to turn triples into an inside-the-park homers.
Revere also stole 34 bases at a solid 79 percent clip. If you add an extra base to his hitting for each steal and erase one time on base for each unsuccessful steal his overall line morphs into .267/.291/.384. I'm not sure if that's more or less encouraging than his actual .267/.310/.309 line, but it does show that all the running didn't make up for the poor hitting. Of course, given his speed and defense Revere merely needs to be not-horrible at the plate to have nice value.
• Not surprisingly Revere led the Twins with 26 infield hits, which is a function of both his elite speed and a 68.5 percent ground-ball rate that was the highest in baseball by a wide margin. As a team the Twins also had MLB's highest ground-ball rate, yet even with Revere boosting the total they were just ninth in infield hits. On the flip side Twins pitchers allowed an AL-high 198 infield hits despite ranking 20th in ground balls, which speaks to the awful infield defense.
• Carl Pavano is a prime example of why judging pitchers on their win-loss record or even ERA can be extremely misleading. Last season he went 17-11 with a 3.75 ERA and this season he went 9-13 with a 4.30 ERA. Big dropoff in his performance, right? Well, maybe not:
YEAR      IP      SO     BB     HR      GB%      FIP
2010     221     117     37     24     51.2     4.02
2011     222     102     40     23     50.6     4.10
Pavano pitched slightly worse this year because his already poor strikeout rate fell further, but most of the difference between his 2010 numbers and 2011 numbers can be traced to bad run support and the terrible infield defense behind him. Pitchers who don't miss bats are always at the mercy of their defense and it doesn't necessarily mean the Twins should be happy to have Pavano under contract for $8.5 million in 2012, but his record and ERA overstate the decline.
• Rick Knapp left his job as the Twins' longtime minor-league pitching coordinator in 2008 to become the Tigers' big-league pitching coach, but was fired midway through this season. He'll stay in the AL Central, joining the Royals last week as their minor-league pitching coordinator. Knapp got a lot of credit for the Twins' strike-throwing philosophy throughout the organization, so it'll be interesting to see what he can do working with the Royals' stockpile of young arms.
• Hardy finished his first season in Baltimore with 30 home runs and an .801 OPS in 567 plate appearances (which is more than everyone on the Twins this year except Danny Valencia and Michael Cuddyer). In the entire history of the Twins no shortstop has hit more than 24 home runs and only Cristian Guzman in 2001 topped an .800 OPS.
• In ranking second-to-last among AL teams in scoring this season the Twins hit a combined .247/.306/.360. For comparison, Nick Punto is a career .247/.325/.327 hitter.
• One of the Twins' rare September wins apparently came because Gardenhire scratching his chin got confused for the manager giving the steal sign. Seriously.
• Based on this tweet Brian Duensing has already had an eventful offseason: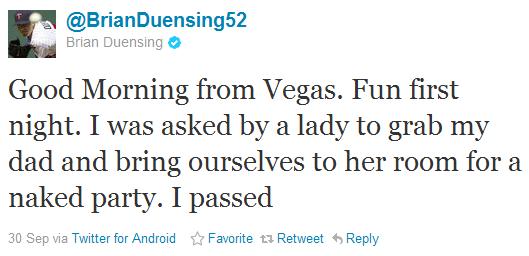 Probably for the best considering the collective state of the team's immune system this year.