October 25, 2012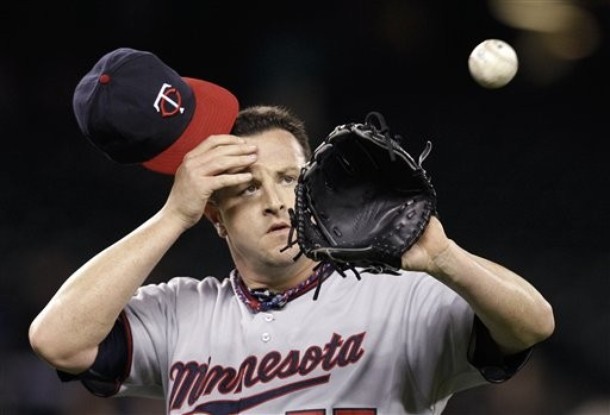 • Yesterday in this space I listed 11 marginal players the Twins could designate for assignment to create space on the 40-man roster heading into the offseason and by the afternoon they'd done just that, dropping all but four of those players from the roster. Carlos Gutierrez was claimed off waivers by the Cubs while Jeff Manship, Luis Perdomo, Esmerling Vasquez, Kyle Waldrop, P.J. Walters, and Matt Carson all passed through waivers unclaimed.
Gutierrez was the 27th overall pick in the 2008 draft out of the University of Miami and for years was touted as a late-inning bullpen option, but he never actually pitched well beyond Single-A. He got ground balls with his sinker, but Gutierrez was basically a one-pitch reliever with poor control. He posted a 4.90 ERA between Double-A and Triple-A while managing just 6.9 strikeouts per nine innings and is currently recovering from shoulder surgery at age 26.
Manship once looked like a decent prospect as a starter in the minors, but he simply couldn't miss enough bats against experienced hitters and wasn't able to add much velocity in a move to the bullpen. He could resurface as a decent middle reliever at some point, but there's little in his track record to suggest an upside beyond that and Manship is 27 years old with mediocre raw stuff and a 6.20 ERA in 85 innings as a big leaguer.
Waldrop was drafted 25th overall in 2004, which is so long ago that the Twins took him with the compensatory pick they got for losing LaTroy Hawkins as a free agent. He was drafted as a starter out of high school, but shifted to the bullpen following shoulder surgery in 2008 and spent three years at Triple-A. Waldrop throws strikes and gets tons of ground balls, but had just 5.4 strikeouts per nine innings in Rochester and missed even fewer bats in Minnesota.
Perdomo, Vasquez, Walters, and Carson were each acquired by the Twins via minor-league deals or waiver claims, so cutting them loose comes as no surprise. Perdomo is the reliever the Twins decided to promote in September instead of giving Anthony Slama an opportunity to show that his consistently amazing minor-league numbers are no fluke, which was maddening then and remains so now.
• Along with trimming the 40-man roster the Twins also declined their $6 million option on Matt Capps, buying him out for $250,000 instead. That doesn't preclude them from re-signing Capps for less, but hopefully the front office can talk themselves into a clean breakup after such an odd love affair. Capps threw 122 innings for the Twins with a 3.61 ERA and 5.4 strikeouts per nine innings, which cost them Wilson Ramos, one draft pick, and $13 million.
Capps is a perfectly decent setup man when healthy, but he's always been an example of the folly behind labeling someone a "proven closer" based on save totals and then paying a premium for that meaningless label. Doing it over and over again, as the Twins did, is one of the team's most obvious fundamental mistakes in recent memory. Closers are made, not born, as Rick Aguilera, Joe Nathan, Eddie Guardado, and now Glen Perkins have shown.
• They haven't officially declined the $9 million option on Scott Baker for 2013, but that's merely a formality after he missed the entire season following Tommy John elbow surgery. Two months ago Baker said he'd like to remain in Minnesota, this week general manager Terry Ryan said the Twins are interested in keeping him around, and yesterday Darren Wolfson of 1500ESPN.com reported that the two sides are "working now on a new deal."
Baker is no sure thing to be healthy by Opening Day and had durability issues even before the surgery, but getting him signed to an incentive-laden one-year deal before free agency begins would be a nice first step toward rebuilding the rotation. Baker logged 135 innings with a 3.14 ERA and 123-to-32 strikeout-to-walk ratio in 2011 and among the 144 starters with 500-plus innings since 2007 he ranks 12th in K/BB ratio, 50th in xFIP, and 52nd in ERA.
• Last but not least, on this date 25 years ago ...