November 27, 2012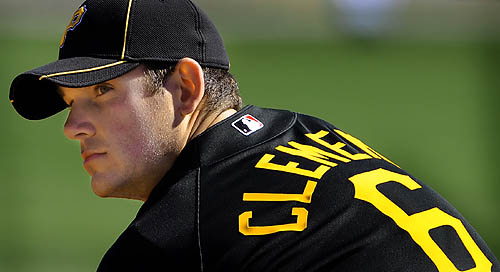 • After clearing lots of the dead weight from the 40-man roster the Twins filled the empty spots by adding eight players: Aaron Hicks, Kyle Gibson, B.J. Hermsen, Michael Tonkin, Daniel Santana, Josmil Pinto, Tim Wood, Caler Thielbar. All eight players would have been eligible for the Rule 5 draft on December 6 if they hadn't been added and the first five names on the list were expected, as they rank among the Twins' better upper-minors prospects.
Pinto was somewhat surprising in that he's played just 12 games above Single-A through age 23, already spent about half of his time as a designated hitter, and failed to crack a .700 OPS in 2010 or 2011. He did bounce back with a strong season at high Single-A, hitting .295/.361/.473 in 93 games before a late promotion to Double-A, and the Twins apparently believe Pinto has a chance to be an impact bat.
When the Twins signed Wood to a minor-league contract on November 10 he didn't get a 40-man roster spot, but for some reason two weeks later they decided the 30-year-old reliever with just 58 career innings of big-league experience needed to be protected. He has a decent Triple-A track record and looks capable of being a useful middle reliever, but adding Wood to the 40-man roster weeks after signing him to a non-roster deal certainly seems odd.
Thielbar was cut by the Brewers two years after being an 18th-round draft pick and latched on with the independent league St. Paul Saints, where the left-handed reliever impressed the Twins enough to sign him in mid-2011. This year he pitched at Single-A, Double-A, and Triple-A, faring very well overall, but his 3.57 ERA and 32/16 K/BB ratio in 40 innings for Rochester were nothing special for a 25-year-old. Helluva story, questionable 40-man addition.
• Most of the aforementioned dead weight that was previously trimmed from the 40-man roster have either found new homes or re-signed with the Twins on minor-league deals. Samuel Deduno, P.J. Walters, Esmerling Vasquez, and Luis Perdomo re-upped without 40-man roster spots, Jeff Manship signed a minor-league contract with the Rockies, and Matt Carson signed a minor-league deal with the Indians.
At the time Carlos Gutierrez was the only player claimed off waivers after being dropped from the 40-man roster by the Twins, but two weeks later the Cubs dropped him from their 40-man roster and sent him outright to Triple-A when no one claimed the former first-round pick. As of now the Twins have a full 40-man roster, but there's still no shortage of replacement-level talent that can safely be let go if/when they need spots for trades or signings.
• David Bromberg was the Twins' minor league pitcher of the year in 2009, but he was dropped from the 40-man roster after missing most of 2011 with a broken forearm and became a minor-league free agent last month. It was somewhat surprising to see the Twins sour on Bromberg so quickly, but he was never considered a top prospect and struggled this year working mostly as a reliever at age 24. He signed a minor-league deal with the Pirates.
• If you're into misleading headlines "Twins sign former top prospect, No. 3 pick" is a good one, but Jeff Clement seems destined for Rochester after inking a minor-league deal. While in the Mariners' farm system Clement ranked among Baseball America's top 75 prospects in 2006, 2007, and 2008, but poor defense kept him from playing catcher regularly and his bat hasn't been good enough for first base/designated hitter. For now he's just intriguing Triple-A depth.
• Tim Doherty and Marty Mason replaced Tom Brunansky and Bobby Cuellar on the Triple-A coaching staff. Doherty will be Rochester's hitting coach after serving as a Red Sox assistant hitting coach this year. Mason takes over as pitching coach and his resume includes 11 seasons as the Cardinals' bullpen coach under manager Tony La Russa. Brunansky and Cuellar were promoted to the Twins' coaching staff as part of last month's quasi-shakeup.
• Last month when Tsuyoshi Nishioka forfeited the remaining $3.25 million on his contract to part ways with the Twins it was portrayed as an act of charity on his part. There's no doubt he did the Twins a favor, but as I wrote at the time: "He'll likely recoup the $3.25 million and then some back in Japan, where he was a .346-hitting, Gold Glove-winning star before leaving." Sure enough, Nishioka signed a two-year, $7.5 million deal with the Hanshin Tigers.
• Danny Valencia spent most of his time at Triple-A after the Twins traded him to the Red Sox for a non-prospect in early August and now Boston has cut him from the 40-man roster. Overall this year Valencia hit .188/.199/.299 in the majors and .259/.300/.404 in the minors, posting a combined 90/21 K/BB ratio in 126 games. At age 28 he might be nearing the end of the line, although Valencia re-emering as a right-handed bench bat wouldn't be shocking.
• Torii Hunter is back in the AL Central, signing a two-year, $26 million contract with the Tigers. That's a big commitment to a 37-year-old and his 2012 production was built on an sustainably great ball-in-play batting average, but it's worth noting that Hunter has more or less been worth $20 million over every two-year period since establishing himself in 2001. He's aged remarkably well and moving from center field to right field resuscitated his defense.
• For a whole lot more about the 40-man roster additions, Nishioka's raise, and the state of the Twins' farm system check out this week's "Gleeman and The Geek" episode.