July 18, 2013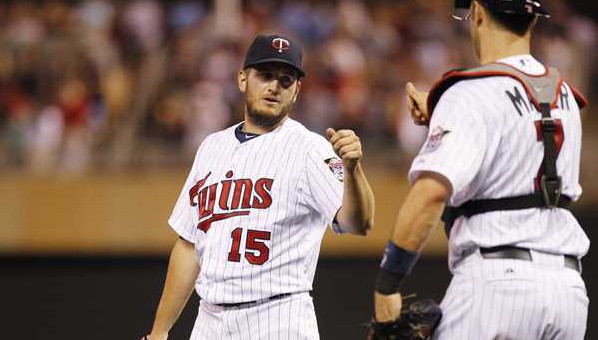 Last year Twins starters ranked dead last in the league with a 5.40 ERA, but after big talk of fixing the rotation the actual additions were inexpensive and uninspired. This year Twins starters have a 5.23 ERA that ranks dead last in either league and even with surprisingly good work from a largely makeshift bullpen the pitching staff has the league's worst ERA and fewest strikeouts. Before the second half gets underway here's a pitcher-by-pitcher look at the individual performances ...
• Kevin Correia: .296/.336/.472 in 472 plate appearances
Signed to a two-year, $10 million contract that didn't make much sense this offseason, Kevin Correia posted a 2.23 ERA in April that had people coming up with all sorts of theories about why he'd turned a corner at age 32. Since the calendar flipped to May he's made 15 starts with a 5.21 ERA, allowing opponents to hit .321 with 15 homers in 74 innings. Since completing at least seven innings in each of his five April starts Correia has done so just once in his last 15 outings.
Overall he has a 4.23 ERA compared to the AL average of 4.08 and across baseball Correia ranks 85th among 89 qualified starters in both strikeout rate and swinging strike percentage, which is some serious pitching to contact. He's been slightly less ineffective than expected thanks to the fast start, but Correia has shown why the multi-year commitment was misguided and if the Twins can trade him before the ERA rises any further they should.
• Scott Diamond: .313/.355/.514 in 394 plate appearances
Scott Diamond's miniscule strikeout rate suggested that last year's success would be short-lived and sure enough he unraveled in the first half. His strikeout rate fell even further to 4.2 per nine innings, which is the worst in baseball, and his walk and ground-ball rates declined from excellent to merely good. Toss in a 30-point uptick in Diamond's batting average on balls in play and you end up with an ERA that jumps from 3.54 to 5.32.
Diamond wasn't as good as he looked last season and isn't as bad as he's looked this season, but overall he's a whole lot closer to a left-handed Nick Blackburn than a long-term building block. In fact, through three seasons the comparison between Diamond and Blackburn is eerily close. Diamond has a 4.27 ERA and rates of 4.5 strikeouts, 2.1 walks, and 1.0 homers per nine innings. Blackburn had a 4.14 ERA and rates of 4.4 strikeouts, 1.8 walks, and 1.1 homers per nine innings.
• Mike Pelfrey: .313/.359/.478 in 363 plate appearances
All the offseason and early spring training talk of Mike Pelfrey being vastly ahead of schedule in his recovery from Tommy John elbow surgery gave way to his actually having to pitch and it was ugly. Pelfrey had a 6.66 ERA through 11 starts, including a .332 opponents' batting average and 26-to-19 strikeout-to-walk ratio in 51 innings. He then likely saved his rotation spot with a decent five-start stretch to finish the first half, with a two-week disabled list stint mixed in.
Pelfrey wasn't particularly effective before the surgery, serving mostly as an innings-eater for the Mets, and going under the knife didn't fix his inability to miss bats. He relies almost exclusively on a low-90s fastball, which is why Pelfrey is averaging fewer than 6.0 strikeouts per nine innings for the eighth time in eight seasons. That pitch used to at least generate lots of ground balls, but his current rate of 43.8 percent is a career-low and actually qualifies Pelfrey as a fly-ball pitcher.
• Samuel Deduno: .262/.327/.371 in 264 plate appearances
Last season Samuel Deduno was relatively successful with a 4.44 ERA in 15 starts despite nearly as many walks (57) as strikeouts (53) in 79 innings. Even that modest success won't work long term with those secondary numbers and somewhere along the way pitching coach Rick Anderson appears to have hammered that point home to Deduno. Prior to this year Deduno had walk rates of 6.1 per nine innings in the majors and 5.0 per nine innings at Triple-A. This year he's at 2.9.
It's a sample size of 10 starts, but Deduno has three or fewer walks in all 10 of them after doing so just half the time last year. His strikeout rate has actually fallen to 4.5 per nine innings, which is among MLB's worst, but he's made up for the lack of missed bats by nibbling less and letting the movement of his pitches induce an AL-high 61 percent ground balls. Or, put another way: Pitching to contact actually works for Deduno. There's more reason to believe in him now than last year.
• Anthony Swarzak: .281/.314/.412 in 237 plate appearances
After three sub par years split between the rotation and bullpen Anthony Swarzak has taken a step forward as full-time long reliever. Compared to his first three seasons Swarzak has upped his strikeouts by 28 percent, reduced his walks by 26 percent, and become less fly-ball prone. He's been one of the most effective pitchers on the entire staff, although that's admittedly not saying much and because most of his work comes in long-relief spots his impact has been minimal.
In fact, the Twins are 6-21 when Swarzak pitches. That should be blamed on his role rather than his performance, which includes a 3.55 ERA and 41-to-12 strikeout-to-walk ratio in 58 innings. So far they've resisted the urge to put Swarzak back into the rotation and they've also yet to really move him up the bullpen hierarchy. Considering the overall state of the pitching staff if Swarzak keeps pitching this well in the second half he'd warrant some kind of higher-leverage gig.
• Vance Worley: .381/.427/.577 in 234 plate appearances
When the Twins acquired 25-year-old Vance Worley from the Phillies in the Ben Revere trade he was supposed to step in as a long-term mid-rotation starter. Worley had thrown 278 innings with a 3.50 ERA for the Phillies and while there were questions about his many called strikeouts being sustainable there was little reason to expect a collapse. And then he went from Opening Day starter to Triple-A in less than two months, allowing 43 runs in 49 innings.
He generated just 15 strikeouts in 10 starts, got a swinging strike on an abysmal 4.5 percent of his pitches, and allowed a .381 opponents' batting average. Worley has been much better since the demotion to Rochester, but it's hard to be very encouraged by a 3.88 ERA at Triple-A when it comes with 34 strikeouts in 58 innings. He'll be back with the Twins at some point, but Worley hasn't been right since last year's elbow issues and was never a high-upside arm to begin with.
• Ryan Pressly: .255/.321/.345 in 185 plate appearances
As far as Rule 5 picks go Ryan Pressly has been a big success. Used mostly for mopping up and long relief, he threw 44 innings with a 3.09 ERA and averaged 93 miles per hour with his fastball. Far less impressive than the shiny ERA is a 30-to-17 strikeout-to-walk ratio and Pressly is unlikely to be as stingy with homers going forward considering his high fly-ball rate, but he's been a useful member of the bullpen and has definitely shown some long-term upside.
• Jared Burton: .247/.333/.377 in 184 plate appearances
Jared Burton picked up right where he left off following a fantastic 2012 season with a 2.10 ERA and 26 strikeouts in 26 innings through the end of May. Then he went through a rough patch while dealing with a groin injury, allowing 12 runs in 10 appearances as his ERA ballooned to 4.29 and he was removed from setup duties. Burton recovered to end the first half with six shutout outings in a row, although his usual swing-and-miss stuff still wasn't there.
Last year's .220 batting average on balls in play was always unsustainable and his overall stats remain decent with a 3.67 ERA and 36 strikeouts in 42 innings, but Burton has already walked more batters than all of last year and both his velocity and swinging strike rate are down slightly. Hopefully it's just a blip on the radar, because a healthy Burton can be light outs and he's signed through 2015 at salaries that make him a reasonably priced setup man or good trade bait.
• P.J. Walters: .311/.383/.494 in 183 plate appearances
For the second time in two seasons the Twins called up P.J. Walters when their rotation was a mess, got a handful of decent outings from him before things fell apart, and then passed him through waivers unclaimed to keep the 28-year-old right-hander in the organization as Triple-A depth. Meanwhile, he has a 5.79 ERA in 20 starts for the Twins after posting a 4.60 ERA in 133 starts at Triple-A, making Walters the epitome of a replacement-level starter.
• Pedro Hernandez: .311/.373/.517 in 169 plate appearances
Acquired from the White Sox in the Francisco Liriano trade, Pedro Hernandez is a soft-tossing, strike-throwing lefty who struggled against right-handed hitters in the minors and not surprisingly big-league righties have crushed him to the tune of .353/.423/.639 with eight homers in 137 plate appearances. He had two first-half stints with the Twins as a rotation fill-in, posting a 6.17 ERA in seven starts, and it's tough to see Hernandez having long-term success as a starter.
• Josh Roenicke: .238/.331/.420 in 167 plate appearances
When the Twins claimed Josh Roenicke off waivers in November the story of his career was a big fastball and not much else, including a modest strikeout rate and poor control. His average fastball dipped to 91.2 miles per hour in the first half, but the rest of the story stayed the same with an awful 25-to-21 strikeout-to-walk ratio in 38 innings. And after some initial success he gave up 14 runs in his final 24 innings with as many walks (15) as strikeouts (15).
• Brian Duensing: .300/.373/.393 in 159 plate appearances
Brian Duensing flopped as a starter, but has yet to rediscover his previous success as a reliever. Slated to be the primary left-handed setup man, Duensing struggled against lefties and righties while posting a 4.67 ERA and 30-to-16 strikeout-to-walk ratio in 35 innings and spent the final month or so of the first half working mostly in a mop-up role. His inability to handle righties will forever limit Duensing, but the good news is that his trouble with lefties looks like a fluke.
Lefties hit .307 off Duensing in the first half, but that was due to a ridiculously high .408 batting average on balls in play. Delving a little deeper, he posted a great 20-to-5 strikeout-to-walk ratio versus lefties and held them to just one homer in 82 plate appearances. Despite the rough first half not much has really changed with Duensing, but unfortunately that just means he's still a decent middle reliever who's a bad bet facing righties and a good bet facing lefties.
• Casey Fien: .179/.217/.284 in 146 plate appearances
Burton and Duensing struggling as the main setup men pushed Casey Fien into a more prominent late-inning role and he responded by continuing to thrive. Not only did he have a 3.03 ERA and 42-to-7 strikeout-to-walk ratio in 39 first-half innings, dating back to his debut with the Twins last season Fien has a 2.57 ERA and 74-to-16 strikeout-to-walk ratio in 74 frames. Not bad for a guy who joined the Twins as a minor-league free agent last offseason at age 28.
He's probably due to come back down to earth at least a little bit and if that does happen it'll likely stem from serving up too many homers, as Fien was an extreme fly-ball pitcher in the minors and has one of the 10 lowest ground-ball rates in the majors since last season. However, his overall track record in the minors showed someone capable of being a quality middle reliever and so far he's allowed just seven homers in 287 plate appearances.
• Glen Perkins: .172/.221/.262 in 131 plate appearances
Glen Perkins' first full season as the Twins' closer has been an overwhelming success except for the part about the team failing to find him consistent work. Perkins converted 21 of 23 saves with a 1.82 ERA and 47-to-7 strikeout-to-walk ratio in 34.2 innings, holding opponents to a .172 batting average. That's about as dominant as a pitcher can be and Perkins was rewarded with his first All-Star selection, yet the Twins used their All-Star closer for just 131 batters in 92 games.
Some of that stems from their lack of late leads, but Ron Gardenhire's refusal to use Perkins in non-save situations is the real culprit. Not only have 100 different relievers thrown more innings than Perkins, six Twins relievers have worked more. It's gotten so bad that Perkins requested more action, but Gardenhire continues to manage the bullpen around the save statistic while calling on lesser relievers in game-changing spots. Perkins is great, but his usage is terrible.
• Kyle Gibson: .315/.392/.393 in 102 plate appearances
In his first full season back from Tommy John surgery Kyle Gibson entered spring training in the mix for a rotation spot, but pitched his way out of the immediate plans and then the Twins decided to keep him at Triple-A for three months. He was one of the International League's best pitchers, posting a 3.01 ERA with tons of ground balls and a 79-to-28 strikeout-to-walk ratio in 93 innings, and after going through eight other starters the Twins finally called him up three weeks ago.
Gibson had a very nice debut followed by three mostly poor outings, but looking beyond the ugly 6.45 ERA he induced 51 percent ground balls, generated a decent number of swinging strikes, and averaged 92.3 miles per hour with his fastball. Ultimately the key for Gibson is whether he can get enough strikeouts to be more than a mid-rotation starter who throws strikes and kills worms. At this point the jury is still very much out and his second-half workload may be limited.
• Caleb Thielbar: .103/.205/.221 in 78 plate appearances
Twenty straight scoreless innings is an amazing start to anyone's career, let alone a 26-year-old rookie signed out of independent ball in 2011. Caleb Thielbar turned what looked likely to be a short-term call-up into a two-month gig, and while his secondary numbers and inherited runners allowed paint a much less impressive picture than his sparkling ERA he's shown more than enough to stick around with 21 strikeouts in 21 innings and 11 percent swinging strikes.
Note: For a similar first-half review of the Twins' hitters, click here.
---
This week's blog content is sponsored by the Twins Daily light rail pub crawl/Twins game, where you can join Aaron Gleeman, John Bonnes, Parker Hageman, Nick Nelson, and Seth Stohs for a day of bar-hopping and baseball on September 14. Space is limited, so book your spot.