August 10, 2011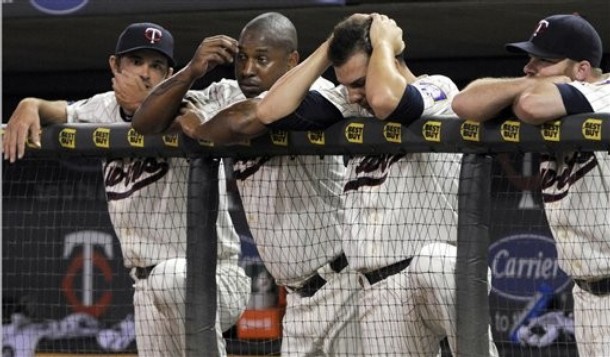 • Scott Baker has been fantastic despite ongoing elbow problems, throwing 132 innings with a 3.21 ERA and 120-to-32 strikeout-to-walk ratio, but it sounds like the pain may have gotten to where he can't pitch through it. Baker, who underwent elbow surgery in October and spent half of July on the disabled list with a strained flexor muscle, showed decreased velocity while struggling in his last two outings and was placed back on the DL with the same injury, saying:
I have no problem pitching with some discomfort as long as it's something that's not going to get worse. I'm OK being a little sore, but if you're not effective because of it, then that's a different story. So we've got some things to talk through. It's not as bad as it initially was. It's just really kind of lingered for a while, and it takes a lot of work to get loose. I guess there's never an ideal time for this. It's never easy, but you don't want to be that guy that has to go on the DL, if that's the decision they make.
It's remarkable that he's pitched as well as he has for as long as he has, but with the Twins all but out of the playoff picture and Baker not looking like his usual self lately shutting him down is absolutely the right move. Among all Twins pitchers to make at least 20 starts in the past 20 years Baker's current ERA ranks fifth-lowest behind Johan Santana in 2004, Santana in 2005, Santana in 2006, and Joe Mays in 2001.
• In a surprise move, the Twins decided to replace Baker on the roster and in the rotation with Kevin Slowey, who's been buried in the doghouse and stuck at Triple-A for months. Just days ago reports had Anthony Swarzak getting the nod over Slowey if a rotation replacement was needed, but apparently the Twins came around to the notion that they've totally botched the Slowey situation or agree with me that Swarzak isn't likely to fare well as a full-time starter.
I didn't expect Slowey to ever pitch for the Twins again and thought he'd be traded by July 31, but I'm glad to see them giving him another shot. Slowey was one of their five best starters in March when Ron Gardenhire picked Nick Blackburn and Brian Duensing over him for rotation spots and he's one of their five best starters now. I still expect Slowey to be dealt before next season and it wouldn't shock me if he's moved yet this month, but at this point who knows.
• A healthy Kyle Gibson may have been in line to replace Baker down the stretch, but instead the Twins' top prospect has serious elbow problems of his own. Gibson was shut down after a six-week stretch at Triple-A in which he went 0-5 with a 6.47 ERA and the 23-year-old former first-round pick was diagnosed with a partially torn ulnar collateral ligament. That's the injury repaired by Tommy John surgery, but for now he'll try to avoid going under the knife.
In the past choosing rest and rehab over Tommy John surgery hasn't worked out very well for Twins pitchers, but because having the operation now would likely knock Gibson out for all of 2012 anyway there's a small window in which waiting won't significantly alter his timetable. In other words, he'll be aiming to return in March of 2013 whether the surgery is now or in two months, and in the meantime maybe Gibson will get lucky and avoid the knife altogether.
• Anthony Slama will be rehabbing alongside Gibson in Fort Myers after being diagnosed with a strained flexor muscle, but it sounds as though the 27-year-old reliever is far less likely to need surgery. Of course, there's little to suggest that a healthy Slama would have been in the Twins' plans anyway and his odds of securing a long-term spot in the bullpen are pretty slim at this point despite a 2.59 ERA and 135 strikeouts in 118 innings at Triple-A.
• Over the weekend Joe Christensen of the Minneapolis Star Tribune reported that the Twins offered Michael Cuddyer a two-year, $16 million extension that he predictably turned down and now Christensen says they "also spoke to" fellow impending free agent Jason Kubel. No word yet on if they made an actual offer to Kubel also, but according to Christensen he shares Cuddyer's desire to "hold off on negotiating until after the season."
• On the other hand, Joe Nathan told Charley Walters of the St. Paul Pioneer Press he hasn't heard "one way or another" from the Twins about their plans for him in 2012. He's technically under contract for next year, but the Twins will surely choose a $2 million buyout rather than exercise their $12.5 million option on the 36-year-old reliever. Nathan has pitched well enough of late to think he can be an effective closer in 2012, but he'll have to accept a pay cut to stay.
• Justin Morneau had another big game at Triple-A last night, going 3-for-5 with two doubles, and is now 8-for-14 with four doubles in his last three games in Rochester. Not surprisingly the Twins seem just about ready to activate him from the DL, with Gardenhire saying that Morneau could potentially return as soon as Monday. That would be almost exactly six weeks after neck surgery that was expected to sideline him for at least six weeks.
• Jim Souhan, in his most recent Minneapolis Star Tribune column:
Mauer's contract kept the Twins from bolstering their bullpen this winter and it might keep them from re-signing Michael Cuddyer, who has vastly outperformed Mauer over the past two years.
Wins Above Replacement since the beginning of last season: Mauer 6.5, Cuddyer 3.8. (Sigh.)
This week's content is sponsored by Wholesale Gold and Diamond Distributors in Minneapolis, so please help support AG.com by considering them for your jewelry needs.