August 16, 2011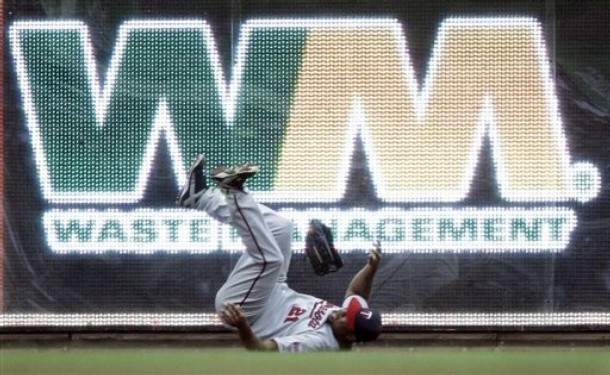 There's no doubt that trading Matt Garza, Jason Bartlett, and Eduardo Morlan to the Rays for Delmon Young, Brendan Harris, and Jason Pridie on November 28, 2007 was a big mistake. It was a bad move at the time, as the Twins undervalued Garza and Bartlett while overlooking Young's considerable flaws as part of his supposed upside, and in the four years since then it has proven to be one of the most lopsided missteps in team history.
At various points along the way the Twins surely could have gotten a decent return by trading Young, particularly following a 2010 season in which he hit .298/.333/.493 with 21 homers, 46 doubles, and a bunch of RBIs. But they didn't and he took several massive steps backward this year. Trading for Young was a mistake and not trading him after last season was too, but once those poor decisions were made yesterday's decision to dump him was a sound one.
Young was a No. 1 pick and universally regarded as an elite prospect, but those days are long gone. Now he's a 25-year-old veteran of 2,800 plate appearances and has hit .289/.322/.426 with meager power, zero plate discipline or strike-zone control, awful defense, and laughably bad baseball instincts. He's also being paid $5.38 million this season and would be in line for a raise to at least $6 million next season via arbitration, with free agency looming in 2013.
There's nothing the Twins could do to erase their previous bad decisions regarding Young, but the mistake now would have been keeping him for another season at that price. Too little too late, but the Twins finally came to the realization that he shouldn't be in their long-term plans and that left them three options. They could trade him now, they could try to trade him shortly after the season, or they could non-tender him this winter.
They chose the one option with a guaranteed return, minimal as it may be, trading him to the Tigers for minor leaguer Cole Nelson, a player to be named later, and around $1.25 million in savings. Nelson was a 10th-round pick in last year's draft out of Auburn and the Edina native is a 6-foot-7 southpaw with plus fastball velocity and mediocre numbers at Single-A, so he's a decent second-tier prospect. I'm told the player to be named later will be "nobody special."
By trading Young within the division the Twins made it clear they no longer believe his oft-cited potential is likely to arrive and it's difficult to argue otherwise about a poor defensive corner outfielder with a .426 slugging percentage and 12 homers per 500 at-bats. Since he joined the Twins in 2008 the only player in all of baseball with more plate appearances and a lower Wins Above Replacement total than Young is Yuniesky Betancourt. Seriously.
Even in 2010, his lone quality season in four years with the Twins, he was merely a good but not great hitter whose putrid defense wiped away much of his offensive value. That year there were 64 total corner outfielders, first basemen, and designated hitters with at least 500 plate appearances and Young ranked 46th in on-base percentage, 23rd in slugging percentage, and 27th in OPS. And in the three surrounding seasons Young slugged .401.
Perhaps it'll click for Young in Detroit or his next home after that, but he got ample opportunity to show he's more than just another bad-glove, good-bat corner outfielder and couldn't even consistently accomplish the good-bat part. Young's flaws on and off the field mean his bat has to be special and it's barely been average. There's a reason the Twins got so little for him and it's the same reason their trade for him was such a mistake: Young simply isn't very good.
This week's content is sponsored by the Minnesota law firm Snyder Gislason Frasier LLC, so please help support AG.com by considering them for your legal needs.