March 25, 2013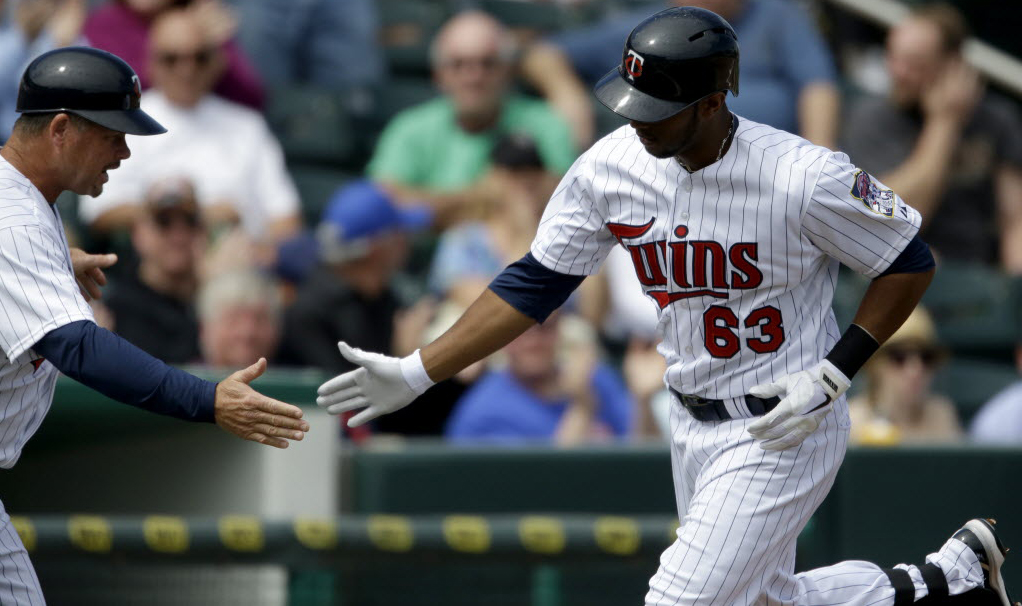 • Making official what was pretty clearly the plan as soon as they followed up the Denard Span trade by also trading Ben Revere, the Twins named Aaron Hicks the Opening Day center fielder. Perhaps if Hicks had a terrible spring training Darin Mastroianni could have worked his way into the gig as a place-holder, but Hicks made that a moot point by hitting .350/.397/.650 with three steals in 18 games, including a headline-making three-homer game.
Hicks is a very good prospect with an all-around skill set that could make him a long-term building block, so I'm extremely excited to see him play. However, by jumping him from Double-A to the big leagues at age 23 the Twins may be rushing his development a bit and are definitely sacrificing their ability to delay his eventual free agency for the maximum amount of time. If he never goes back to the minors Hicks will be a free agent following the 2018 season, at age 29.
Based on service time rules they could've pushed back his free agency by an entire year, gaining an extra season and 162 games of team control, by sending Hicks to Triple-A for as little as four weeks. In that scenario if the Twins called him up in late April or early May and Hicks never went back to the minors he'd be a free agent following 2019, at age 30. Short-term gratification is hard to ignore, but stretching a prospect's pre-free agency years is done regularly by many teams.
Instead of having Hicks for 135 games this year and 162 games in 2019 they'll have him for 162 games this year and zero games in 2019. That math seems straightforward enough, especially considering Hicks is likely to be better as a 29-year-old veteran than as a 23-year-old rookie and the Twins might actually be contending in 2019. It's not about being cheap, it's about maximizing a player's value before he can leave. But it apparently never factored into the Twins' decision.
• One thing that has always made Hicks an intriguing prospect is excellent plate discipline, which he displayed immediately as an 18-year-old at rookie-ball in 2008 and has maintained ever since. He's averaged 98 walks per 150 games as a pro, including 79 walks in 129 games at Double-A last season, which is not a skill set you typically find in speedy, athletic, up-the-middle defenders. Joe Mauer, who knows a little something about plate discipline, took notice of Hicks' approach:
I've been real impressed by him. For a young guy to take pitches and work at-bats is pretty impressive. Even today, I talked to him and told him taking pitches is going to help the guys behind him. He has a pretty good grasp on how to approach an at-bat.
Ron Gardenhire tends to use speedy center fielders and middle infielders atop the lineup even if they lack strong on-base skills, so it's nice that Hicks is actually a patient hitter. By comparison, Revere drew a grand total of 57 walks in 254 games for the Twins. Hicks' high walk rate has also come with lots of strikeouts and mediocre batting averages, so it'll be interesting to see how he adjusts to facing pitchers with better control and no fear of throwing him strikes.
• Back in December the Twins tendered Drew Butera a contract for 2013 and then in January the two sides avoided arbitration with a one-year, $700,000 deal, but he'll be making that money in Rochester after being optioned to the minors. On one hand it's encouraging that the Twins finally realized a career .183/.232/.265 hitter probably shouldn't be in the majors. On the other hand it would have been nice to come to that conclusion before signing him to a $700,000 contract.
One-year deals to avoid arbitration aren't fully guaranteed until certain dates this month, so even after signing Butera they could've saved five-sixths or three-fourths of the money by releasing him. Detroit recently did that with Brennan Boesch, saving $1.9 million of a $2.3 million deal, but those deadlines have passed. Gardenhire talked of wanting a stronger bench and removing Butera fits that, but he also talked of wanting Jim Thome and that apparently isn't happening.
• Kyle Gibson won't be joining Hicks on the Opening Day roster, as initial reports of him looking great coming back from Tommy John elbow surgery gave way to struggles in actual games and the Twins sent him to Triple-A. He'll be limited to 130 innings this season, so there's an argument for not wasting them at Triple-A, but the problem with that line of thinking is assuming Gibson is ready to succeed against big-league hitters when he hadn't even done that yet before surgery.
• What was supposed to be minor surgery to remove a bone chip from Scott Diamond's elbow in December has become a season-opening stint on the disabled list for the would-be Opening Day starter. For now the plan is for Diamond to make his season debut in mid-April, missing the Game 1 matchup versus Justin Verlander and a couple more starts, but the Twins' injury timetables haven't been worth a whole lot in recent years and worrying about elbow issues tends to loom.
• Diamond on the DL and Gibson at Triple-A means Samuel Deduno or Cole DeVries is likely to be in the Opening Day rotation and both of them could get a spot if the Twins decide to send Liam Hendriks back to Triple-A. At the beginning of the offseason Terry Ryan spoke of big plans for fixing the awful rotation, yet the Twins are already turning to the same career minor leaguers who were thrown against the wall to see if they stuck last season as emergency options.
• Joe Benson was sent to Triple-A after a lackluster spring training, but even if he'd played well there wasn't much room for him on a roster with Hicks and Mastroianni. Benson is coming off a terrible, injury wrecked season, so he needs to get back on track or risk falling off the prospect radar, but he'd seemingly be the obvious call-up if Hicks struggles or if any of Josh Willingham, Justin Morneau, Chris Parmelee, or Ryan Doumit gets injured.
• Danny Rams and Cole Nelson were among a handful of minor leaguers released by the Twins. Rams was a 2007 second-round pick with lots of power, but couldn't turn himself into a quality defensive catcher and hit .241 with 543 strikeouts in 406 games while failing to get past Single-A. Nelson and Lester Oliveros were acquired from the Tigers for Delmon Young in 2011--the same day "Gleeman and The Geek" debuted--but the big left-hander from Edina stalled at Single-A.
• Anthony Swarzak will join Diamond in beginning the season on the disabled list as he recovers from the fractured ribs suffered in the "horseplay" incident during Twins Fest.
• Tim Wood, who was a candidate for the Twins' bullpen and out of minor-league options, has been shut down with a strained rotator cuff.
• Matt Capps failed to make the Indians on a minor-league deal and may accept an assignment to Triple-A one year after beginning the season as the Twins' closer.
• Scott Baker's comeback from Tommy John surgery has been derailed by a strained elbow and he'll be shut down for at least a month.
• Thanks to everyone who came to the Twins Daily meet-up Saturday at 612 Brew. It was a great turnout and we're definitely planning to host semi-regular events throughout the season. Between the beer and laid-back space 612 Brew is an ideal venue, with the added bonus that the owners are Twins fans and the head brewer is a "Gleeman and The Geek" listener. I'm sure we'll be back there at some point, but in the meantime I highly recommended checking out 612 Brew.
• I didn't think to take any pictures until after the crowd had already thinned out a bit, but ...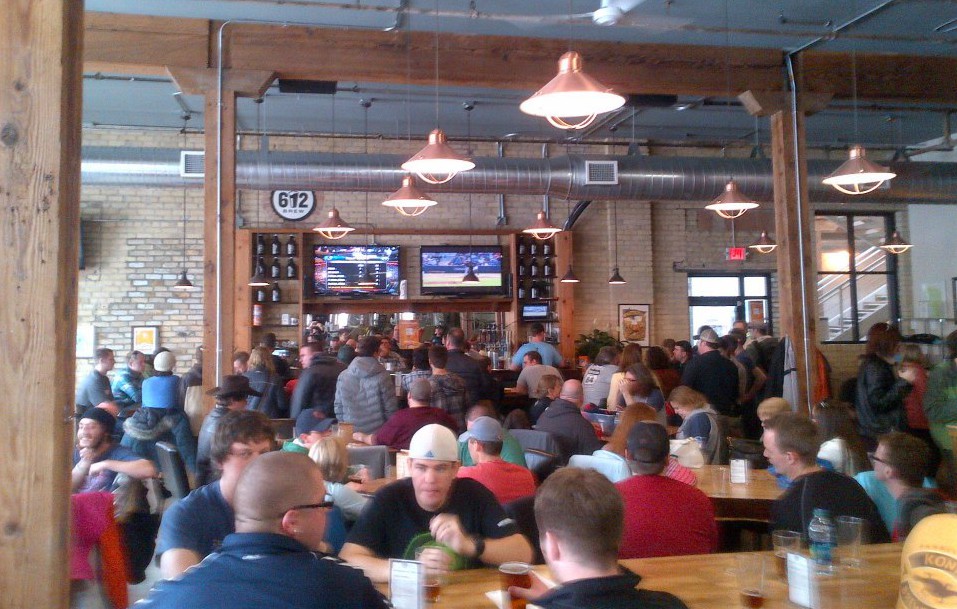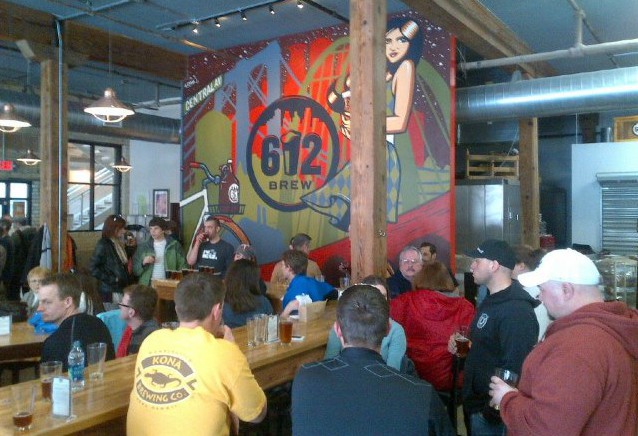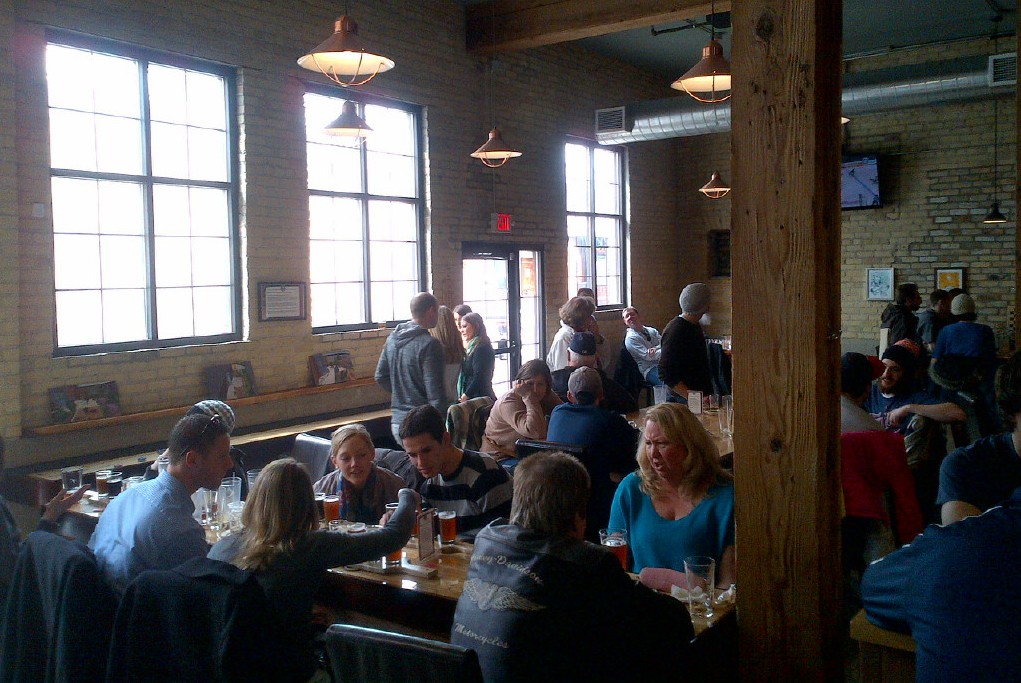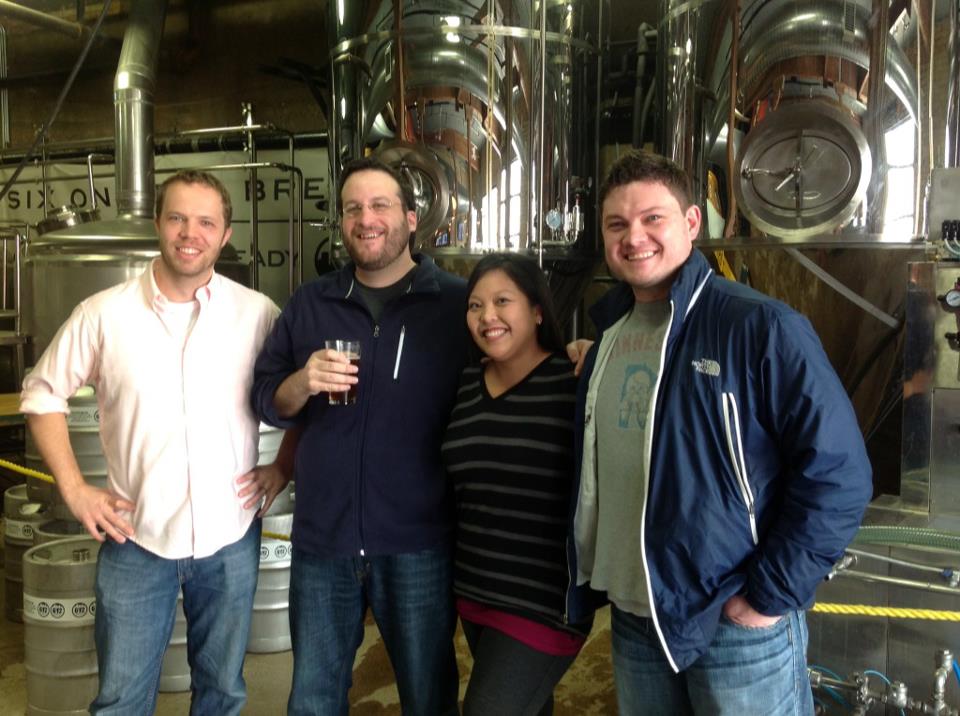 ---
This week's blog content is sponsored by Territory Train, which takes the heavy lifting out of planning and executing Twins road trips. Please support them for supporting AG.com.