August 26, 2011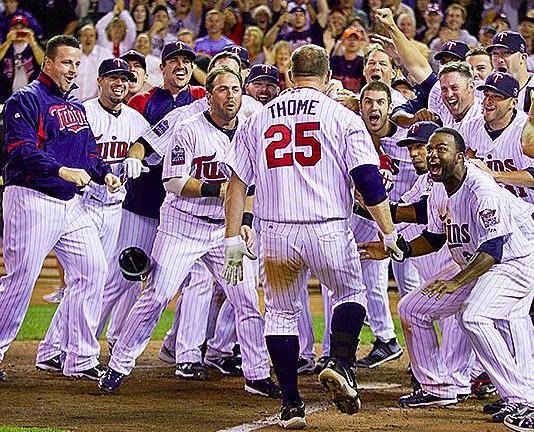 Well, that was fun.
Jim Thome has been one of the few bright spots in an otherwise dismal season for the Twins, reaching 600 career homers and putting together one of the most productive seasons ever by a 40-year-old, but with the team in a depressing tailspin of 19 losses in 24 games and Thome hitting well enough to help a contender make a playoff push it made sense to trade the future Hall of Famer. There was no sense making him sit through the final six weeks of this mess.
Thome was placed on waivers and claimed by the Indians, who drafted him as an 18-year-old shortstop in 1989 and watched him develop into one of the elite sluggers of all time. He spent the first decade of his brilliant career in Cleveland, winning six division titles and smacking 334 homers, and Thome waived his no-trade clause to return in the hopes of getting the Indians to the playoffs for just the second time since he signed with the Phillies as a free agent in 2003.
By claiming Thome off revocable waivers the Indians became the only team eligible to trade for him, which made the Twins' options very simple: Either work out a deal with Cleveland or pull Thome back for the remainder of the year. In choosing the former they wound up with a player to be named later, but that figures to be a marginal prospect and ultimately the decision was mostly about giving Thome a chance to play in meaningful games down the stretch.
Exactly how meaningful remains to be seen, as the Indians have fallen below .500 following a great start and are 6.5 games behind the Tigers with just 35 games to play. Travis Hafner is on the disabled list with a foot injury that could require season-ending surgery, so Thome will take over for him as Cleveland's starting designated hitter after batting .243/.351/.476 with 12 homers, 12 doubles, and 35 walks in 242 plate appearances for the Twins.
When the Twins signed Thome to an incentive-laden one-year contract in January of 2010 they talked about adding him primarily to fill a bench role, but between his exceptional production and Justin Morneau's concussion that turned into a starting job. He hit .283/.412/.627 with 25 homers, 16 doubles, and 60 walks in 340 plate appearances, including .303/.438/.669 with 15 homers in 50 games after Morneau went down.
He earned just $2 million while joining Morneau, Josh Hamilton, Miguel Cabrera, Joey Votto, and Albert Pujols as the only hitters in baseball to bat at least 300 times with an OPS above 1.000, but after flirting with other teams as a free agent Thome re-signed with the Twins for another modest one-year deal. His production dropped from amazing to merely very good, but Thome ranked second on the Twins in on-base percentage, slugging percentage, and OPS.
In all the Twins paid about $5 million for 582 plate appearances of .266/.386/.562 hitting and a .948 OPS that ranks as the highest in team history among all players with at least 500 trips to the plate. Harmon Killebrew ranks second on that list at .901 and Joe Mauer is third at .874, which shows how incredible Thome was in Minnesota despite not arriving until age 39. Toss in the player to be named later and that's one hell of a return on a $5 million investment.
Before he became one of the best free agent signings in Twins history Thome terrorized the Twins, batting .311/.410/.628 with 57 homers, 109 walks, and 142 RBIs in 186 games against them and turning Rick Reed into his personal batting practice pitcher. Despite destroying my favorite team Thome was always one of my favorite players and it was an honor to watch him continue to mash in a Twins uniform.
My hope is that Twins fans appreciate not only how great Thome was during these past two seasons, but also how extraordinary he was before arriving in Minnesota. In addition to being just the eighth member of the 600-homer club Thome has reached 40 homers and 100 walks in more seasons than every hitter in baseball history except for Babe Ruth and Barry Bonds, who're also the only two hitters with more career homers and walks than Thome.
Ruth, Bonds, Stan Musial, and Frank Thomas are the only four hitters in baseball history with more plate appearances and a higher OPS than Thome, who has a .959 mark in 10,045 trips to the plate. And his OPS for the Twins was .948, so we got to see one of the greatest offensive monsters of all time at his pitcher-clobbering best even if the fun lasted for just 179 games. Of course, I certainly wouldn't mind Thome returning as the Twins' designated hitter in 2012.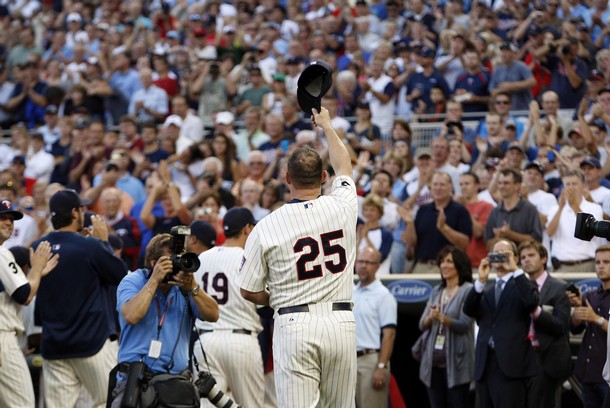 This week's content is sponsored by PosterBurner.com, where you can turn your photographs into high-quality custom posters.