March 26, 2012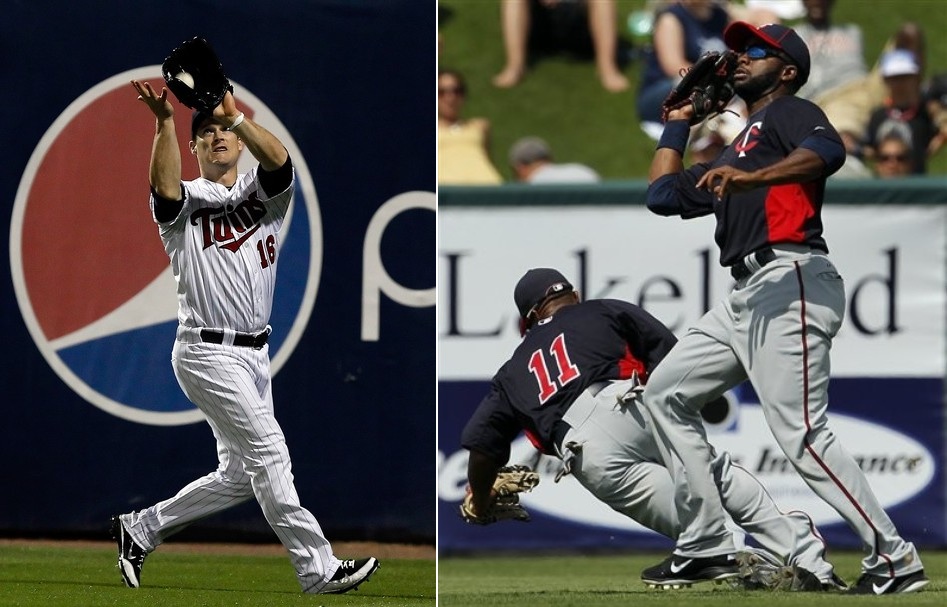 • In signing Josh Willingham to a three-year, $21 million contract in mid-December the Twins indicated that he'd be their everyday right fielder despite playing just 264 career innings there compared to 5,524 innings in left field. Getting a first-hand look at Willingham and the various other outfield options in camp apparently changed those plans, as Ron Gardenhire announced yesterday that Willingham will be the starting left fielder.
Gardenhire also made official what was expected by naming Denard Span the starting center fielder, which leaves right field for ... well, everyone. Depending on how often and at which positions Justin Morneau and Joe Mauer are in the lineup right field could potentially be manned by Ben Revere, Trevor Plouffe, Chris Parmelee, or Ryan Doumit, none of whom have ever played the position on more than a semi-regular basis in the majors or minors.
For years the Twins stressed how valuable Michael Cuddyer's arm was in right field, so their willingness to use Revere there when he might have the majors' worst arm and his range is of better use in the more spacious left field is surprising to say the least. If nothing else it signals that Revere is headed for a part-time role, which along with Gardenhire's stubbornness could lead to his biggest strength being diminished and his biggest weakness being magnified.
If the manager were more willing to make daily shifts he could platoon Revere and Plouffe by using Revere in left field with Willingham in right field against right-handed pitching and Plouffe in right field with Willingham in left field against left-handed pitching. That's something plenty of managers do regularly, but it's something Gardenhire has always avoided with occasionally laughable results. Runners going first-to-third at will with Revere in right field would fit that bill.
Whatever the case, based on Terry Ryan's offseason comments and Gardenhire's outfield announcement yesterday it seems clear that the Twins are less sold on Revere than commonly believed. They're certainly right to be skeptical, as I've been making that case since Revere was in the low minors, but the less he plays the less chance their defense has of being above average and I'm similarly skeptical about Parmelee being ready to thrive offensively.
• Terry Doyle seemed like an odd choice for the Twins with the No. 2 pick in the Rule 5 draft. Despite being 26 years old he had just 15 starts above Single-A, including zero at Triple-A, and nothing about his raw stuff or track record suggested more than back-of-the-rotation starter potential. At no point has the Rule 5 draft been a sure-fire way to add useful big leaguers, but when picking so high it seemingly made sense to at least target someone with more upside.
In explaining their reasoning for the pick the Twins talked about how impressed they were by Doyle's performance in the Arizona Fall League, where he posted a 1.98 ERA. However, that consisted of just eight starts and was fueled by an incredibly low batting average on balls in play that screamed fluke. My assumption was that they wouldn't have chosen Doyle if they weren't at least convinced he could stick in the majors as a mop-up man, but apparently not.
Doyle coughed up 10 runs in 5.1 innings this spring and the Twins didn't even keep him around until the end of camp, sending him back to the White Sox. Ultimately it's not a huge deal, as they're out $25,000 and the opportunity to add a higher-upside arm, but it's discouraging for a supposedly scouting-heavy team to take someone atop the Rule 5 draft while citing his fluky, small sample size performance in the AFL as a big factor and then cut him five innings later.
• Aaron Thompson, a 25-year-old left-hander the Twins signed to a minor-league contract in December, has been suspended 50 games after violating MLB's drug policy for a "drug of abuse." His track record in the minors is mediocre at best, but Thompson is a former first-round pick and apparently the Twins will keep him in the organization despite the suspension. Once activated he'll likely be a fifth starter or long reliever at Triple-A.
• I'll have a lot more on this subject once my annual series ranking the Twins' top 40 prospects concludes later this week, but Baseball America and Baseball Prospectus recently released their annual organizational talent rankings and the Twins placed 20th and 22nd.
• On a related note, Baseball America crunched the numbers to find that the Twins ranked 15th in international spending last season after ranking 12th in 2010. Miguel Sano alone got a record $3.15 million signing bonus from the Twins in 2009, but in the two years since then they've spent a total of $4.85 million internationally.
• This offseason the Twins sliced $15 million from their payroll, but according to Forbes magazine in 2011 they had baseball's 13th-highest revenue at $213 million and an operating income of $16.6 million, causing the franchise's value to rise four percent to $510 million.
• Nick Punto is getting the same treatment from the media in Boston that he got from the media in Minnesota. For instance:
In a game where talent can be measured by precise statistical metrics, Punto is a player whose value is harder to calculate but can't be denied.
Punto played for $750,000 last year and will make $1.5 million both this season and next season, so teams seem to be in agreement that his value is fairly limited. Then again, I've not experienced his charm in person.
• Seth Stohs of Twins Daily reports that the Twins released six minor leaguers: Michael Tarsi, Dan Osterbrock, Kane Holbrooks, Blayne Weller, Matt Schuld, and Derek Christensen. Osterbrock, Tarsi, and Holbrooks each cracked my annual top-40 prospects list at one point, but none were ever considered more than marginal prospects. Christensen was a 2010 draft pick and dominated the low minors, so cutting the 22-year-old right-hander loose seems odd.
• In late 2010 the Twins acquired reliever Brian Fuentes from the Angels for Loek Van Mil, a marginal pitching prospect whose claim to fame was being baseball's tallest player at 7-foot-1. He spent last year at Double-A, throwing 66 innings with a 2.04 ERA and 46-to-23 strikeout-to-walk ratio, but the righty from the Netherlands failed to make the Angels this spring and manager Mike Scioscia explained that "he's certainly searching for an out pitch" at age 27.
• Last season the local mainstream media often mocked Kevin Slowey for his intelligence, using it as a way to portray him in a negative light, but a fresh start in Cleveland means the narrative has changed. Jordan Bastian, who covers the Indians for MLB.com, wrote last week:
Always nice as a writer when you find ballplayers who are avid readers on the side ... two in Cleveland's clubhouse include Lonnie Chisenhall and Kevin Slowey.
Funny how that works.
• Last and least, with Opening Day right around the corner I'm restarting the AG.com "sponsor of the week" program. For details about advertising and to reserve your week, click here.