May 11, 2012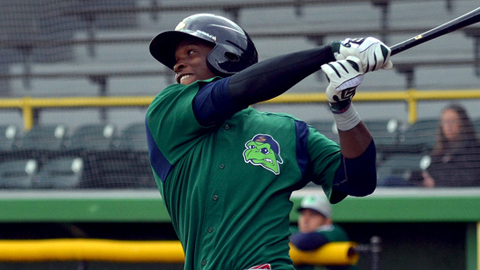 • Reminder: Gleeman and The Geek airs live on KFAN at 4:00 on Sunday. I can neither confirm nor deny that this week's show will just be me sighing into the microphone for an hour.
• Happy birthday to No. 1 prospect Miguel Sano, who turned 19 years old today and is hitting .303/.417/.655 with 10 homers and 20 walks in 33 games at low Single-A. Last week Sano hit a game-winning homer against the Angels' affiliate and the benches cleared because, as Cedar Rapids manager Jamie Burke put it: "I think he kind of pimped that home run a little bit." Here's more from Jeff Johnson of the Cedar Rapids Gazette:
Sano stood in the batter's box awhile to watch his homer against relief pitcher Carmine Giardiana. He trotted the bases, but virtually stopped a few feet before touching the plate, taking off his batting helmet as Kernels catcher Abel Baker barked at him.

Sano glared at the Kernels dugout after finally touching the plate, with Kernels players continuing to give him significant grief. He took a step toward Baker, and the dugouts began to empty, with umpires Fernando Rodriguez and Paul Clemons, as well as both teams' coaching staffs, doing a good job of squelching what could have been an ugly scene.
Also worth noting is that being annoyed by Sano's actions following the homer didn't stop Burke from effusively praising him as a player:
He's young, but he's one heck of a player, man. He's unbelievable. That's the best player I've seen here, by far.
Twins fans may remember Burke as the White Sox catcher who got destroyed by Torii Hunter in a home plate collision back in 2004.
• Anthony Slama has never gotten an extended shot with the Twins despite dominating every level of the minors and was dropped from the 40-man roster after injuring his elbow late last season. He's healthy again, posting a 0.57 ERA with 27 strikeouts in 16 innings as Rochester's closer, which gives him a 2.35 ERA and 162 strikeouts in 133 career innings at Triple-A. Slama is 28 years old and has shaky control, but there's no excuse for ignoring him at this point.
• Remember when the Twins signed Jason Marquis and Terry Ryan said "he throws the ball over the plate" despite the fact that his career walk rate of 3.5 per nine innings was the exact same as Francisco Liriano's? Through five starts Marquis has more walks (11) than strikeouts (10) in 27 innings and has thrown the same percentage of his pitches for strikes as Liriano, who's been banished to the bullpen.
• Sean Burroughs and Clete Thomas cleared waivers after being designated for assignment by the Twins, meaning they'll both remain in the organization at Triple-A but no longer reside on the 40-man roster. Stockpiling that type of depth is a good thing, but in making room for Thomas in Rochester's outfield the Twins demoted No. 2 prospect Joe Benson from Triple-A to Double-A despite the fact that he'd already spent two seasons there.
Benson was off to a rough start, hitting .179 with 27 strikeouts in 28 games, but was hitting for power and drawing walks. At the time of the demotion Benson had a .584 OPS and Ben Revere had a .592 OPS. Demoting a 24-year-old back to Double-A for a third straight season because he struggled in 28 games seems odd, particularly when Chris Parmelee is struggling in the majors after skipping Triple-A following far worse Double-A production than Benson.
• Parmelee sticking in the majors because the Twins trusted September and March instead of a mediocre track record was misguided enough, but now he's not even playing consistently. Parmelee is a left-handed hitter, yet he's been on the bench for three straight games against right-handed pitchers. It'll be buried beneath the mountain of problems, but the handling of prospects Parmelee, Benson, Revere, and Liam Hendriks leaves a lot to be desired.
• Dan Osterbrock was the Twins' seventh-round pick out of the University of Cincinnati in 2008 and spent four seasons in the farm system before injuring his shoulder and getting released this spring. Since then he's been extremely outspoken about the Twins' handling of his injury and other pitcher injuries. For instance, when it was announced that Scott Baker needed Tommy John surgery after the Twins initially said he could pitch Osterbrock tweeted:
Wait, the Twins allowed an injury to linger longer than a year without taking care of it?! Shocker.
Then in responding to various questions about his own health status, Osterbrock wrote:
Twins released me. My shoulder was hurting so instead of helping me out, they got rid of me.

I really enjoyed my time with the Twins, but I'm none too pleased with the way it ended and how it was handled.

Shoulder surgery Round 2 tomorrow morning. Looking forward to finally getting this fixed properly.

Surgery went well. Should be throwing soon. Special thanks to the Twins for completely neglecting the obvious injury I had.
Osterbrock also said in an interview with the University of Cincinnati's website that "they kept telling me that I was going to be all right and that I should try to play through it and I did for as long as I could." Because of the increasing number of questions about the competency of the team's medical staff Osterbrock's comments got some attention and the Twins were forced to respond. Not surprisingly they denied any wrongdoing.
• Tommy John surgery has already derailed the career of 2009 first-round pick Kyle Gibson and now 2010 first-round pick Alex Wimmers may be facing the same fate. Wimmers came back from extreme control problems last season to re-establish himself as one of the Twins' better prospects, but he's been shut down with a partially torn ulnar collateral ligament. Predictably the Twins are saying he can avoid surgery and will try rest and rehab. Good luck.
• Twins owner Jim Pohlad gave votes of confidence to Ryan and Ron Gardenhire, dismissing the notion that either man's job could be in jeopardy. That's certainly not surprising, but it's also worth noting that Pohlad gave Bill Smith a public vote of confidence in October ... and then fired him five weeks later.
• Jared Burton served up two homers in his Twins debut and gave up a run two appearances later, but he's been unhittable since then. Literally. Burton has thrown 10.2 consecutive no-hit innings dating back to April 13. During that time batters are 0-for-32 with 11 strikeouts off him, getting on base only via two walks and two plunkings.
• Minnesota native Michael Wuertz held an open tryout for teams in mid-March and the Twins were in attendance, but six weeks later the once-dominant and oft-injured reliever signed a minor-league deal with the Reds.
• Since the Twins traded him to the Orioles last offseason J.J. Hardy has 38 homers in 709 plate appearances. During that same time the Twins' entire infield has combined for 52 homers in 3,828 plate appearances. This season Hardy is out-homering the Twins' infield 8-to-3.
• In starting the season with an MLB-worst 8-23 record the Twins have been outscored by 67 runs in 31 games while no other team has been outscored by more than 32 runs.
• How did Dan Haren lose to the Twins? He was hurt. At this point I'll assume that every Twins victory will be followed by the opposing pitcher revealing an injury within 48 hours.
• Jim Callis of Baseball America published his first mock draft and it has the Twins selecting Georgia high school outfielder Byron Buxton with the No. 2 pick.
• Last and least, I guess now we know that Robby Incmikoski checks Twitter while he's working the game for FSN.
This week's blog content is sponsored by Coordinated Business Systems, which offers innovative technology solutions for Minnesota businesses. Please support them for supporting AG.com.