September 5, 2011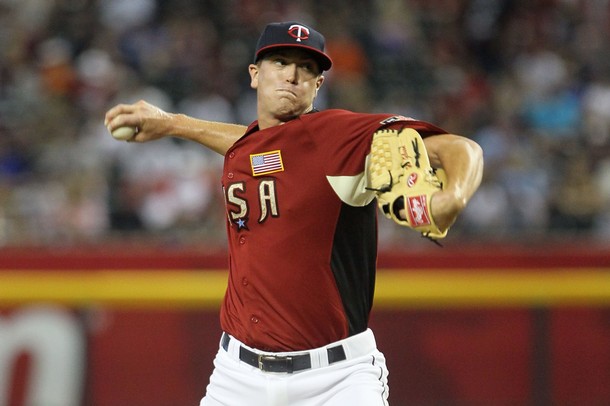 • Unfortunately in a season ruined by injuries not even the Twins' minor leaguers are safe, as Kyle Gibson will undergo Tommy John surgery to repair the ulnar collateral ligament in his right elbow. On the Twins' advice Gibson tried to avoid surgery with rest and rehab, but the odds were always in favor of his eventually going under the knife. In the past telling pitchers to put off surgery hasn't worked well for the Twins, but in this case the delay likely won't matter.
Because the typical recovery timetable for Tommy John surgery is 12-18 months Gibson would have missed most and perhaps all of 2012 whether he had the operation now or a month ago when the partially torn ligament was identified. All things being equal sooner is better, but there are some examples of pitchers with similar injuries avoiding Tommy John surgery and the chance of that, however slim, was probably worth the month-long delay for a 23-year-old.
Stephen Strasburg is back in the majors and throwing mid-90s fastballs again almost exactly 12 months after his Tommy John surgery, so it's possible that Gibson could see game action by late next year. Either way, his timetable for joining the Twins' rotation has now been pushed back until at least mid-2013 and the 2009 first-round pick has gone from the organization's top prospect to a major question mark. What a shame.
• Alex Wimmers walked the first six hitters he faced this year, was immediately removed from the rotation at high Single-A, and spent three months trying to avoid going further down the scary Steve Blass/Rick Ankiel path. He rejoined Fort Myers as a reliever and then moved back into the rotation last month, pitching very well while avoiding any serious control issues. And on Saturday night he threw a seven-inning no-hitter in his final outing of the season.
Perhaps more importantly than not allowing any hits Wimmers issued just two walks and faced the minimum 21 batters in a 1-0 victory, with Aaron Hicks knocking in the lone run. Since his disastrous season debut and lengthy stay in extended spring training Wimmers has thrown 41 innings with a 3.32 ERA and 39-to-16 strikeout-to-walk ratio while limiting opponents to a .189 batting average. He's not out of the woods yet, but the 2010 first-round pick is back on track.
• Rosters expanded from 25 to 40 players on September 1 and the Twins called up Jim Hoey, Kyle Waldrop, and Brian Dinkelman as their first batch of reinforcements. Hoey was acquired from the Orioles in the J.J. Hardy deal and flopped earlier this season, allowing 18 runs in 15 innings. He still has high-90s velocity, but Hoey is 28 years old and didn't even fare particularly well at Triple-A with a 3.83 ERA and 38-to-21 strikeout-to-walk ratio in 42 innings.
Waldrop was similarly underwhelming in Rochester's bullpen, striking out just 44 batters in 79 innings while opponents to hit .276 with seven homers. He was far better in 2010, tossing 88 innings with a 2.57 ERA and 25 percent more strikeouts, but the Twins left him off the 40-man roster during the offseason and Waldrop went unpicked in the Rule 5 draft. Finally adding him now is odd timing, but Waldrop gets enough ground balls to possibly be a useful reliever.
When the Twins called up Dinkelman in June it was surprising, but two weeks later they put him through waivers unclaimed and sent the 27-year-old career minor leaguer back to Triple-A, removing him from the 40-man roster in the process. All of which makes it even more surprising that they've now re-added Dinkelman to the 40-man roster and called him up again. He must be one hell of a guy, because he hit .243/.316/.324 in 127 games at Triple-A.
UPDATE: Fittingly the Twins spelled Dinkelman's name wrong on the official lineup card today.
• Liam Hendriks is also slated to come up from Triple-A tomorrow and make his debut against the White Sox. Hendriks ranked No. 8 on my preseason list of Twins prospects and has upped his stock since then by throwing 139 innings with a 3.36 ERA and 111-to-21 strikeout-to-walk ratio between Double-A and Triple-A. He projects as a mid-rotation starter, but with Gibson out and Wimmers a worry the 22-year-old Australian is arguably the Twins' top pitching prospect.
Jim Thome's departure opened one spot on the 40-man roster and the Twins created another opening by transferring Nick Blackburn to the 60-day disabled list, ruling him out for the rest of the year because of a forearm injury. They'll need to clear one more space for Hendriks and Ron Gardenhire indicated that shifting Francisco Liriano to the 60-day DL could be the move despite his wanting to "throw at least a couple innings" before the end of the season.
• Leading up to the August 31 waiver trade deadline Joe Nathan told reporters that he "would consider" waiving his no-trade clause for a Thome-like deal to a contender, but when it came time to actually make a decision he vetoed any potential deals. In order to move Nathan the Twins would have had to eat his remaining $2 million salary for this season plus a $2 million buyout for 2012, and even then the best they might have hoped for was a marginal prospect.
Still, considering the Twins paid him $11.25 million not to pitch in 2010 and $11.25 million for a 5.02 ERA this year giving them a shot to swing a deal would have been nice. Nathan told Joe Christensen of the Minneapolis Star Tribune that next year's $12.5 million option played a part in the decision, but there's virtually zero chance of the Twins bringing him back at that price and even after being traded he could have returned next season a la Rick Aguilera in 1996.
• Justin Morneau going on the disabled list with a wrist problem and then having neck surgery took the focus off last year's concussion, but now he's sidelined again with further symptoms stemming from the initial injury 14 months ago. His current symptoms were deemed "mild," but it's tough to think of anything concussion-related as "mild" given Morneau's ongoing struggles and Denard Span's similarly troubling attempts to come back from his own concussion.
Even after missing two months Span mistakenly came back before he was ready and Morneau still has headaches, dizziness, and fogginess 14 months later, making them both big question marks heading into 2012. Morneau has played just 150 of the past 327 games dating back to late 2009, undergoing back and neck surgeries in addition to the concussion, and was nothing like his usual self in 69 games this season. Scary times for two of the Twins' building blocks.
• Perception versus reality: Joe Mauer has driven in 16.1 percent of all runners on base for his plate appearances this season. Michael Cuddyer has driven in 13.8 percent. Mauer also had a higher RBI percentage than Cuddyer in 2010, 2009, 2008, 2007, 2006, and 2005.
• Jim Mandelaro, who covers the Triple-A team for the Rochester Democrat and Chronicle, notes that they've lost 90 games in back-to-back seasons for the first time since 1903 and 1904.
Advertise your product, service, local business, or website directly to thousands of people each day by becoming an AG.com "Sponsor of the Week."