September 6, 2011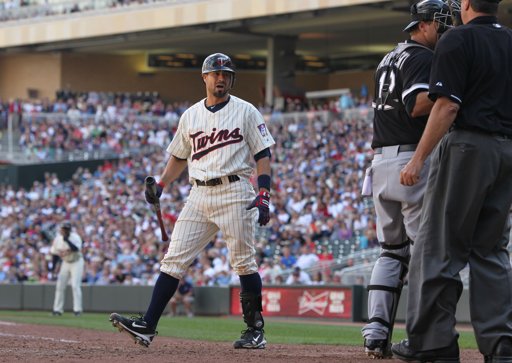 • It might have been the low point of the Twins' season had they been no-hit by Zach Stewart last night, but ... well, I've lost count of low points by now. Instead they merely lost both ends of a doubleheader to their biggest rival while scoring one total run, losing to Johan Santana trade castoff Phil Humber and a rookie with a 5.48 ERA. Not only are the Twins 8-27 in their last 35 games, they've now plummeted past the Royals into last place in the AL Central.
Overall this season the Twins have scored zero or one run in 26 percent of their games, which is tied with the Mariners for worst in the league. And as bad as that sounds they've been far worse recently, scoring zero or one run in 17 of 33 games since August 1. To put that in some context, consider that the Yankees (13), Diamondbacks (15), Tigers (16), and Orioles (16) have scored zero or one run fewer than 17 times all season. What a mess.
• Jim Hoey, Kyle Waldrop, and Brian Dinkelman were the first batch of reinforcements after September 1 roster expansion, Liam Hendriks joins the team for his debut tonight against the White Sox, and the Twins have also promoted Joe Benson and Chris Parmelee to the majors. On my preseason list of the Twins' top 40 prospects Benson ranked No. 6 and Parmelee was No. 19, and they've both improved their stock since then.
Benson in particular has emerged as arguably the team's best prospect among players who're close to MLB-ready, hitting .285/.387/.491 with 16 homers in 114 games at Double-A after the Twins had the 2006 second-round pick repeat the level despite batting .251/.336/.527 with 23 homers in 104 games there last year. He doesn't project as a star and high strikeout rates are a potential red flag, but Benson does a lot of things well and looks like a solid regular.
He's played primarily center field at Double-A, but figures to be a right fielder in the majors and should combine plus range with a strong arm. Offensively he'll hopefully make up for mediocre batting averages with 20-homer power, solid plate discipline, and good speed, although so far Benson hasn't been an effective basestealer. At age 23 and with zero Triple-A experience he may not be quite ready for the majors, but Benson is close enough to take a long look.
Parmelee was the first-round pick in that same 2006 draft and initially looked like a rare Twins prospect with big-time pop and excellent plate discipline, but instead he's worked to cut down on his strikeouts while trading power for a higher batting average. He hit just .250 with a .200 Isolated Power through four pro seasons, but has hit .286 with a .134 Isolated Power during the past two years. To put that in some context, Joe Mauer has a .148 career Isolated Power.
Whether that trade-off was smart for Parmelee's chances of becoming an impact bat, a higher batting average and fewer strikeouts definitely makes him more likely to factor into the Twins' plans. Parmelee, like Benson, spent two seasons at Double-A, hitting .282/.355/.415 with 21 homers in 262 games. Parmelee's upside is tough to evaluate because he's changed so much, but obviously slugging .415 at Double-A isn't a great sign for a first baseman.
• Matt Tolbert will also be rejoining the Twins as part of roster expansion despite hitting .145 during a 16-game demotion to Triple-A. Tolbert is 29 years old and will be out of minor-league options in 2012, so hopefully the Twins are willing to cut him loose after four seasons and 658 plate appearances of .232/.289/.323 hitting. Here's a list of all the players in Twins history with more than 658 plate appearances and a lower OPS than Tolbert's career .611 mark:
                      PA      OPS
Jerry Zimmerman      896     .514
Frank Quilici        768     .569
Matt Walbeck        1008     .571
Al Newman           1876     .581
Danny Thompson      2195     .605
Jerry Terrell       1561     .606
Considering he didn't reach the majors until age 26 and was never even much good at Triple-A it's remarkable that Tolbert has hung around this long. He epitomizes "replacement level."
• Arizona Fall League rosters were announced and the Twins are sending Aaron Hicks, Brian Dozier, Chris Herrmann, Cole DeVries, Scott Diamond, Dakota Watts, Brett Jacobson, and Bruce Pugh. AFL participation isn't necessarily meaningful in terms of where someone stands in the immediate plans. Last year they sent seven players to Arizona and only Ben Revere has seen major time with the Twins, although the others included Benson, Parmelee, and Waldrop.
Hicks is the only top-10 prospect in the bunch and he's coming off a disappointing year, but it's still an intriguing mix. Diamond is already in the majors after the Twins gave up hard-throwing reliever Billy Bullock to the keep the Rule 5 pick. Dozier has forced himself onto the prospect radar and is suddenly a Ron Gardenhire favorite. Jacobson was part of the J.J. Hardy trade. Herrmann led the organization in walks. DeVries, Pugh, and Watts are future bullpen options.
• Trevor Plouffe is now 2-for-5 stealing bases for the Twins after going 12-for-25 in four years at Triple-A. He's batted .264/.315/.431 with 15 extra-base hits in 156 plate appearances since returning from the minors in July and has even looked somewhat improved defensively when he doesn't forget how many outs there are, but there's no need for Plouffe to do any running. Only in Gardenhire's fantasies is every middle infielder automatically an effective basestealer.
• Michael Cuddyer continues to receive seemingly endless praise for playing through injuries even though he's missed 12 of the past 24 games and is hitting .171 with zero homers and 16 strikeouts in his last 20 games. Shocking as it may seem, sometimes even tough guys who're beloved by the local media still have to sit out games and sometimes playing through injuries just means playing poorly.
• Miguel Sano and Eddie Rosario did some historic mashing for rookie-level Elizabethton, with Sano homering 20 times in 66 games and Rosario homering 21 times in 67 games. That type of power is obviously extremely impressive no matter the context, but in this case it's unheard of, as only two Appalachian League hitters had reached 20 homers in the past 20 years. Historic or not rookie-ball numbers should be taken with huge grains of salt, but that's pretty amazing.
• Back in August of 2008 the Twins sent Mark Hamburger to the Rangers for Eddie Guardado, who was a bust in his second go-around in Minnesota and appeared in just nine games. At the time Hamburger was an undrafted reliever in rookie-ball, which is exactly the type of prospect teams part with for washed-up 37-year-olds, but in the three years since then he's developed into a reasonably promising low-leverage bullpen arm and Texas called him up last week.
Advertise your product, service, local business, or website directly to thousands of people each day by becoming an AG.com "Sponsor of the Week."