November 14, 2011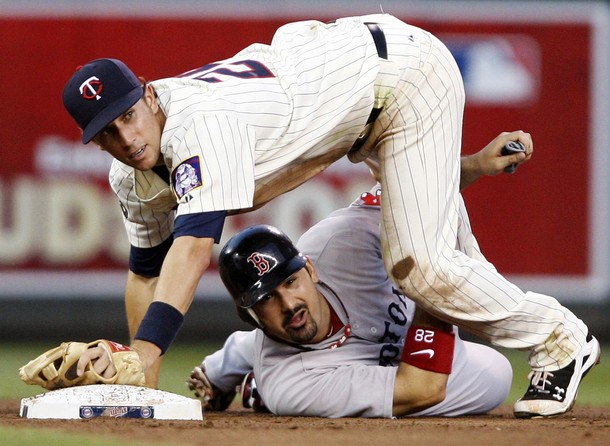 • Terry Ryan revealed during a 1500-ESPN interview yesterday that Trevor Plouffe will be an outfielder going forward, which isn't shocking considering how awful he looked as an infielder despite playing 680 games at shortstop in the minors. He has the tools to be a strong corner outfielder defensively and with Jamey Carroll signed that may be the clearest path to at-bats, but before the middle of this year Plouffe had never played the outfield in seven pro seasons.
Moving to the outfield full time also means Plouffe's bat will be held to a much higher standard and aside from a 50-game stretch at Triple-A this year he's never really produced like a corner outfielder offensively. He's batted .262/.316/.451 in 337 games at Triple-A and .226/.286/.382 in 103 games in the majors, so unless his two-month breakout in Rochester at age 25 is a sign of things to come Plouffe will have trouble hitting enough to be more than a platoon player.
• According to Nippon Sports the Twins are interested in Japanese pitchers Hisashi Iwakuma and Tsuyoshi Wada, both of whom are outright free agents and can be signed without going through the posting process. Last winter the Twins reportedly finished runner-up for Iwakuma, who failed to sign after the A's bid (and were refunded) $19.1 million for his negotiating rights. He remained in Japan and had a 2.42 ERA in 119 innings, but missed time with a back injury.
Wada was even better, throwing 185 innings with a 1.51 ERA, but the 30-year-old left-hander may not have the raw stuff to thrive in the majors. I've seen Wada compared to Bruce Chen and Jamie Moyer as a strike-throwing southpaw with mid-80s fastball velocity and in talking to people who've seen him pitch in Japan the consensus seems to be that he's no more than a possible fifth starter.
As teams were bidding on Iwakuma last year there were some reports of him potentially being a No. 2 starter in the majors, but apparently those back problems sapped his already modest velocity this season. Iwakuma has more upside than Wada, but the 30-year-old right-hander likely projects as a mid-rotation starter even if his fastball returns to the low-90s. Intriguing, but unless the price tags are modest I'd be surprised to see either pitcher land with the Twins.
• Jim Thome signed a one-year, $1.25 million deal with the Phillies, which is a price the Twins should have been willing to match. However, prior to being fired Bill Smith ruled out bringing back Thome because of how his inability to play defense limits the roster and it may have been a moot point anyway, as the future Hall of Famer loves Phillies manager Charlie Manuel and reportedly had been hoping to be traded to Philadelphia rather than Cleveland in August.
Thome will have a very limited role with the Phillies, who view him as only an emergency option at first base even with Ryan Howard potentially out for the entire first half. That means pinch-hitting and serving as a designated hitter during interleague games, which probably won't add up to more than 150 plate appearances. His attempts to recruit Michael Cuddyer to join him in Philadelphia might have a bigger impact than Thome's on-field performance.
• Wayne Krivsky was Ryan's right-hand man prior to leaving the Twins to become the Reds' general manager in 2006, but returns now as "professional scout and special assistant to the GM." Joe Christensen of the Minneapolis Star Tribune looked into his role and says "Krivsky will scout 15 major league teams, with scout Kenny Compton handling the other 15." And he'll be stationed out of Kentucky, so Rob Antony remains the No. 2 guy in the front office.
Days before firing Smith the Twins denied the Orioles permission to interview vice president of player personnel Mike Radcliff for their GM opening, but several sources have suggested that was more about Radcliff's lack of interest in the job than anything else. Radcliff was the Twins' longtime scouting director prior to switching roles when Smith replaced Ryan in 2007 and is a big part of the organization, although Ryan admitted Radcliff was "spread too thin" recently.
• To put into context how odd the Twins' timing was in firing Smith: Eno Sarris of Fan Graphs reports that Smith was the first MLB general manager to be fired in November since 1950.
• Last month the Twins dropped Brian Dinkelman from the 40-man roster, making him a free agent, but the 28-year-old second baseman/corner outfielder has re-signed on a minor-league contract. Dinkelman's performance didn't warrant being called up to the majors twice this year, but he certainly took advantage of what may prove to be his lone opportunity by notching 22 hits in 23 games and the organizational solider will provide some veteran depth at Rochester.
• Rochester will also likely have right-hander Jared Burton in the bullpen after the Twins inked the former Reds reliever to a minor-league deal. Burton had a 3.47 ERA and 139 strikeouts in 161 innings from 2007-2009, but missed most of the past two years with shoulder problems that required surgery. He's exactly the sort of cheap, readily available player who makes giving 40-man roster spots to Matt Maloney and Jeff Gray so confusing.
• LaVelle E. Neal III of the Minneapolis Star Tribune reports that Ron Gardenhire's son, Toby Gardenhire, will not be offered a contract after becoming a minor-league free agent. Nepotism got Gardenhire to Triple-A despite being a former 41st-round pick with a .232/.292/.274 career line, but his defensive versatility served a purpose for Rochester and ultimately at least they cut him loose based on merit.
• Other minor leaguers to leave the organization as free agents include Andy Baldwin, Dusty Hughes, Chuck James, Jake Stevens, Allan de San Miguel, Jair Hernandez, Chase Lambin, Paul Kelly, Yangervis Solarte, Jeff Bailey, and Brandon Roberts. Hughes and James pitched for the Twins this year, Kelly is a former second-round pick, Baldwin is a friend of AG.com, and Lambin was the subject of a Grantland article, but only Solarte resembles any kind of prospect.
• Getting a veteran middle infielder with very strong on-base skills was obviously nice, but I've stumbled across the primary reason the Twins signed Carroll: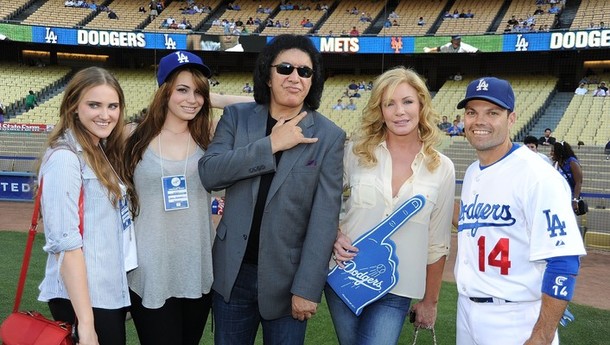 Presumably "shorter than Gene Simmons' daughter and Shannon Tweed" wasn't prominently featured on the scouting report.