December 15, 2011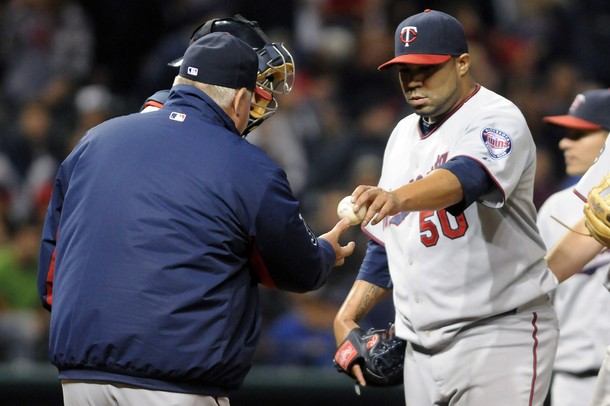 • Arbitration-eligible players Francisco Liriano, Glen Perkins, and Alexi Casilla were tendered contracts, but the Twins non-tendered Jose Mijares and made him a free agent. Terry Ryan's explanation for the move was odd, as he said the decision "gets up to how much he's going to make" and "we decided we didn't want to go there." Ryan also indicated that the Twins tried to work out a pre-deadline contract with Mijares to avoid non-tendering him, but he declined.
Non-tendering players rather than paying them undeserved arbitration raises is common, but that doesn't really apply in Mijares' case. He was paid $445,000 in 2011 and would've been in line for a raise to at most $750,000, which is only $270,000 more than the new MLB minimum salary and represents 0.75 percent of the payroll. If the Twins thought he was worth keeping around cutting Mijares loose over money when "money" is only $270,000 makes little sense.
Clearly they lost all faith in Mijares as his velocity dipped and he totaled as many walks (30) as strikeouts (30) in 49 innings, but he's still just 27 years old and prior to falling apart in 2011 he had a 2.49 ERA in 105 career innings. His secondary numbers have never been as good as his ERA, but given that the Twins aren't exactly overflowing with quality relievers and the cost to keep the hefty lefty around was little more than the minimum salary the move surprised me.
• Along with non-tendering Mijares the Twins also sliced Jim Hoey and Pedro Florimon from the 40-man roster. Hoey was claimed off waivers by the Blue Jays, leaving only marginal relief prospect Brett Jacobson to show for last winter's misguided J.J. Hardy trade with the Orioles. Florimon, whom the Twins claimed off waivers from the Orioles last week, cleared waivers this time around and was assigned to Triple-A.
Claiming and waiving a player within the span of a week might seem silly, but Florimon has the potential to be a decent utility infielder and now the Twins can stash him in the minors without using up a 40-man roster spot. I've long felt the Twins should be more willing to shuffle guys through the fringes of the 40-man roster, so while Florimon is hardly a high-upside player the maneuvering surrounding him was nice to see.
Hoey perhaps deserved a longer opportunity based on his minor-league numbers and mid-90s fastball, but his complete lack of control and quality off-speed pitches weren't encouraging and at 29 years old he's far from a prospect. Hoey wasn't totally without potential when the Twins acquired him and he's exactly the type of reliever teams should take fliers on in minor trades, but the problem is that trading Hardy was anything but a minor mistake, then and now.
• Signing veteran minor leaguers to help Rochester be competitive after back-to-back 90-loss seasons is clearly a priority for the Twins and the latest batch is Rene Rivera, P.J. Walters, and Sean Burroughs. Rivera split this year between Rochester and Minnesota, helping to fill in for Joe Mauer behind the plate, but was trimmed from the 40-man roster in October. He's the epitome of a replacement-level catcher and handy enough to have around at Triple-A.
Walters was traded from the Cardinals to the Blue Jays in the seven-player swap headlined by Colby Rasmus and Edwin Jackson on July 27, but Toronto let him become a free agent three months later and his track record is pretty underwhelming. Walters briefly looked like a decent prospect back in 2007 and his strikeout rates are solid, but the 26-year-old right-hander has a high-80s fastball, mediocre control, and a 4.63 ERA in 484 innings at Triple-A.
Burroughs was the ninth overall pick in the 1998 draft and Baseball America ranked him as one of the game's top 10 prospects in 2000, 2001, and 2002. His big-league career started off well enough, as Burroughs debuted for the Padres as a 21-year-old and hit .289/.345/364 through his first 339 games, but he never developed any power, regressed in other areas, struggled with substance abuse, and was finished at age 25. Or so it seemed.
After three seasons out of baseball Burroughs signed a minor-league deal with Arizona, whose general manager Kevin Towers was the GM in San Diego who drafted him. He worked his way back to the majors by hitting .412 in 34 games at Triple-A and then struggled in 78 games as a bench bat, hitting .273/.289/.336 with an ugly strikeout-to-walk ratio. Burroughs is one of the biggest prospect busts of the 2000s, but at age 30 still qualifies as intriguing Triple-A depth.
• Just five weeks after Bill Smith was fired as general manager Phil Mackey of 1500ESPN.com reports that he's close to returning to the organization in a "special assistant" role that would involve running the Twins' efforts in Latin America and their spring training complex in Florida. Smith was overmatched and then some as a GM, but handled the firing amazingly well publicly and has been with the Twins since the mid-1980s, so their showing him loyalty isn't surprising.
• Nick Punto signed a two-year, $3 million deal with the Red Sox to replace Jed Lowrie, who was traded to the Astros for Mark Melancon. As always, in a bench role with a modest salary Punto is an excellent fit on just about any team. Unfortunately the Twins played him too much and paid him $4 million in both 2009 and 2010 (plus a $500,000 buyout to avoid paying him $5 million in 2011). He'll now be paid a total of $4 million for his first three post-Twins seasons.
• Kevin Slowey avoided arbitration with the Rockies, agreeing to a one-year, $2.7 million deal.
• Jacque Jones, whom I rated as the 30th-best player in Twins history, has been hired by his hometown Padres as a Single-A hitting coach. He last played at Triple-A for the Twins in 2010.
• Mauer got engaged to fellow Cretin-Derham Hall graduate Maddie Bisanz.