January 27, 2012
• Rihanna seems like fun.
• In retrospect, Kevin Garnett had the right idea in this picture.
• If she wasn't already an Official Fantasy Girl of AG.com candidate this quote would put Lizzy Caplan in the mix: "What I like to do every single night is fall asleep watching Larry Sanders."
• Joe Mauer is engaged now, so perhaps there's a similar explanation for last year's injuries.
• One of my favorite comedians, Todd Glass, came out of the closet on Marc Maron's podcast and it was incredibly compelling stuff.
• Speaking of Maron, this article about podcasting quotes me right alongside him, which was a big thrill. And coincidentally the writer, Gaby Dunn, conducted the interview with Jewish porn star James Deen that appeared in Link-O-Rama last month. As always, life is weird.
• We had a first on this week's "Gleeman and The Geek" episode, as a random drunk woman interrupted the podcast to show us her bra for no apparent reason.
• Imagine a world in which Prince Fielder, Miguel Cabrera, and Delmon Young are all on the same American League team and someone else is the designated hitter.
• Jimmer Fredette's transition to the NBA is proving to be a difficult one and Sebastian Pruiti of Grantland has a very detailed, interesting analysis of his early struggles.
• Speaking of NBA rookies, I bought one of these.
• Katy Perry unfollowed Russell Brand on Twitter after their divorce, which is no doubt where this is headed too some day.
• I was talking about wrestling on Twitter, so my mom dug up this picture of me with Sergeant Slaughter in 1985: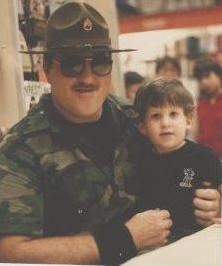 I apparently inherited his jaw line from that one brief meeting.
• Fat-O-Meter update: This is day 330 of my diet and I'm down 140 pounds.
• This is absurd, of course, but he almost deserves it for not getting a prenup.
• I wonder what Justin Morneau and Corey Koskie think about this.
• Two great tastes that go great together: Kate Beckinsale and Maria Menounos.
• Stuff like this fascinates me: Back in 1995 the Mariners turned down a deal with the Yankees for a 23-year-old catching prospect named Jorge Posada.
• Moneyball was nominated for six Oscars, including "best actor" for Brad Pitt, "best supporting actor" for Jonah Hill, and "best picture." I liked these outtakes better than the actual movie.
• Not only is new Astros general manager Jeff Luhnow sabermetrically inclined, he announced via Twitter that Baseball Prospectus analyst Mike Fast is joining the front office.
• Bill James used to write the occasional guest piece for The Hardball Times when I was there and it was a big honor, so Grantland talking him into being a regular is quite a get.
• As a Sarah Hyland fan, I might have actually tuned into the Golden Globes for this.
• I have some mixed feelings about this, but it's an interesting story and an important lesson when it comes to baseball rumors and reporting.
• Zooey Deschanel, describing her college experience that sounds an awful lot like mine: "My specialness is not appreciated in this place." With the main difference being that mine still isn't.
• I've always said there's a little Gilbert Gottfried inside all of us:
 If you don't think that's funny we probably can't be friends.
• Official Fantasy Girl of AG.com candidate Aubrey Plaza on meeting Ryan Gosling: "I think he has a girlfriend, but maybe I'll murder her someday and we'll be together forever."
• Flip Saunders got fired by the Wizards, who hilariously replaced him with Randy Wittman.
• JaVale McGee's mom seems a lot like my mom.
• Harris Wittels, who once left a comment here, was cast in Sarah Silverman's new show.
• I watched all 10 episodes of Bar Rescue despite not really enjoying it and thinking the star is like Gordon Ramsay without the charm, charisma, and hair. Is that a recommendation?
• Showtime is following the Marlins for Season 2 of The Franchise, which leaves the door open for Ozzie Guillen to appear on Shameless. I'll bet he has great chemistry with Emmy Rossum.
• For anyone with HBO: Make sure to watch the documentary series about Freddie Roach.
• Speaking of great sports documentaries, the final episode of the series following MMA fighter Allistair Overeem is spectacular and features his recent win over Brock Lesnar. Great stuff.
• As always I'm proud to be a very, very small part of MinnPost, which saw its readership grow 21 percent in 2011.
• If you haven't already, go buy Seth Stohs' annual Minnesota Twins Prospect Handbook for 190 pages of hardcore prospect profiles, analysis, interviews, and rankings.
• Nick Nelson's old blog-mate, Nick Mosvick, has a new blog all his own.
• Finally, this week's AG.com-approved music video is "Work" by Gang Starr: