April 2, 2012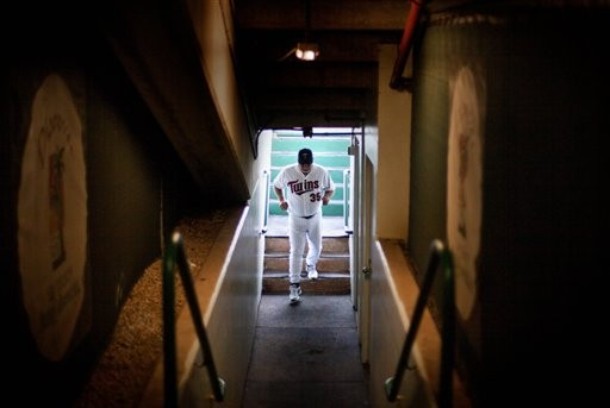 "No scholarships." That's how Terry Ryan stressed not handing players jobs this year simply because they had jobs last year. Tsuyoshi Nishioka was the first casualty and now Drew Butera joins him in Rochester after two years in Minnesota. Butera's job was in jeopardy as soon as Ryan Doumit signed, but Ron Gardenhire's fear of catching emergencies and the Twins' aversion to ditching marginal guys for whom they develop an affinity had me skeptical.
Actually replacing replacement-level players is a step in the right direction, although Butera remains on the 40-man roster and, considering Joe Mauer's injury history and Doumit's shaky defense, there's a good chance he'll be back. Butera stuck around despite the lowest OPS of any non-pitcher with 300 plate appearances since 1990 because the Twins loved his defense, liked him as a person, and believed he had a big influence as Carl Pavano's personal catcher.
There's no doubt that Butera did a good job controlling the running game despite Pavano barely paying attention to runners, so the pairing may have been a good fit and may have even helped Pavano. However, evaluating catcher defense is very complicated and assuming something is true because a pitcher thinks it's true doesn't always show itself in the results. In terms of preventing runs Butera catching Pavano was the same as Mauer catching Pavano:
Pavano with Butera catching: 294 innings, 4.14 ERA.
Pavano with Mauer catching: 201 innings, 4.08 ERA.
Butera is a good catcher who can't hit. And not just "can't hit" like most bench players "can't hit." He's historically awful, hitting .178/.220/.261 for the Twins after hitting .214/.296/.317 in the minors. There are plenty of good-glove, no-hit players in the majors, and rightfully so in many cases, but good defenders with absolutely zero hitting ability belong in the minors and by sending Butera there the Twins set the position player side of the Opening Day roster:
   LINEUP                     BENCH
 C Joe Mauer               IF Luke Hughes
1B Chris Parmelee          IF Sean Burroughs
2B Alexi Casilla           OF Ben Revere
SS Jamey Carroll           OF Trevor Plouffe
3B Danny Valencia
LF Josh Willingham
CF Denard Span
RF Ryan Doumit
DH Justin Morneau
My assumption is that Doumit will be the primary right fielder because he's one of the team's best hitters, has experience there, and presumably wasn't signed to mostly sit on the bench regardless of his position. However, if demoting Butera means that Gardenhire will use Doumit as more of a true backup catcher then Trevor Plouffe would seemingly be in line for most of the starts in right field or at least a time-share with Ben Revere.
Chris Parmelee parlayed a big September call-up and strong spring training into the starting first base job, with the Twins deciding that the best chance of keeping Justin Morneau in the lineup is at designated hitter. Morneau may prove healthy enough to return to first base and Parmelee may show that his mediocre track record is more telling than his most recent 100 at-bats, in which case the Twins could shift Doumit to DH and use Plouffe/Revere in right field.
They certainly have no shortage of first base/designated hitter/corner outfield options, which should be good for an offense that scored the second-fewest runs in the league last season, but they're also lacking a true backup middle infielder should 38-year-old shortstop Jamey Carroll or oft-injured second baseman Alexi Casilla need time off and it's unclear to me what role there is for Sean Burroughs unless he eats into Danny Valencia's starts at third base.
On an individual basis this is far stronger than the typical Twins bench during the past decade, although that admittedly isn't saying much. Burroughs, Plouffe, and Luke Hughes are each useful hitters and Revere is at the very least a useful fourth outfielder, but in terms of actually putting that collection of individuals into practice as a functioning bench the lack of a quality defensive middle infielder could get tricky. And speaking of tricky, here's the pitching staff:
   ROTATION                   BULLPEN
SP Carl Pavano             RH Matt Capps
SP Francisco Liriano       LH Glen Perkins
SP Liam Hendriks           LH Brian Duensing
SP Nick Blackburn          RH Anthony Swarzak
                           RH Jared Burton
   DISABLED LIST           LH Matt Maloney
SP Scott Baker             RH Alex Burnett
SP Jason Marquis           RH Jeff Gray
RP Kyle Waldrop
Injuries are keeping the Twins from beginning the season with their preferred 12-man pitching staff. Scott Baker is on the disabled list with an elbow injury, so 23-year-old Liam Hendriks will step into his rotation spot. Jason Marquis has been away from the team following his daughter's bicycling accident and the Twins will take advantage of an early off day on the schedule to skip his first turn in the rotation, which means they'll have eight relievers initially.
Kyle Waldrop would have been one of those eight relievers, but he's on the DL with an elbow injury of his own, leaving space in the bullpen for a pair of early offseason waiver claims (Matt Maloney and Jeff Gray), a non-roster invitee on a minor-league contract (Jared Burton), and a 2011 holdover with a 5.40 ERA in 98 career innings (Alex Burnett). Once everyone is healthy one or two of those guys will lose their spot, but that's a very shaky middle relief corps.
And the presumed late-inning options don't inspire a whole lot more confidence aside from Glen Perkins as the primary setup man. Matt Capps has plenty of questions to answer at closer coming off a disastrous season, Anthony Swarzak seemingly lacks the raw stuff and bat-missing ability for a high-leverage role, and Brian Duensing still needs to show that he can consistently get right-handed hitters out after flopping as a starter.
Aside from overpaying Capps it's a bullpen built on the cheap with failed starters, waiver wire pickups, former mid-level prospects, and injury comebacks. Odds are at least one solid reliever will emerge from that group because that's just how relievers work--my money would be on Burton, assuming he's healthy--but in the meantime things could get pretty ugly as Gardenhire searches for someone dependable beyond Perkins.