April 17, 2012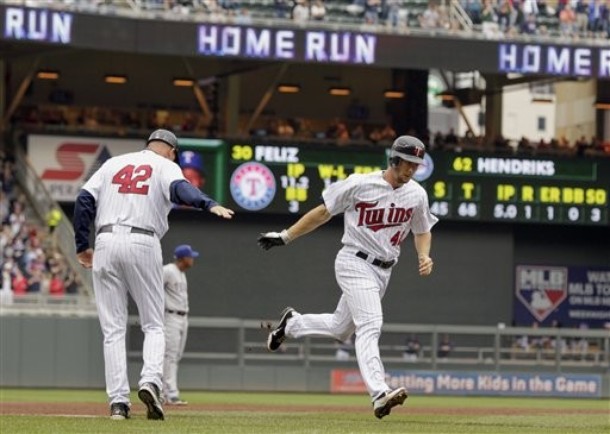 Late in spring training the Twins essentially chose Chris Parmelee over Ben Revere for the final starting job and once that happened it made sense for them to find a new fourth outfielder via the waiver wire or an inexpensive trade rather than keep Revere around to play sparingly in a reserve role. Sure enough they came to that realization after using Revere for just 11 plate appearances in eight games, claiming Clete Thomas off waivers from the Tigers.
Despite homering in his Twins debut Thomas has a pretty limited skill set with plenty of flaws and resembles a replacement-level player more than he does a starter, but that's basically what the fourth outfielder role calls for anyway and as a 28-year-old veteran of 255 games at Triple-A and 145 games in the majors he's far better suited for a little-used bench gig than the 23-year-old Revere.
And that's coming from someone who's been very skeptical of Revere's upside, but whatever chance he has of developing into an above-average regular is better with him actually playing in Rochester rather than sitting in Minnesota. Revere played just 32 games at Triple-A before the Twins' never-ending injuries last season accelerated his timetable, so while sending him back there after 134 games in the majors isn't ideal it makes sense developmentally.
Odds are Revere will be back in the majors relatively soon and hopefully that return will come because he thrived at Triple-A, but there will also be an opportunity for him if someone gets injured or Parmelee proves that he could use some time in Rochester himself. Whatever the case, in the meantime the Twins are better off using Thomas as a defensive replacement and spot starter because that's the role both his current and future ability fit best in.
Thomas was actually the Twins' fifth-round pick in 2002 out of high school, but he chose to play college ball at Auburn instead of signing. Three years later the Tigers picked him in the sixth round and three years after that Thomas cracked their Opening Day roster as a 24-year-old despite underwhelming production in the minors. He spent two seasons going back and forth between Triple-A and the majors, hitting .253/.336/.391 in 142 games for the Tigers.
Knee surgery knocked Thomas out for most of 2010 and he spent all of last season at Triple-A, hitting .251/.314/.401 with 12 homers and an ugly 130-to-32 strikeout-to-walk ratio in 113 games. He still managed to make this year's Opening Day roster, but Thomas was designated for assignment after appearing in three games without getting a plate appearance. And then, naturally, he was claimed off waivers by the Twins and homered in his second at-bat.
Coming back from microfracture knee surgery is extremely difficult, so if you give Thomas some benefit of the doubt he's likely better than he looked at Triple-A last season. On the other hand his .253/.336/.391 career line in the majors is nearly identical to his .252/.336/.409 career line at Triple-A, so at 28 years old it's fairly easy to conclude that what you see with Thomas is probably what you'll get at this point.
He doesn't walk a lot and strikes out too much, which drags down his average, but Thomas has enough pop for 10-15 homers, enough speed for 10-15 steals, and (before the surgery, at least) enough range to back up all three outfield spots. That isn't someone who should play regularly, but for the occasional start versus righties and some late-game defense or running he's a reasonable enough fit while the Twins hope Revere will prove too good for that role.
This week's blog content is sponsored by PickPointz, where you can make predictions, pick games, and win prizes for free. Please support them for supporting AG.com.