May 10, 2012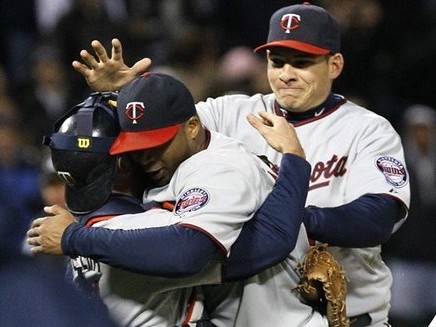 Minutes after the final out of last night's loss the Twins shook up the roster for the second time this week, demoting Danny Valencia to Triple-A and designating Matt Maloney for assignment while calling up utility man Darin Mastroianni and right-hander P.J. Walters from Rochester. They also announced that Francisco Liriano has been shifted to the bullpen, with Walters taking his spot in the starting rotation beginning Saturday against the Blue Jays.
Less than 48 hours earlier Ron Gardenhire insisted that the Twins would stick with Liriano as a starter, but now they're apparently hoping to get him back on track for an eventual return to the rotation with some low-leverage relief work. Liriano has taken some very small steps forward in his last two starts, but has been mostly terrible since the beginning of last season and it would be worth seeing what he can do in a one-inning role before free agency beckons.
Unfortunately his rotation replacement is a 27-year-old soft-tosser, so while watching Walters get knocked around may not be quite as frustrating as watching Liriano struggle to find the strike zone the end result figures to be largely the same. Walters has a 7.24 ERA with 12 homers allowed in 51 innings as a big leaguer, averaged just 88.0 miles per hour with his fastball during that time, and has a 4.51 ERA in 91 career starts at Triple-A.
As soon as the Twins called up Brian Dozier to start at shortstop and shifted Jamey Carroll into a utility man role it was clear that Valencia and Alexi Casilla were on some very thin ice. Carroll has started each of the past three games at second base, but apparently that was due mostly to Casilla being limited by a shoulder injury and instead Valencia is the one on the chopping block after serving as the starting third baseman since mid-2010.
Valencia was never a top prospect and a modest minor-league track record made it obvious that his strong half-season debut was largely a fluke, but he's declined even further than expected since then both offensively and defensively. He's played 266 games in the majors and hit just .262/.304/.395, which would be poor production from a shortstop or a catcher and is downright awful for a third baseman who's mediocre defensively on a good day.
On the other hand he's 27 years old with more than 1,000 plate appearances in the majors, so a demotion to Triple-A furthering his development seems like wishful thinking. Valencia is what he is at this point, and that's simply not a quality regular because he can't hit right-handed pitching. With that said, he's a career .325/.374/.485 hitter against left-handers and that type of production certainly has a place on a major-league roster if used correctly.
Mastroianni is technically replacing Valencia on the roster, but don't count on him making much of an impact. Claimed off waivers from the Blue Jays in February and assigned to Double-A to begin the season despite being 26 years old, he moved up to Triple-A because of injuries in Rochester and took advantage by hitting .365 in 19 games. That obviously got the Twins' attention, but Mastroianni hit just .279/.358/.389 in 79 games at Triple-A last season.
Mastroianni's lack of power has limited him to a .372 slugging percentage as a minor leaguer and makes him unlikely to be more than a useful bench player, but he has good on-base skills, spectacular speed, and can play all three outfield spots along with some second base. It'll be interesting to see if Mastroianni gets any action as an infielder or if Gardenhire will stick with Carroll, Casilla, and Trevor Plouffe in some combination at second base and third base.
Maloney was claimed off waivers from the Reds in October and there's a good chance he'll clear waivers this time around, in which case the Twins can stash him at Triple-A sans 40-man roster spot. He's the latest in a long line of examples showing the folly of putting any kind of faith in spring training performances, as Maloney was one of the most impressive players in camp and then predictably reverted back to the marginal big leaguer he's always been.
It was easy to see that the first roster shakeup was done to facilitate immediate improvement, as Liam Hendriks simply not being ready to thrive in the majors at age 23 made it reasonable to prefer Scott Diamond in the short term and the Twins have high hopes for Dozier. It's not so easy to see how the second roster shakeup really improves much, save for perhaps the fans' viewing experience and Gardenhire's mental state.
For as awful as Valencia has been, giving his starts to Casilla or Plouffe or Mastroianni isn't likely to be much of an upgrade and if nothing else he provided a right-handed bat capable of knocking around left-handed pitching. Liriano has been bad enough for long enough that trying to salvage some value out of him with a move to the bullpen is perfectly reasonable, but replacing him with Walters isn't likely to actually keep more runs off the board.
Of course, making changes mostly for changes sake may not be such a terrible thing at this point considering the Twins are now 73-132 since the final 10 games of the 2010 regular season. It'd be nice if they had better options to call up than Mastroianni and Walters, but they've already rushed non-elite prospects like Hendriks, Chris Parmelee, and Ben Revere to the majors with poor results and the rest of the upper-minors cupboard is mostly bare.
Beyond that, Liriano is at a career crossroads five months from free agency and Valencia may beat him out the door if the Twins can find a taker willing to trade even a mid-level prospect for him. Casilla is next in line for the guillotine if they go into full-on housecleaning mode and unlike last season hopefully they'll commit to a rebuilding effort by ditching more dead weight and getting whatever they can for any veterans not in the plans for 2013 and beyond.
This week's blog content is sponsored by Coordinated Business Systems, which offers innovative technology solutions for Minnesota businesses. Please support them for supporting AG.com.